A traditional oatmeal cookie with just enough oats, cinnamon, and a dash of nutmeg. A wonderful and delicious cookie to be enjoyed all-year long.
 Welcome to day 10 of 10 Days of Cookies - Classic Oatmeal Cookies!
I cannot believe how fast this went by and how fast this year has gone by! Wow...just W-O-W. I hope this inspired you to go make some homemade cookies this holiday season. Tons to choose from. 🙂
This is the last one of the series, so let's do a recap! 🙂
Day 1: Chocolate Chip Cookies
Day 2: Ultimate White Chocolate Peppermint
Day 3: Chocolate Sandwich Cookies
Day 4: Snowball Cookies
Day 5: Caramel Pretzel Cookies
Day 6: Mint Holiday Kiss Cookies
Day 7: Chewy Molasses Cookies
Day 8: Bacon Chocolate Chip Cookies
Day 9: Christmas Funfetti Sugar Cookies
Day 10: Classic Oatmeal Cookies  - These right here 🙂
Which one is your favorite? Have you made any of them, yet? My favorite out of that entire list is a tie between the bacon chocolate chip and the caramel pretzel cookies. Both are sweet and salty. My two favorite things.
Yum!
I absolutely love these cookies. They trick me into thinking I am munching on something that is healthy because it has oats in it. Tricks me and says, "OK, you can have another because of the oats." You are probably thinking, she is totally nuts. 🙂
These have just enough oats and cinnamon with a dash of nutmeg. Oh...my...goodness. Perfect, perfect milk dunker.
I will admit with this cookie dough, I did let the dough chill for 24 hours because I didn't have enough time to bake with it just yet. I think only 2-3 hours of chilling time is okay, but the best is definitely 24 hours. One more thing, this cookie dough will definitely be sticky.
Must wash hands a lot. I did.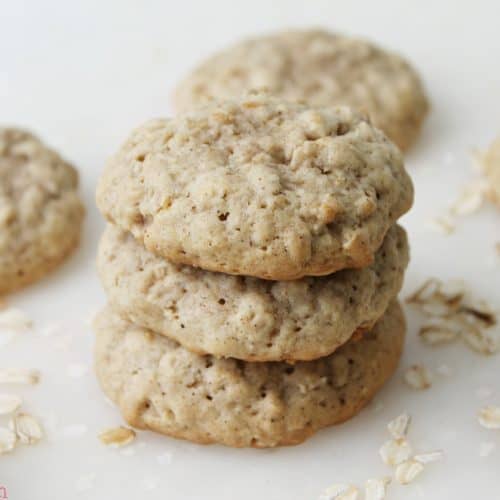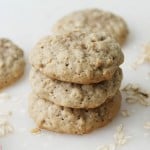 10 Days of Cookies: Classic Oatmeal Cookies
Servings
:
3
-4 dozen depending on the size
Ingredients
1

cup

unsalted butter

2 sticks, softened to room temperature

¾

cup

light brown sugar

¾

cup

white granulated sugar

2

large eggs

1

teaspoon

vanilla extract

2

cups

all-purpose flour

½

teaspoon

baking soda

1

and ½ teaspoons ground cinnamon

¼

teaspoon

ground nutmeg

¼

teaspoon

salt

2

cups

old-fashioned oats
Instructions
In a stand or a hand-held mixer, cream together the butter, brown sugar, and white granulated sugar.

Add in the eggs and vanilla extract.

Set the mixing speed to medium-low and add in the flour ½ cup at a time.

After you have added all of the flour, add in the baking soda, ground cinnamon, nutmeg, and salt.

Fold in the old-fashioned oats using a plastic spatula or a spoon.

Cover the mixing bowl with plastic wrap and let the cookie dough chill in the refrigerator a minimum of 2 hours, however, 24 hours is best.

Preheat oven to 350 degrees and line a cookie sheet with parchment paper or a silicon baking mat.

Spoon the cookie dough, then roll with your hands and flatten down. It will look like round and flat.

Bake for 10-12 minutes. 10 minutes was perfect for me.

Let the cookies cool for 1-2 minutes, then transfer to a cooling rack.
Recipe Notes
Stores in an air-tight container for one week.