Filled with gooey sweet caramel and salted tasty pretzels. The perfect balance of sweet and salted. The ultimate cookie for everyone.
 Welcome to day 5 of 10 Days of Cookies - Caramel Pretzel Cookies! I cannot say how good these cookies are. They are definitely the perfect balance of a sweet and salty tasty dessert. Amazing cookie.
I have never tasted pretzels in cookies before - just wow. I love the crunch factor, especially with the gooey caramel on top and inside of the cookie. A-M-A-Z-I-N-G! If you do not make these cookies you are seriously missing out.
 Not only are these caramel pretzel cookies delicious, but they are super easy to make! Do not require any hard to get ingredients. If you have the time you can also make the caramel sauce homemade. I opted for the Hershey's Caramel Sauce.  Definitely choose which ever way you want! 🙂
With this type of dough you definitely have to chill the dough for at least 2 hours. I know, I know - I'm sorry! It will definitely be worth it, trust me on that one!
As any of my cookies you will have to make sure the butter is softened to room temperature. It makes it a lot easier to cream it with the sugar. After you do that then you add in the egg, vanilla extract, and the dry ingredients.
 The gooey deliciousness you see inside of these cookies are actually Rolos. I love to bake with them because the caramel is oozes out of them. Oh. My. Goodness! It is one of those moments when you can't help but say, "Dang, those are amazing!" 🙂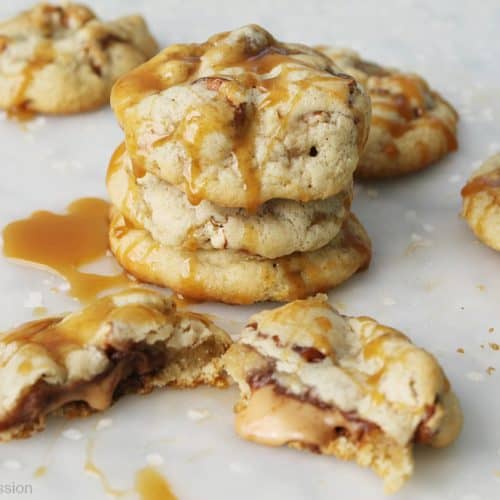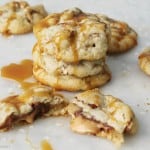 Caramel Pretzel Cookies
Servings
:
17
-18 large cookies
Ingredients
1

stick unsalted butter

softened

1

cup

white sugar

1

large egg

room temperature

2

and ½ teaspoons vanilla extract

1

cup

all-purpose flour

2

teaspoon

cornstarch

1

teaspoon

baking soda

¼

teaspoon

salt

1

cup

crushed pretzels

17-18

[Rolo's|http://www.amazon.com/gp/product/B001FA1EEK/ref=as_li_ss_tl?ie=UTF8&camp=1789&creative=390957&creativeASIN=B001FA1EEK&linkCode=as2&tag=savcoudea-20]

unwrapped

Caramel Sauce

to drizzle
Instructions
In a stand or a handheld mixer, cream together the butter and sugar.

While still mixing on low, add in the egg and vanilla extract.

Slowly add in the flour ½ cup at a time, then add in the cornstarch, baking soda, and salt.

Fold in the crushed pretzels with a plastic spatula or spoon.

Cover the mixing bowl with plastic wrap and let it chill in the refrigerator for at least 2 hours.

Preheat oven to 350 degrees and line a cookie sheet with parchment paper or a silicon baking mat.

Roll some of the dough into your hands and place one unwrapped Rolo on top and roll more cookie dough on top. Make sure the Rolo is completely covered and place on cookie sheet.

Bake for 10-12 minutes. They will look like they need more baking time, however, they do not.

Let cool on cookie sheet for 5 minutes, then transfer to a cooling rack.

Drizzle caramel sauce on top.
Recipe Notes
Stores in an airtight container for one week.
Ultimate Chocolate Peppermint Cookies