A thick, chewy, super-moist traditional sugar cookie covered with festive Christmas sprinkles. Perfect cookies to put out for Santa.
 Welcome to day 9 of 10 Days of Cookies - Christmas Funfetti Sugar Cookies!
I cannot believe Christmas is just ONE WEEK away! I still haven't finished all of my shopping. :/ I need to finish it up this weekend, thank goodness they are just gift cards for the hard to shop for family members.  Always the best. 🙂
I am so sorry about this not being up sooner. I have not been feeling good at all, plus we didn't know much sun for any kind of photos. Boo! Summer just come on and hurry up, please. That is the only thing I have asked for!!
Have you thought about any of your goals for the upcoming year? I have started on my list of goals - a lot of different goals. I hope I can achieve them all, but we will see. 🙂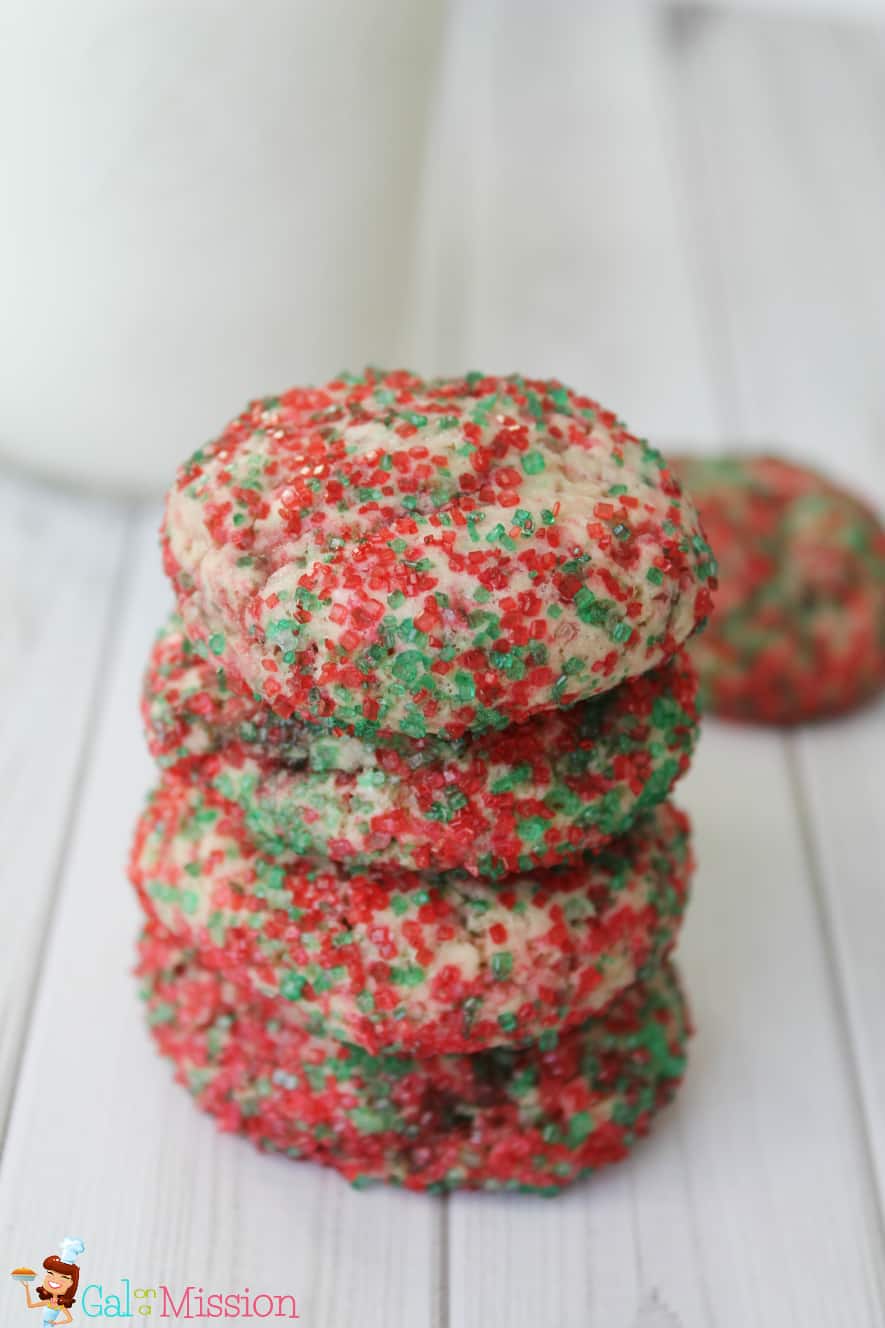 Another thing I cannot believe that we will be married for almost 8 months. It seems like it was literally just yesterday. I can tell these years are just going to keep on flying by.... wow. 
Back to the cookies, okay?!
These cookies definitely scream it's Christmas! Don't they? If you have any little ones around, I think they would LOVE to help you with these.
The cookie dough does require chilling time - about 2 hours. Sorry! After those 2  hours, I promise you these cookies will be easy and absolutely delicious.
As always, you will have to let the butter soften. Next time is to just cream together the butter and sugar, add in more of the wet ingredients. Add in the dry ingredients, pour in the sprinkles. Then the refrigerator for the 2 hour chilling time.
You can really use any type of sprinkles you have on hand, I just thought the red and green were p-e-r-f-e-c-t for Christmas cookies. Great cookies to dunk as well. First thing I tested out! 🙂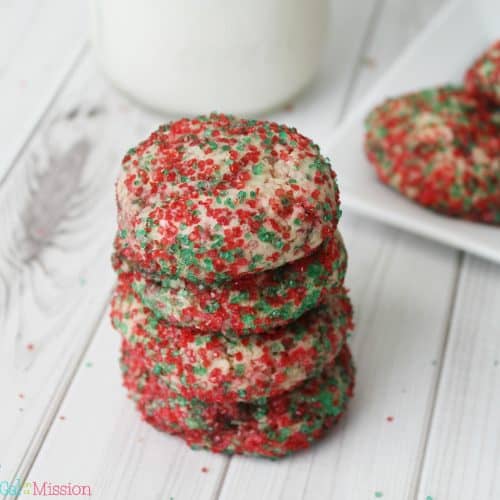 Christmas Funfetti Sugar Cookies
Ingredients
2

cups

all-purpose flour

1

teaspoon

baking soda

2

teaspoons

cornstarch

¼

teaspoon

salt

½

cup

1 stick unsalted butter, softened to room temperature

1

cup

white granulated sugar

1

large egg + 1 large egg yolk

1

teaspoon

vanilla extract

½

cup

[festive holiday sprinkles|http://www.amazon.com/gp/product/B000K2LT5I/ref=as_li_ss_tl?ie=UTF8&camp=1789&creative=390957&creativeASIN=B000K2LT5I&linkCode=as2&tag=savcoudea-20] + another ½ cup to roll cookie dough into
Instructions
In a medium bowl, combine the flour, baking soda, cornstarch, and salt. Set aside.

Either using a stand or a hand-held mixer cream together the butter and sugar.

While still mixing on medium speed, add in the egg and egg yolk, then add in the vanilla extract.

Combine the dry ingredients into the wet ingredients on medium-low speed.

Fold in the festive holiday sprinkles with a plastic spatula or a spoon.

Cover the mixing bowl with plastic wrap, then let the cookie dough chill in the refrigerator for 2 hours.

Preheat oven to 350 degrees and line a cookie sheet with parchment paper or a silicon baking mat.

Pour ½ cup sprinkles into a small bowl and set aside.

Spoon cookie dough and roll into balls, then roll into the sprinkles and place on cookie sheet.

Bake for 9-10 minutes. Let the cookies cool for 1-2 minutes before transferring to a cooling rack.

Repeat until all cookies have been baked.
Recipe Notes
Stores in an air-tight container for one week.