Holiday sugar cookies with a Mint Hershey's Kiss on top. Chewy, soft, and absolutely delicious. Perfect for those cookie swaps.
Welcome to day 6 of 10 Days of Cookies - Mint Holiday Kiss Cookies! These cookies definitely scream it's near the holidays.  Wonderful quick and easy type of cookies that is absolutely perfect for this holiday cookie swaps. Kid-friendly as well. 🙂
While I was in the kitchen whipping up these delicious minty cookies, I had wonderful Christmas music in the background. It's definitely December, which means holiday baking/cookies with Christmas music.
It always gets me in the mood for the season. You too, right?
My hubby is a huge mint person, I can take it or pass it. THESE cookies I will definitely take anytime. If you aren't a mint person, you can place anytime of Hershey's Kiss on top.
So many options out there: mint, candy cane, pumpkin spice, and classic. If you know if anyone out there, please let me know!!
I love these Christmas colored sprinkles, however, you are free to see any type you would like. Not a sprinkle fan - no worries, you can just have a kiss cookie without the sprinkles. You can customize them however you would like! Now those types of recipes and cookies are my favorite!
These cookies definitely do not contain and hard or strange ingredients at all. Super, super easy to make. 🙂
I will have to say that this batter will be thick, very thick. I have noticed the thicker batter makes perfect drop cookies. I also have a surprise for you - they require no chilling time at all. You can whip up these bad boys, bake, then eat!!
After the cookies have baked, you will need to let them cool for a good 5 minutes before placing the kiss on top. After you place the kiss on top they need to go straight to the freezer - the kiss will melt. *Raises hand, I figured that out the hard way*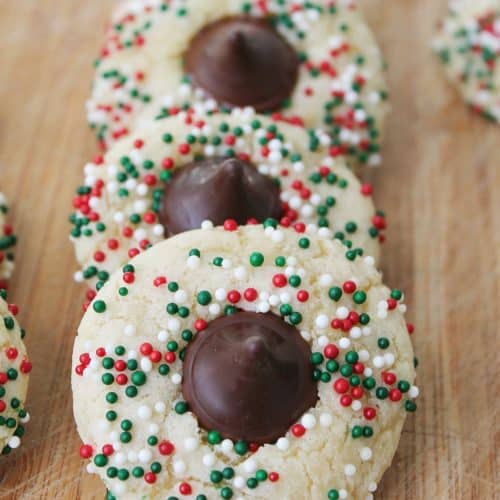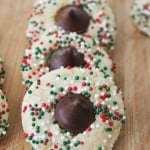 10 Days of Cookies: Mint Holiday Kiss Cookies
Ingredients
10

tablespoons

unsalted butter

softened to room temperature

1

cup

granulated sugar

2

egg yolks

2

teaspoons

vanilla extract

1

and ½ cups all-purpose flour

¾

teaspoon

baking powder

¼

teaspoon

salt

holiday sprinkles

24

mint kisses

unwrapped
Instructions
Preheat oven to 350 degrees. Line a cookie sheet with parchment paper or a silicon baking mat. Set aside.

Cream together the butter and granulated sugar in a stand mixer with the paddle attachment; mix on medium-speed until it is creamed. Mix in the egg yolks and vanilla extract.

Slowly mix in the flour ½ cup at a time and mix on medium-speed for about 5 minutes. Fold in the baking powder and salt with a plastic spatula.

Roll the dough, about 1 tablespoon, into a ball and roll into the holiday sprinkles; place onto the cookie sheet. Do the rest the same way. Bake for 8-10 minutes. Allow the cookies to cool for 5 minutes, then place a kiss on top. Place the cookie sheet in the freezer so the kisses will not melt. I placed the sheet in the freezer for 5 minutes, just enough to cool them down.