Healthy Buffalo Cauliflower Bites – These bites are addicting, spicy (to some), and surprisingly fantastic! Grab your favorite dip and let's dip in! Delicious as a main dish or as an appetizer.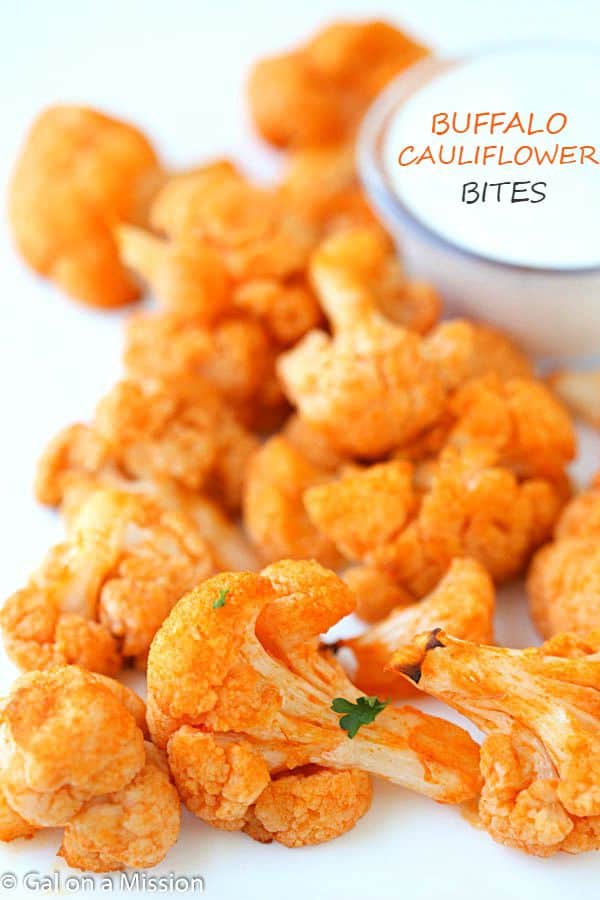 As I am sitting here trying to think of a story as to why you need or should at least try these buffalo cauliflower bites. For one, they are amazing and a lightened-up option to your traditional buffalo wings. Fewer calories and hardly any carbs – it's a win, win.
Somehow I am sitting at a blank but I do know one thing about them. They are darn good. Now don't be surprised when you notice you may have finished the entire bowl. They are addicting, spicy, and surprisingly fantastic.
A couple of other dishes we love our buffalo chicken french bread, buffalo chicken pasta, and buffalo chicken spaghetti squash! All are so delicious and perfect for football!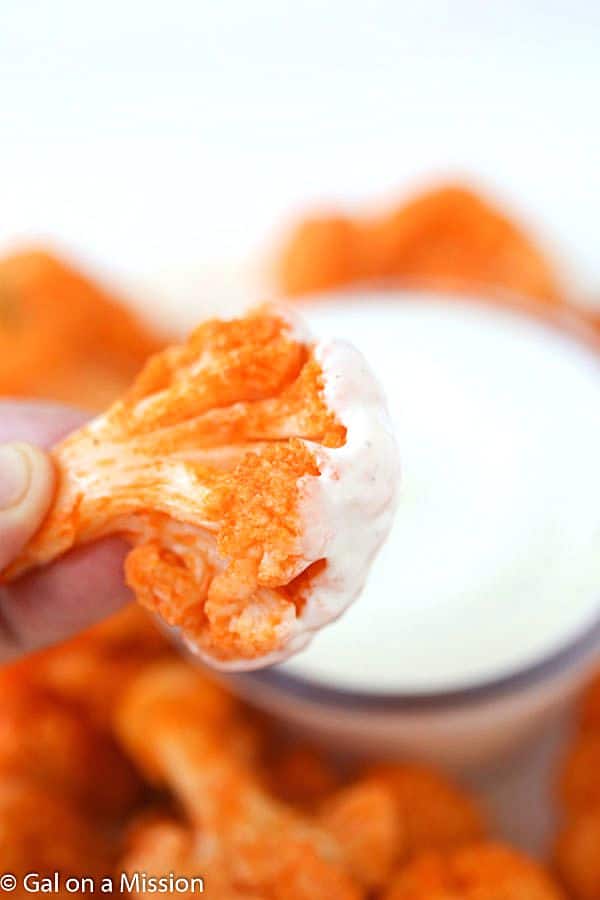 I would give up buffalo chicken wings in a heartbeat for these little guys. They are almost a guiltless snack/appetizer/main dish. You can pile off the entire bowl and not feel guilty. The feeling of guilt always creeps up after I devour five buffalo wings. I, errrr, mean 10 or more, at least. See the guilt there?
Now grab your favorite dressing to dip these bad boys. I only ask you one favor, please do not tell me which dressing you are going to use. Everyone goes straight to the blue cheese, but I will take ranch anytime of the day. Mmmm…!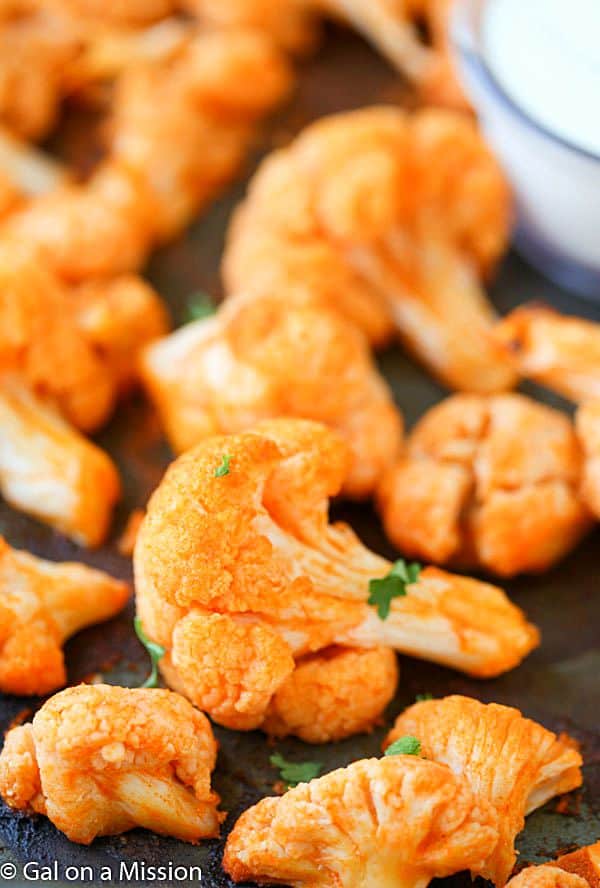 I may or may not be daydreaming about these cauliflower bites. I love when you first bite into them, your taste buds aren't sure what to think.
They are a little crunchy on the outside with a slight crunch in the middle. They are flavorful with a hint of spicy. They aren't the awful spicy hot either. Just enough to make you want to dip into a creamy dressing.
Recipe previously posted on January 5, 2014. Photos updated August 12, 2015. 

Healthy Buffalo Cauliflower Bites
Author:
Chelsea @ Gal on a Mission
Ingredients
6 cups of fresh cauliflower florets
2 teaspoons garlic powder
a pinch of salt
a pinch of pepper
1 tablespoon butter, melted
¾ cup Frank's RedHot hot sauce
Instructions
Preheat oven to 450. Spray a baking sheet with cooking oil, or olive oil. Set aside.
Mix the garlic powder, salt, pepper, melted butter, and hot sauce in a small bowl.
Add the cauliflower into a large gallon-sized bag, pour the buffalo sauce into the bag. Shake until the cauliflower florets are fully coated. Spread on a baking sheet.
Bake for 20 minutes.
Serve with ranch or blue cheese dressing.
Create your own Healthy Buffalo Cauliflower using the recommended equipment: