One-Pot Creamy Tomato Tortellini Soup Recipe – The EASIEST homemade creamy tomato tortellini soup made from scratch! Loaded with fresh herbs, diced tomatoes, and three-cheese tortellini! So easy you can even make it in your slow cooker!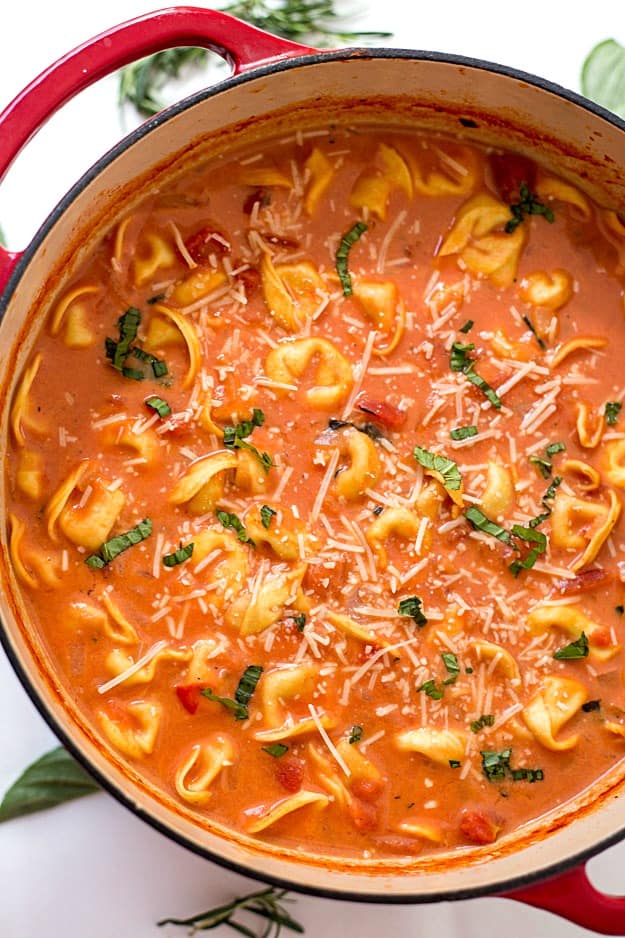 Sometimes I think it's still soup season, and then the weather decides it was to be on the warmer side again when I make a pot of soup. It's so hard to predict how it's going to be because mother nature is constantly changing. Ugh!
Oh well. My hubby is still going to enjoy this one pot creamy tomato tortellini soup! Even though I would like to face plant into a bowl of this soup, I am going to have to pass because I am dieting. My willpower is starting to get stronger each and every day. I would LOVE a big bowl of this soup with a buttered and toasted slice of bread! I did taste it now and then when I was making it, so I know it's delicious.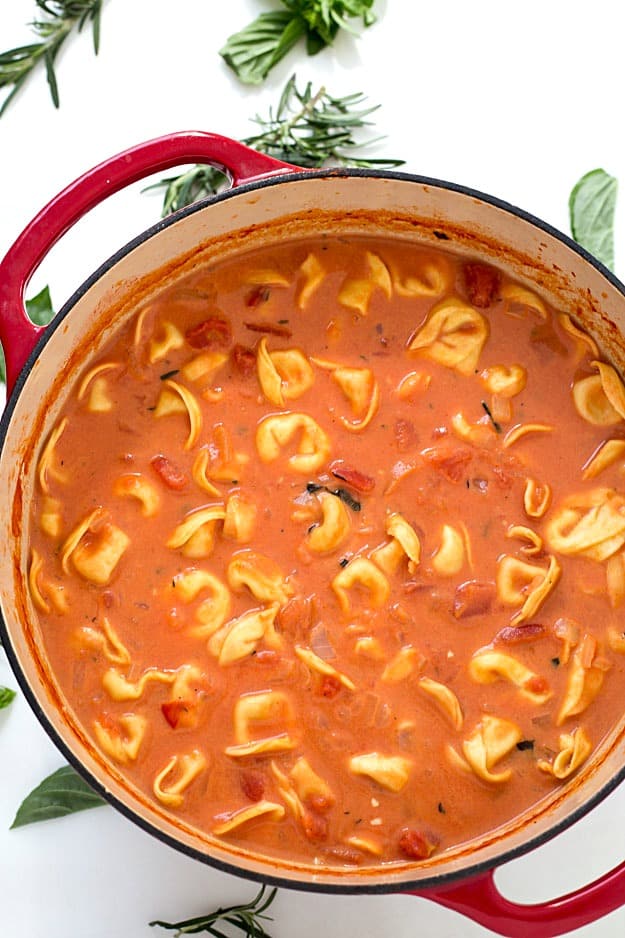 Love tomato soup? Dislike condensed cans of soup? Me too! Skip the canned condensed tomato soup, please for me! You can create this flavorful tomato soup in no time.
If you love one-pot soups, you are going to LOVE one-pot tomato and basil tortellini soup or my one-pot creamy sausage and potato soup!
I immediately know what ingredients I wanted to use to resemble a condensed tomato soup: springs of fresh rosemary, fresh basil, dried oregano, and dried thyme. Yep. Those are your typical Italian soup and sauce basic. Not to worry if you do not have fresh rosemary or basil, you can find the measurements for dried.
Love one-pot pasta dishes? Try our 15-minute one-pot taco pasta, 20-minute Tuscan chicken with penne pasta, or our one-pot summer vegetable pasta – to die for!
Every soup or pasta dish I make I love to use my dutch oven. If you do not own one, it is my most used kitchen pot. It keeps things an even cooking temperature since it is made out of cast iron and perfect for throwing into the oven. Hands down…the BEST!!
If you do not make your chicken stock from scratch, I highly recommend this brand of chicken stock. I always like to get the unsalted kind because I like to add salt to my taste.

One-Pot Creamy Tomato Tortellini Soup
Author:
Chelsea @ Gal on a Mission
Ingredients
1 medium onion diced or 1 cup
3 garlic cloves, minced
1 teaspoon olive oil
1 spring of fresh rosemary chopped or ½ teaspoon dried
28 ounce can diced tomatoes
15 ounce can tomato sauce
½ teaspoon dried oregano
4 large fresh basil leaves or ½ teaspoon dried basil
½ teaspoon salt
¼ teaspoon pepper
4 cups chicken stock
½ cup heavy cream
20 ounces three-cheese tortellini
½ cup shredded parmesan cheese + extra for garnish
salt and pepper, to taste (optional)
fresh basil, to garnish
shredded parmesan cheese, to garnish
Instructions
Place the onion, garlic, and olive oil, and fresh rosemary in a 6-quart soup pot or dutch oven. Sautee over medium heat for 5 minutes or until the onions are translucent.
Add in the diced tomatoes, tomato sauce, oregano, basil, salt, pepper, chicken stock, and heavy cream and stir to combine. Simmer for 20 minutes.
Place the three-cheese tortellini into the soup and cook for 12-15 minutes or until the tortellini are tender and cooked through.
Stir in the parmesan cheese.
Serve and garnish with fresh basil and shredded parmesan cheese.