Contains tons of chocolate and very fudgy - the ultimate chocolate peppermint cookies. Calling all chocolate lovers, this is the cookie for you!
Welcome to day two of the 10 Days of Cookies - Chocolate Peppermint Cookies! These cookies taste absolutely amazing and an all-around great cookie.
Contains a lot of chocolate with a fudgy-moist center with a perfect amount of peppermint. I am definitely calling this my ultimate chocolate cookie because it contains everything I would want in a cookie. I am a huge, huge chocolate lover! On the other hand, my hubby isn't. More for me, right? Or you! 🙂
If you decide to put these on your holiday table full of cookies, please write, "These cookies are absolutely horrible, no chocolate taste at all. You do not want these!" If you do not add that, I promise you that the cookies will be gone in less than five minutes - they are THAT good.
You could also just be honest and say they are amazing cookies. I like the other way so that I can save them all for me. So terrible!
I love how the batter for these cookies are a little bit thicker than normal because the end result is a chewier and thicker cookie. My favorite. Yours too, right?
As always, they are super easy to make and do not require hardly any chilling time at all. The only thing you will have to worry about is your butter being room temperature. I always remember to take mine out for a good two hours before I start baking, but you can always soften it up in the microwave. You do not want the butter melted, though.
After the butter has softened, you just cream it with the sugar, add in the egg and vanilla extract. Slowly mix in the dry ingredients and fold in the peppermint crunch pieces and chocolate chips. Easy.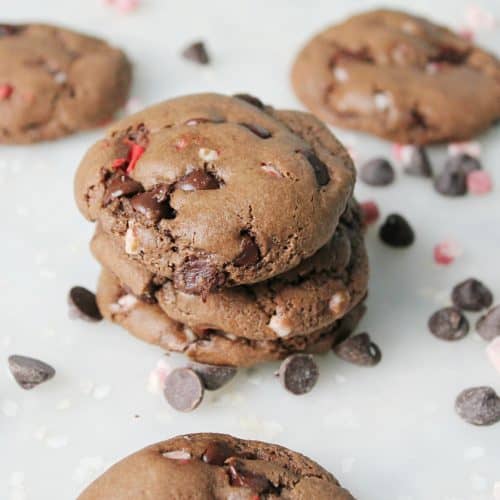 Ultimate Chocolate Peppermint Cookies
Ingredients
1

stick unsalted butter

softened to room temperature

1

cup

white sugar

1

large egg

1

teaspoon

vanilla extract

1

and ½ cups all-purpose flour

4

tablespoons

cocoa powder

unsweetened

¼

teaspoon

salt

1

teaspoon

baking soda

2

teaspoons

cornstarch

1

cup

[chocolate chips|http://www.amazon.com/gp/product/B000IN0EV4/ref=as_li_ss_tl?ie=UTF8&camp=1789&creative=390957&creativeASIN=B000IN0EV4&linkCode=as2&tag=savcoudea-20]

½

cup

[Andes Peppermint Crunch Baking Chips|http://www.amazon.com/gp/product/B001688E4Y/ref=as_li_ss_tl?ie=UTF8&camp=1789&creative=390957&creativeASIN=B001688E4Y&linkCode=as2&tag=savcoudea-20]
Instructions
Cream together the butter and sugar using a stand or a handheld mixer on medium.

While still mixing on medium, add in the egg and vanilla extract.

Turn the mixer on low and add in the flour ½ cups at a time.

Add in the cocoa powder, salt, baking soda, and cornstarch.

Fold in the Andes Peppermint Crunch Baking Chips and chocolate chips using a plastic spatula or a spoon.

Cover the mixing bowl with plastic wrap and let chill in the refrigerator for 20 minutes.

Preheat oven to 350 degrees and line a cookie sheet with parchment paper or a silicone baking mat.

Spoon the cookie dough onto the paper or baking mat and bake for 9-10 minutes.

Let cool on the cookie sheet for 2 minutes, then transfer to a cooling rack.
Recipe Notes
Stores in a cookie jar or in the refrigerate for 1 week.
Molasses Cardamon White Chocolate Cookies