*This post may contain affiliate links, please read our disclosure policy.
Soft-baked, chewy molasses cookie. A flavored packed favorite-holiday spiced cookie. Perfect for cookie exchanges.
Welcome to day 7 of 10 Days of Cookies - Chewy Molasses Cookies!
We have shared so many different cookies these pasted few days, wow. Not only are they all completely unique, but they are all super-easy and absolutely delicious.
My favorite kind of cookies!
Would you like a recap of all of the cookies we have shared so far? I know I do - always gets my mouth watering, yum.
Day 1: Chocolate Chip Cookies
Day 2: Ultimate White Chocolate Peppermint
Day 3: Chocolate Sandwich Cookies
Day 4: Snowball Cookies
Day 5: Caramel Pretzel Cookies
Day 6: Mint Holiday Kiss Cookies
That's a whole lotta cookies! 🙂
Another thing that is new around here is my cute little watermark - thanks Laura! 🙂 Any who, back to the cookies - chewy molasses cookies.
I have a love, hate relationship with molasses cookies. I do not want a huge and I mean HUGE molasses type, just a little bit. I do not want them to be flat and hard. The love part is a delicious, soft/chewy, medium molasses taste - like these! 🙂
I have been trying to perfect this recipe for awhile and I am SO happy about the outcome of these bad boys. Hubby you aren't allowed to eat them, all mine!!
These do require some chilling time, however, not THAT much. You definitely want to chill them and not skip this step. Only a good hour is great - overnight is best. 
When you see the recipe and notice that you will need 3 cups of flour, please do not be worried. With the addition of the molasses, you need more flour. Do not like runny batter. No thanks.
Like always, just make sure the butter is softened to room temperature. Sometimes I forget and just microwave it in 10 second increments to. If you do the microwave method, please do not melt the butte. Not good.
Everything you should already have in your pantry - if you do not, I am almost positive you can find ground nutmeg and ground cloves just about anywhere. I know in the DC area you can! 🙂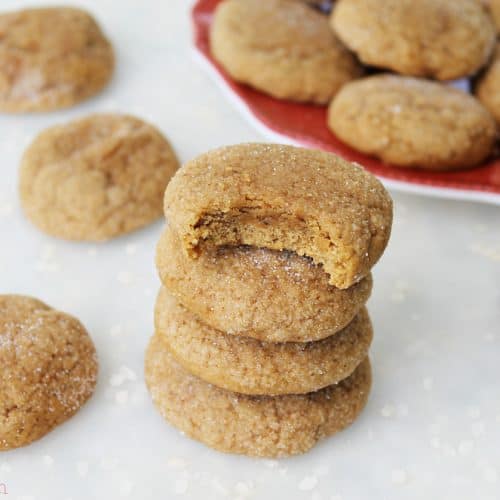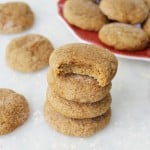 Chewy Molasses Cookies
Ingredients
1

stick unsalted butter

softened to room temperature

¾

cup

dark brown sugar

1

large egg

room temperature

1

and ½ teaspoons vanilla extract

½

cup

[molasses|http://www.amazon.com/gp/product/B0005XP1E2/ref=as_li_ss_tl?ie=UTF8&camp=1789&creative=390957&creativeASIN=B0005XP1E2&linkCode=as2&tag=savcoudea-20]

½

teaspoon

nutmeg

¼

teaspoon

[ground cloves|http://www.amazon.com/gp/product/B006CRJBZ0/ref=as_li_ss_tl?ie=UTF8&camp=1789&creative=390957&creativeASIN=B006CRJBZ0&linkCode=as2&tag=savcoudea-20]

1

and ½ teaspoons ground cinnamon

3

cups

all-purpose flour

¼

teaspoon

salt

1

teaspoon

baking soda

⅓

cup

granulated sugar

to roll the dough into
Instructions
In a large bowl, combine the spices (nutmeg, ground cloves, ground cinnamon) with the flour. Using a plastic spatula or a spoon mix the ingredients together, then add in the salt and baking soda. Set aside.

In a stand or a hand-held mixer, cream together the butter and brown sugar. Add in the egg and vanilla extract while mixing on medium-low speed.

Add in the molasses and mix on medium-low speed until all of the wet ingredients are mixed together.

Slowly combine the dry ingredients into the wet ingredients.

Cover the mixing bowl with plastic wrap and chill in the refrigerator for one hour. Overnight is best if you are able to do so.

Preheat oven to 350 degrees and line a cookie sheet with parchment paper or a silicon baking mat.

Add your granulated sugar into a small bowl.

Spoon about 1 tablespoon of cookie dough and roll into balls, then dip into the granulated sugar. Place on the cookie sheet and bake for 8-10 minutes.
Recipe Notes
Stores in an air-tight container for one week.