Copycat Panera Chicken and Wild Rice Soup Recipe – The best soup ever! It's creamy, flavorful, and filling. Made with easy pantry ingredients. Can be made in the crockpot or a soup pot, so easy either way!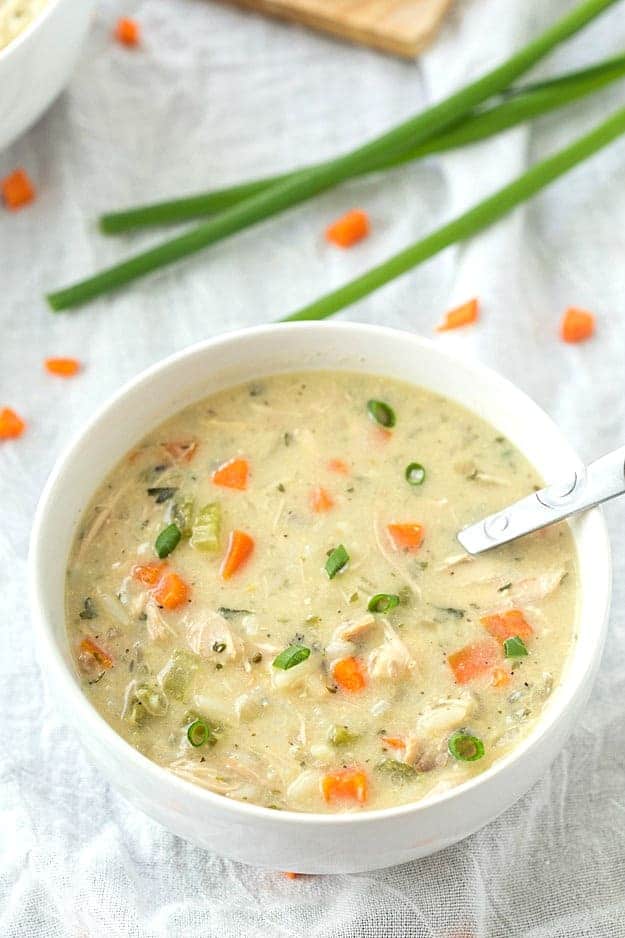 Soup season has finally decided to come around here. In the last few months of 2015, I wasn't sure if it would ever be appropriate to indulge in a delicious bowl of warm soup. I mean the weather was a little confused and thought we completely skipped over winter and went straight to late spring. Now that's nothing to complain about and I most definitely am not at this second. It's downright cold here now!
If you haven't ever tried Panera Bread's soups, you are seriously missing out. Their soups are so good and usually oh-so-creamy and comforting. I am in love with their chicken and wild rice soup and broccoli and cheese soup. Now my hubby loves their tomato soup, which I haven't tried yet.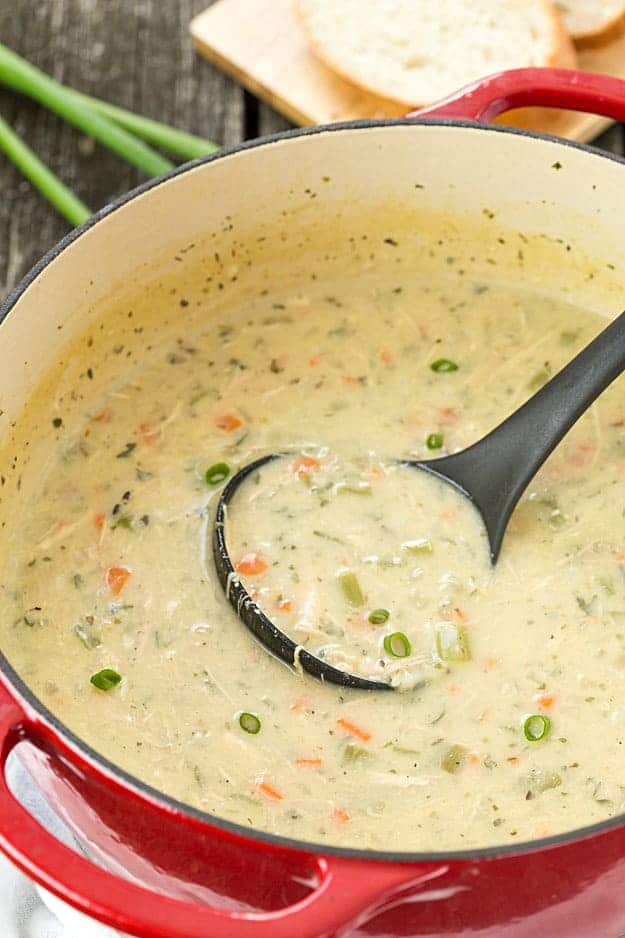 Looking for additional soup recipes to try? We highly recommend our one-pot tomato and basil tortellini soup (one of my favorites), slow cooker ravioli soup (perfect for Meatless Mondays), and our cauliflower roasted red pepper soup (everyone loves it).
As with all my soups lately, I have been using my favorite dutch oven. It's the best kitchen investment I have ever made, besides my trusty cast iron skillets. I love being able to sear meats in it on the stovetop and then transfer it to the oven. I haven't found anything I cannot use it for, well…besides, ice cream. 😉
If you are looking for a bowl of soup that warms you up inside and out, is creamy, filling and hearty, so flavorful and makes leftovers the next day, and then give this copycat Panera chicken and rice soup a try! You will not be disappointed!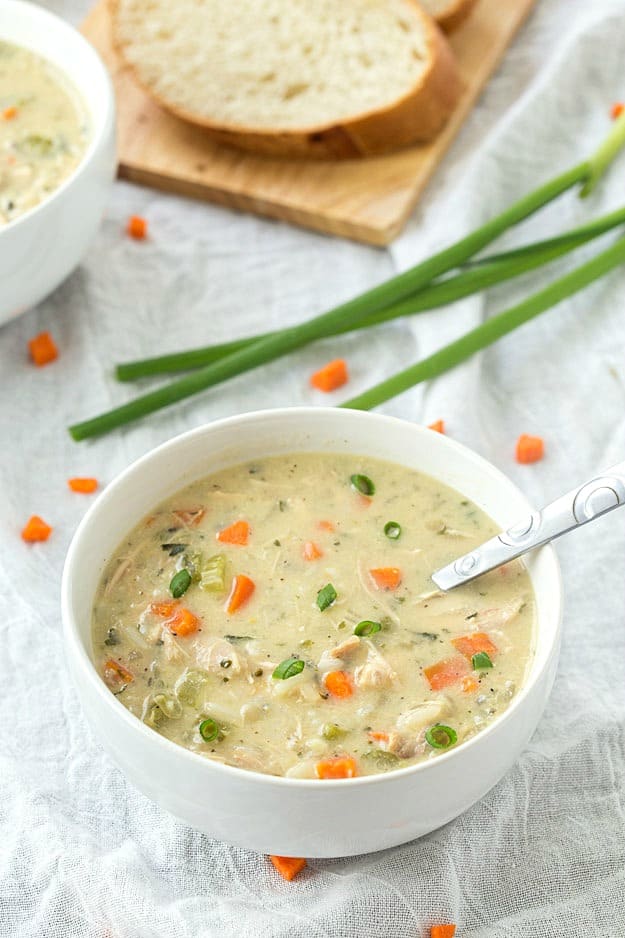 As with all soups, it starts with your most basic ingredients: chicken stock or broth, carrots, celery, salt and pepper, onions, etc. The ingredient that takes this soup to a whole new level is Rice a Roni Long Grain and Wild Rice plus the seasoning packet included with the rice. Trust me on this, it brings the soup flavors together in the most delicious way.
I highly recommend making homemade chicken stock or broth, if you have the time. As the saying goes, "Homemade is always the best." It is and so much healthier for you, plus you can control the sodium content. I'm picky that kind of way. The night before I am making soup, I purchase a whole chicken and roast it on my lovely and amazing dutch oven, then make chicken stock in my slow cooker overnight. It's the easiest thing ever and cheap!

Copycat Panera Chicken and Wild Rice Soup
Author:
Chelsea @ Gal on a Mission
Ingredients
½ cup finely diced carrots
½ cup finely diced celery
1 medium onion finely diced
1 teaspoon olive oil
3 garlic cloves, minced
32 ounces chicken stock
2 cups water
2 cups milk, divided
½ teaspoon pepper
½ teaspoon dried oregano
1 bay leaf
2 large chicken breasts, cooked and shredded or finely diced
½ cup all-purpose flour
4.3-ounce box of Rice a Roni Long Grain and Wild Rice + seasoning packet
salt and pepper, to taste
scallions, to garnish
Instructions
Place the carrots, celery, onion, and olive oil in a 6-quart Dutch oven to the soup pot. Allow the carrots, celery, and onion simmer over medium heat for 10 minutes or until the onions are translucent.
Add the garlic cloves, chicken stock, water, and 1 cup of milk to the mixture and mix.
Add the pepper, dried oregano, bay leaf, and chicken. Mix until combined. Allow the soup to simmer over medium heat for 15 minutes.
Whisk together the other 1 cup of milk with the ½ cup flour until smooth. Place into the soup mixture and whisk until combined.
Place the long grain and wild rice and the seasoning packet into the soup and mix until combined. Allow the soup to simmer for 20 minutes or until the rice is tender. Add salt and pepper to taste.
Serve and garnish with fresh scallions.