Super-soft, super-chocolate, and wonderful chocolate chip cookies. Perfect cookie to bring out during the holidays, especially in cute little cookie tins.
Welcome to the 10 Days of Cookies! (#10DaysofCookies) We are starting the very first day with chocolate chip cookies because they are such a classic are always a hit. I have never met anyone who doesn't love a chocolate chip cookie. Have you?
We have so many different cookies to share with you this week and I am so excited! I love, love cookies. I really wish I had the space on my kitchen counters to store a huge cookie jar. I can see it in the future. 🙂
Let's get back to the cookies, okay? 🙂 I love these cookies because you do not have to chill the dough in the refrigerate at all. Most cookie dough, including many of mine, do require chilling. Not these, baby! Easy!
Another important thing you will have to remember about these cookies is that you do need either a stand or a handheld mixer. The dough will be thicker than normal and requires a little bit longer of mixing. It will look sandy and will look like it needs more liquid - not at all. Just keep on mixin'!
Didn't I mention how easy these are? All you have to do is let the butter soften, cream together the butter and sugar. Add a splash of vanilla extract and add in the eggs. Mix together the dry ingredients with the wet ingredients and fold in the chocolate chips. 🙂
These super-soft chocolate chip cookies are also the perfect dunkers, if that is your thing. Yum.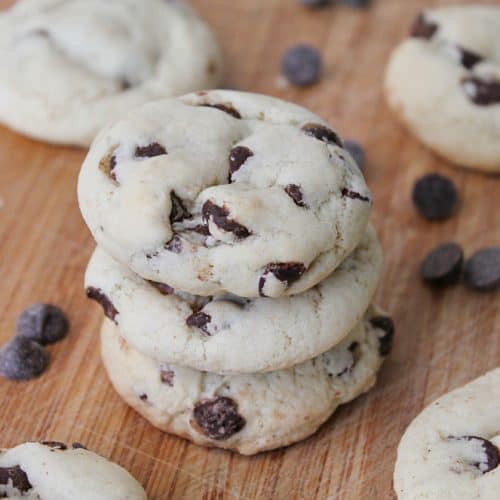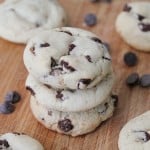 Chocolate Chip Cookies
Ingredients
1

stick unsalted butter

softened

1

cup

white sugar

1

large egg

1

and ½ teaspoons vanilla extract

2

cups

all-purpose flour

¼

teaspoon

salt

2

teaspoon

cornstarch

1

teaspoon

baking soda

1

cup

[chocolate chips|http://www.amazon.com/gp/product/B000IN0EV4/ref=as_li_ss_tl?ie=UTF8&camp=1789&creative=390957&creativeASIN=B000IN0EV4&linkCode=as2&tag=savcoudea-20]
Instructions
Preheat oven to 350 degrees and line a baking sheet with parchment paper or a silicon baking mat.

Using either a handheld or an electric mixer, cream together the butter and sugar.

Add in the egg and vanilla extract while mixing on low.

Slowly add in the flour ½ cup at a time while mixing on low.

Add in the salt and cornstarch.

Fold in the chocolate chips with a plastic spatula or a spoon.

Spoon the cookie dough onto the baking sheet and bake for 9-10 minutes.

Let the cookies cool for 2 minutes, then transfer to a cooling rack.
Recipe Notes
Stores for up to one week.
Peppermint White Chocolate Chip Cookies
What are some of your favorite cookies?