This Life-Changing Easy Thanksgiving Stuffing is my go-to stuffing recipe! Homemade stuffing is the best when made with fresh herbs, torn-apart bread, and mushrooms! A must-have this holiday!
LIFE-CHANGING EASY THANKSGIVING STUFFING
PIN IT TO YOUR THANKSGIVING BOARD ON PINTEREST TO SAVE IT FOR LATER!
That's all I have to say about last night - wow. I tried to avoid politics like the plague, but everyone this morning seems to be commenting and making sure many people hear their opinions. I'm just sitting over here in my little bubble not trying to say anything and totally overeat on this Easy Thanksgiving Stuffing for breakfast. We still have a few leftovers from this Thanskgiving stuffing, not much, but just enough for me to think it's already Thanksgiving here. It totally is with four-cheese stuffed sausage and stuffing for breakfast. So normal around here!
Don't forget to have plenty of casserole dishes on hand!
So why am I calling this stuffing life-changing Easy Thanksgiving Ttuffing? Because it is life-changing and so simple! I grew up with boxed stuffing, and I still enjoy it, but guys, this stuff is incredible! It's full of fresh herbs - sage, oregano, and thyme. I know the second question you already thinking because we are the bestest of friends: can I use dried herbs? Yes and no. I don't recommend it because I like to splurge on high-quality fresh herbs now and then because it does make a difference in the flavor. It's completely up to you, though! I, however, do not know the dried measurements of the fresh herbs because I haven't tested this recipe with them. There must be a way to figure out; I'm just not positive.
Did you catch my Garlic Roasted Red Potatoes recipe yesterday? They are the best! Make a batch for your Thanksgiving table because potato-loving people love two or three potatoes options - I do! Here a few other dishes you may love - Southwestern Mashed Potatoes (they are so much fun), Garlic Parmesan Pan Roasted Potatoes, Crockpot Ranch Mashed Potatoes, Smashed Herb Lemon Baked Potatoes, The BEST Green Bean Casserole, and Slow Cooker Loaded Mashed Potatoes.
I also have a few appetizers that would be fantastic - Italian Stuffed Mushrooms with Sausage, Cranberry Orange Crostini, Mixed Olive and Whipped Feta Crostini, and Slow Cooker Cranberry Meatballs (so addicting).
Another critical component to this Tasy Thanksgiving Ttuffing is using a day old french baguette torn apart loaf. Please, please do not use plain old white sandwich bread, it's not as good, trust me! Once your bread is torn apart (I looove how rustic it looks compared to being sliced!) all you have to do is dry it out in the oven for about 15 minutes. The only other thing stopping you from mixing it all together and baking it is sauteing the onions, mushrooms, celery, and herbs. I told you how easy it is! If you aren't a fan of mushrooms, it's okay to omit them.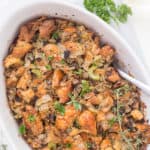 Life-Changing Easy Thanksgiving Stuffing
This Life-Changing Easy Thanksgiving Stuffing is my go-to stuffing recipe! Homemade stuffing is the best when made with fresh herbs, torn-apart bread, and mushrooms! A must-have this holiday!
Keyword:
stuffing, thanksgiving
Ingredients
1

French Baguette,

torn apart

½

cup

unsalted butter

1

medium onion,

finely diced

1

lb

mushrooms,

finely diced

2

celery stalks,

finely diced

2

tbsp

roughly chopped fresh oregano

2

tbsp

chopped fresh sage

1

tbsp

fresh thyme

salt and pepper

2

large eggs

2

cups

vegetable or chicken stock

fresh parsley,

to garnish (optional)
Instructions
Preheat oven to 375 degrees.

Place the torn apart bread on a large baking sheet and bake for 15 minutes or until the bread is browned and dried.

While the bread is drying out, melt the butter in a large skillet or pan over medium heat.

Add the onions and saute for 5 minutes, then add the mushrooms, and celery and saute for another 5 minutes.

Add oregano, sage, and thyme to the mixture and stir to combine and saute for additional minute.

Season with salt and pepper.

Place the dried bread into a large mixing bowl and add the onion and mushroom mixture to the bowl and toss to combine.

Whisk together the eggs and chicken stock and add it to the mixture; toss to combine.

Spray a 2-quart or larger casserole dish with non-stick cooking spray.

Place the stuffing into the casserole dish, cover with aluminum foil and bake for 30 minutes.

Remove the aluminum foil and bake uncovered for another 30 minutes.

Garnish with fresh parsley and serve.
Recipe Notes
Nutrition estimated is based upon the brands I used. Yours may vary depending on brands.
Nutrition Facts
Life-Changing Easy Thanksgiving Stuffing
Amount Per Serving
Calories 218
Calories from Fat 104
% Daily Value*
Fat 11.6g18%
Cholesterol 63mg21%
Sodium 519.3mg23%
Potassium 368.8mg11%
Carbohydrates 63g21%
Protein 7.8g16%
Vitamin A 126.1IU3%
Vitamin C 11.4mg14%
Calcium 60.6mg6%
Iron 2.3mg13%
* Percent Daily Values are based on a 2000 calorie diet.