Smashed Herb Lemon Baked Potatoes – Crispy on the outside, moist and tender on the inside! Each bite contains just a hint of freshly squeezed lemon and herbs!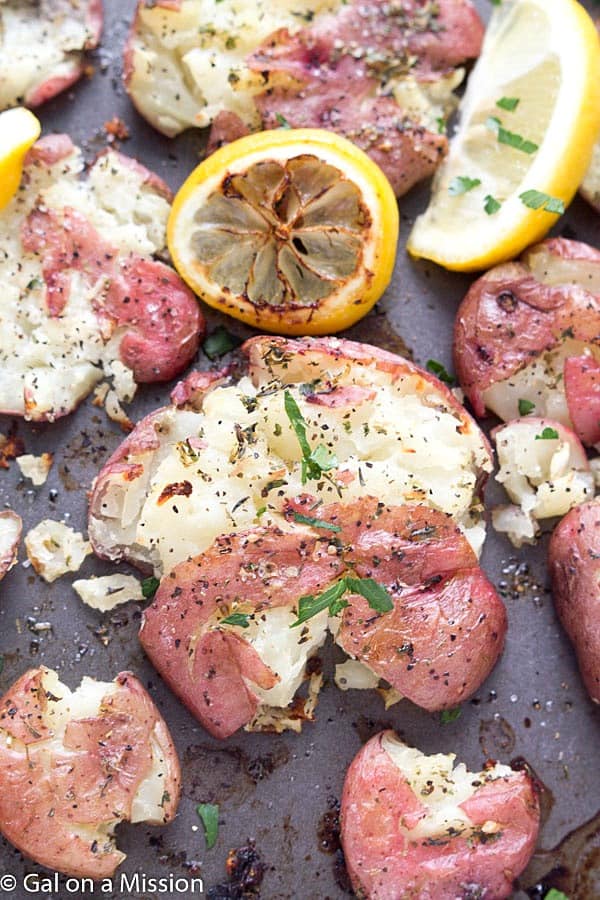 I am a sucker for incredibly easy side dishes and this one definitely fits the description. Not only are these smashed herb lemon baked potatoes easy, but they are are so flavorful. I love how they pair with just about any main dish: beef, seafood, chicken – you name it.
There are two parts to making these and let's start with the boiling them until they are tender. For the boiling water, you will want to make sure it is salted, which increases the flavor inside the potatoes.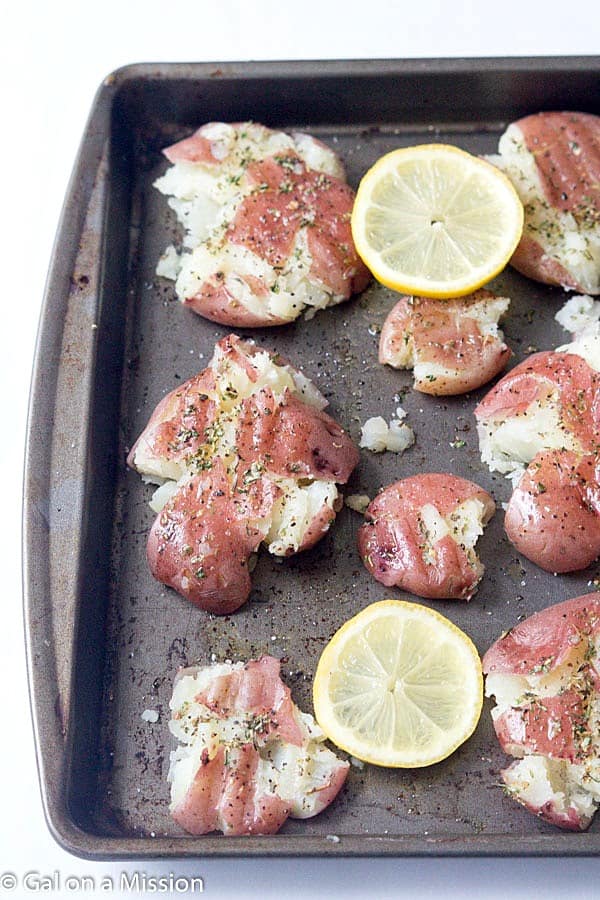 Once tender, you will want to lay them on a baking sheet and start the smashing process. You can use a potato smasher. If you do not have a potato smasher on hand, you can use the bottom of a glass. You will want to make sure you press firmly on the potatoes to smash them evenly.
Once they are perfectly smashed, you can whisk together your star-winning ingredients: butter and spices. I used dried herbs, if you can get your hands onto fresh herbs, feel free to use those instead. Fresh is always best.
After you have your spices mixed together and your butter melted, glaze the smashed potatoes and top with freshly squeezed lemon juice.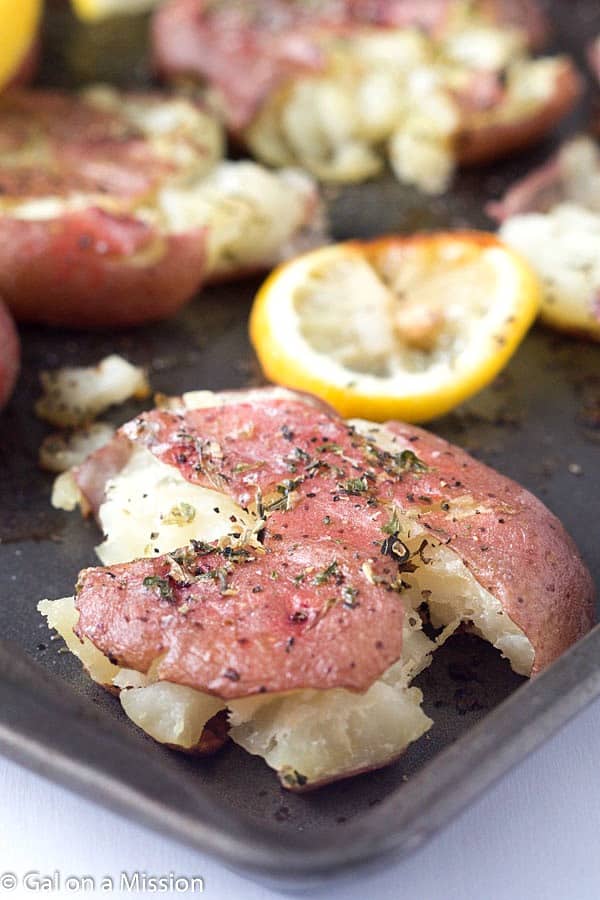 Smashed Herb Lemon Baked Potatoes
Author:
Chelsea @ Gal on a Mission
Ingredients
1 pound small red potatoes, washed and dried
1 tablespoon butter, melted
¼ teaspoon dried thyme
¼ teaspoon dried basil
¼ teaspoon dried oregano
½ teaspoon dried parsley
salt and pepper
half of lemon
Instructions
Add hot water to a medium-sized pot and heat over medium-heat until the water is boiling, season with salt. Add the potatoes to the pot, simmer for 20 minutes or until the potatoes are tender. Drain.
Preheat oven to 400 degrees. Place the potatoes on a large baking sheet and gently smash them.
Mix together the melted butter, dried thyme, dried basil, dried oregano, and dried parsley together in a small bowl. Glaze the potatoes with the mixture with a pastry/basting brush. Season with salt and pepper. Squeeze lemon juice on top of the potatoes.
Bake for 20 minutes or until the tops of the potatoes are crispy.
Other Smashed Potato Recipes You May Enjoy: 
Crispy Garlic Smashed Potatoes