*This post is sponsored by Boursin® and Acorn Influence but the content and opinions expressed here are my own.*
Cranberry Orange Crostini – A decadent crostini made with an out-of-this-world cheese spread, then topped with fresh cranberry sauce and orange zest! Perfect appetizer for the holidays. #LoveBoursin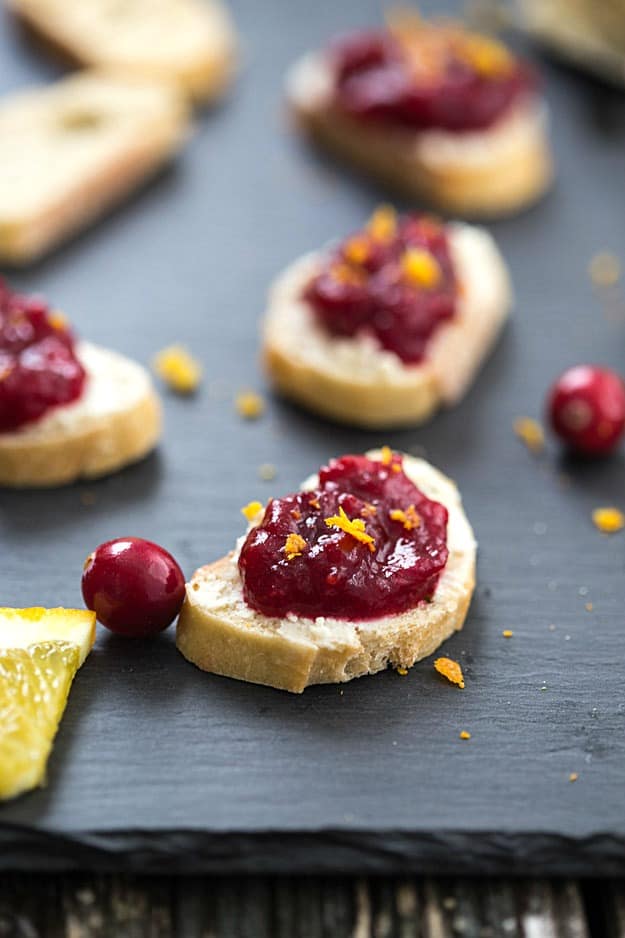 Fall comes and goes, and so goes the warmer weather. Then come the big end-of-the-year holidays and we tend to cozy up with hot cocoa and decadent treats to keep us warm. Or that's my excuse to devouring decadent and comforting foods. It all usually centers around enjoying our friends and family as we celebrate the holidays.
Do you attend holiday parties? We typically do not because my hubby has a small group of people he works with and I work from home. Would be neat one year to host a dinner party for them. We usually go to my parents' where the have enough space to host parties for friends and family. We all gather around the kitchen with a beverage of choice, make fun treats, like these delicious cranberry orange crostinis and laugh and laugh.
How do you celebrate the holidays? However you celebrate the holidays, make sure it's something you cherish and remember for years to come.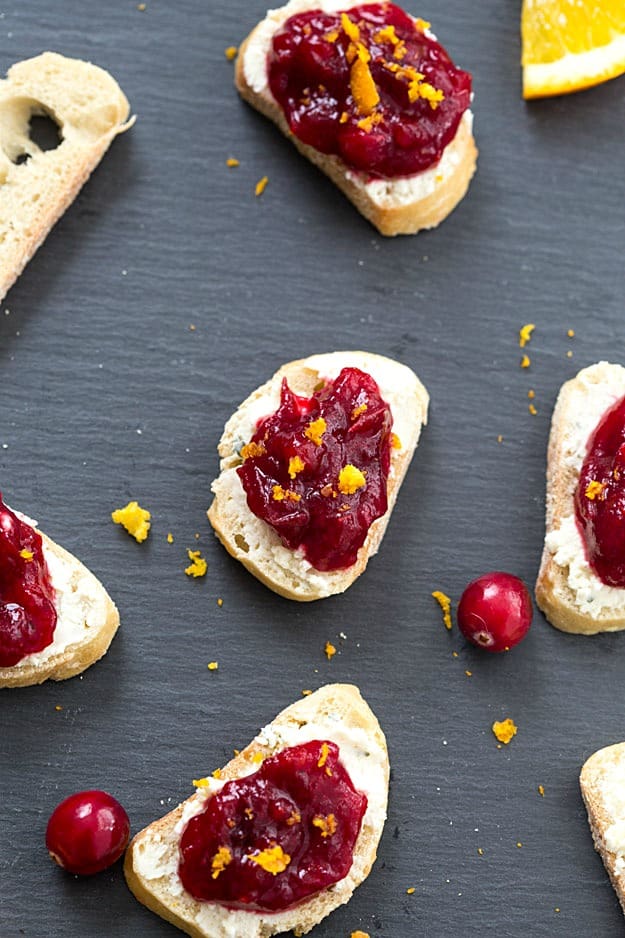 If we go to either of our parents' houses for the holidays, I always try to bring a memorable dish that creates lasting entertainment. It can be a different kind of fudge I just tried or a unique twist on an appetizer. It tends to be something we can make together as a family if anyone chooses to. Almost no one wants to, at least the men do not, it's up to my mother, aunt, and myself to make it happen. And that's okay. We love each others company and have a blast doing it.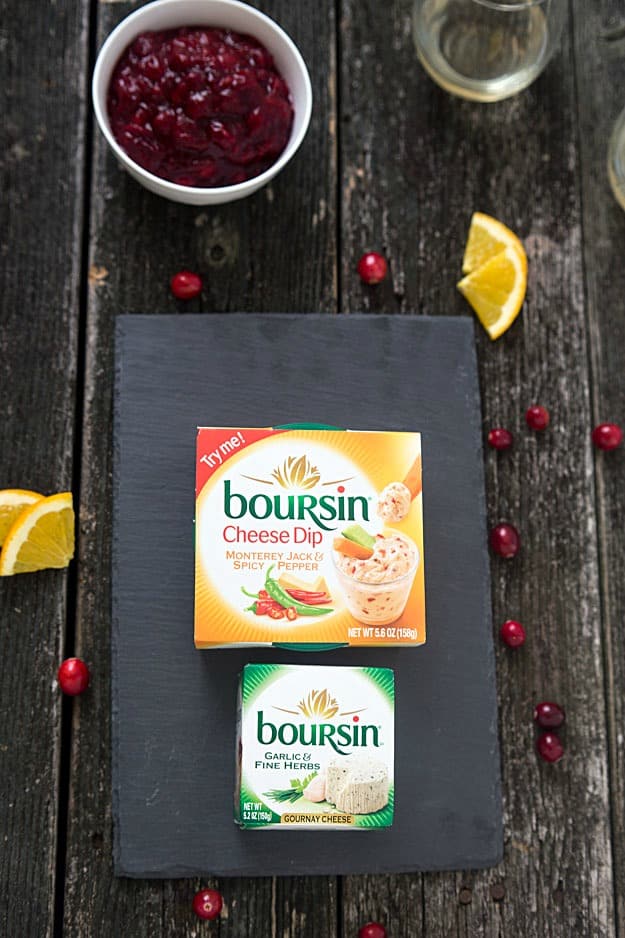 This year I went to my local Walmart and started to browse the deli bunker, where all of the gourmet cheeses and dips are located and found two I wanted to try – Boursin® Monterey Jack & Spicy Pepper and Garlic & Fine Herbs. Both are a hit this year, and I will be bringing to my in-laws for Christmas.
I thought the garlic & fine herbs would be fantastic on a crunchy crostini with cranberries and orange zest. And I was so right! The flavors were bursting in my mouth. So much texture and flavor in two little bites.
When I was making the cranberry sauce, I used honey to sweeten the tart cranberries, added ground cinnamon, and a little water to thin the sauce. Once the cranberries have completely popped and cooled down, I added orange zest as the finishing touch. So good!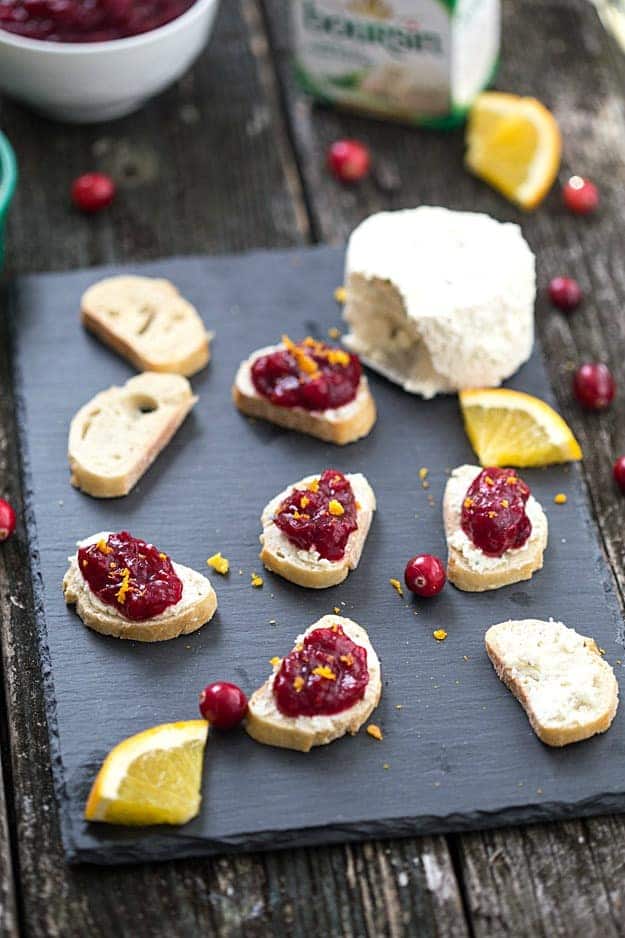 Lucky for you, Boursin® is hosting an Instagram contest this year for three different prizes. All you have to do is make an appetizer using Boursin® and tag it #BoursinParty #LoveBoursin and #Walmart to enter! Easy!

Cranberry Orange Crostini
Author:
Chelsea @ Gal on a Mission
Ingredients
12 ounces fresh cranberries
½ cup honey
½ cup water
½ teaspoon ground cinnamon, optional
zest of 1 orange, optional
Boursin® Garlic & Fine Herbs Cheese
fresh baguette, sliced and toasted
Instructions
Place cranberries, honey, water, and ground cinnamon (optional) in a small pot and allow it to simmer over medium heat until the cranberries have popped. Let the cranberry sauce to cool. Once cooled, add the orange zest, saving some to garnish.
Prepare the crostini by adding Boursin® Garlic & Fine Herbs Cheese to the toasted baguette slices, add cranberry sauce, then garnish with orange zest (optional).