Garlic Parmesan Pan Roasted Potatoes – If you love crispy baked potatoes, you need to try these pan roasted potatoes! Crispy on the outside and moist and tender on the inside! The perfect side-dish to any meal you are making for dinner tonight!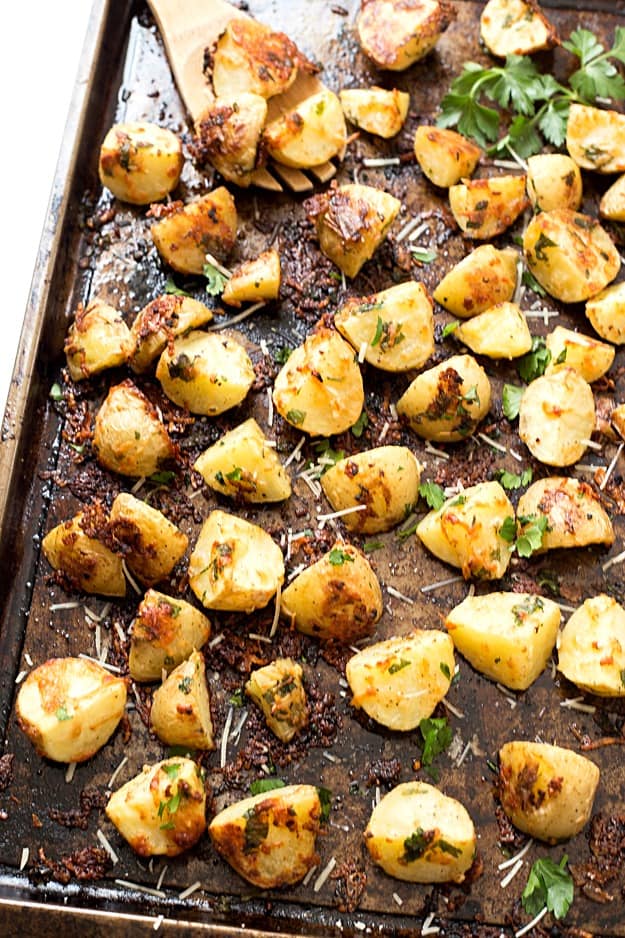 For our family potatoes have always been a staple in our diets and usually make a weekly appearance on the menu as pan roasted potatoes, mashed potatoes (we love our crockpot ranch mashed potatoes), smashed potatoes (our crispy garlic smashed potatoes are so good!), you name it! I love how versatile they are, and you can add any seasonings, and they taste delicious.
If you have never made pan roasted potatoes before you are going to be in shock at how easy they are, so easy! Hardly any prep besides quartering the potatoes and tossing them into the garlic Parmesan seasoning mixture! These garlic parmesan pan roasted potatoes are perfect on a busy weeknight or even on a laid-back weekend evening.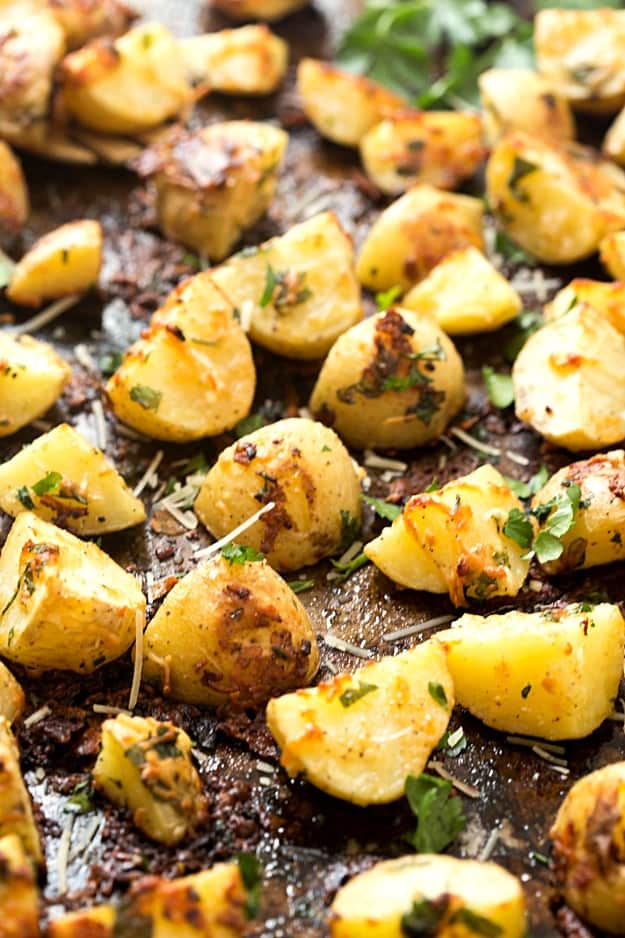 If you aren't worried about carbs, these aren't too bad for you, almost healthy because it doesn't contain any pre-packaged ingredients. I haven't mentioned this yet, but you should already have most of these ingredients in your pantry and kitchen. No strange or hard to find ingredients here!
For the type of roasting pan, I highly recommend a larger baking sheet or these pan roasted potatoes. When the baking sheet is larger, it allows the potatoes to get a crispy crust on the sides. If they are bunched too close, then they will not be as crispy as they are when they are spread apart.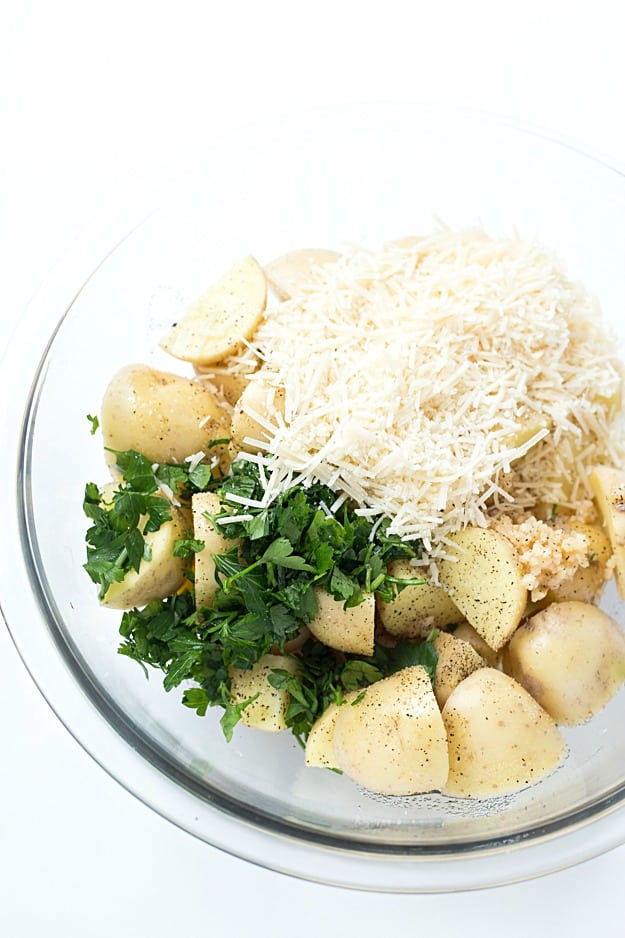 Are you having trouble figuring out which entree to pair these garlic parmesan pan roasted potatoes with? I recommend our baked cajun chicken breasts and cheesy bacon chicken breasts. With the weather warming up and if you feel like grilling then I would also recommend our grilled jerk pork chops or even our grilled ginger pork tenderloin!

Garlic Parmesan Pan Roasted Potatoes
Author:
Chelsea @ Gal on a Mission
Ingredients
24 ounces petite yellow potatoes*, quartered
3 garlic cloves, minced
2 tablespoons olive oil
¼ teaspoon salt
⅛ teaspoon pepper
¼ cup shredded parmesan cheese
¼ cup fresh parsley diced
Instructions
Preheat oven to 400 degrees. Spray a large baking sheet with non-stick cooking spray. Set aside.
Place the quartered potatoes, garlic, olive oil, salt, pepper, shredded parmesan cheese, and parsley into a medium mixing bowl and mix everything together.
Spread the seasoned potatoes onto the baking sheet and roasted for 25 minutes turning the potatoes over and baking for another 20 minutes.
Notes
*You can also use red potatoes instead of the petite yellow potatoes.