A quick and mouthwatering pan roasted lemon chicken recipe that is packed with a refreshing lemon flavor.
During the week I like to make quick and delicious meals, who doesn't? I really love recipes that contain a lot of flavors, but can be used in multiple recipes – a very versatile chicken recipe. This delicious lemon chicken recipe is definitely that!
I am positive I will be sharing more recipes that you can use this lemon chicken in. Just thinking about it is making my mouth water – yummy.
Let's take just a quick break from lemon chicken talk for now, we will continue in a few – I promise. First.. I cannot believe April is already here. I really hope that spring will kick winter in the butt and make it go away because I am so tired of snow. Have you had a lot of snow where you are at? We have – yucky!!
I think I will just make a big pitcher of lemonade or even an Arnold Palmer and munch on this chicken. For some reason, lemon always reminds me of the warmer months. Does that happen to you as well?
Some of you might wonder why I do not fully cook the chicken on the stove top is because I am afraid it will dry out while it is cooking. I do like to sear it on the stove top and in the oven it goes – a low temperature. Yummy.
You do not have to use chicken breasts if that is not what you have on hand. You can definitely use thighs – you will have a nice and crispy crust because of the extra fat. Makes me want to go to the store and purchase thighs and make this again. Must..try...again!
You will need 1 large lemon, 1 zest of 1 large lemon, 3 large chicken breasts (or 6 medium/small or 6 thighs), dried oregano, olive oil, chicken stock, and salt. Not too many ingredients and one's that you probably have on hand.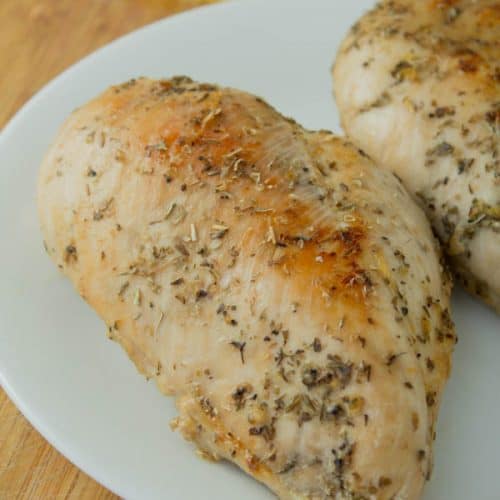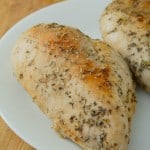 Simple Baked Lemon Chicken
Ingredients
Lemon Rub
¼

teaspoon

salt

1 ¼

teaspoon

dried oregano

1

teaspoon

lemon zest

1

tablespoon

olive oil

1

tablespoon

olive oil

1

and ¼ cups chicken stock

¼

cup

lemon juice*

1

teaspoon

lemon zest

3

large chicken breasts

or 6 small/medium breasts or 6 thighs
Instructions
Preheat oven to 400 degrees.

In a small bowl, combine the lemon rub ingredients and mix together. Rub the lemon rub on top of the chicken breasts or thighs if you are using them.

In a skillet, preferably one that is oven safe* add the olive oil and allow the skillet to heat up. Place the chicken breasts in the pan and sear for 2-3 minutes on each side.

Add the chicken stock, lemon juice, and lemon zest into the skillet and place in the oven. Bake for 20-25 minutes or until an internal temperature of 175 degrees in reached.

*I used fresh lemon juice because I also needed the lemon zest.

*I used a medium-sized cast iron skillet.
Other recipes you might enjoy: 
Honey, Soy, and Garlic Chicken
Copycat Honey-Chipotle Chicken Crispers
Chicken, Broccoli, & Pasta Skillet Casserole