A decadent blueberry and strawberry cheesecake bar recipe made with Philadelphia Cream Cheese on top of an Oreo crust. If you love cheesecake, you will love these!
Over the weekend I had a huge craving for cheesecake and blueberries. I thought those two flavors would pair perfectly and a little bit of fresh strawberries would just make it pop.
Do you remember my Snickers Cheesecake Bars I made last week? If so, you might have noticed that I have many more different ideas of fun cheesecake bar recipes, well this is one of them. 🙂
When I originally started to think about how to make this recipe, I thought I was going to use regular cream cheese until I saw blueberry flavored cream cheese at Walmart. I have always been a huge fan of flavored cream cheeses, so why not make cheesecake bars with blueberry flavored cream cheese? See my logic.
I think, wait…I know you will love these bars because the taste is just amazing. I wish I had thought of these before – so yummy!
If you not a huge fan of blueberry, you can always use strawberry flavored cream cheese if you would like. I think it would taste amazing as well.
As my other cheesecake bars, these are very easy to make, but they require overnight chilling in the refrigerator. The longer they chill, the better they are – firmer and easier to slice.
For the crust layer you will just need Oreos and unsalted butter melted. For the cheesecake layer, you will need Philadelphia Blueberry Cream Cheese, an egg, white granulated sugar, vanilla extract, and fresh sliced strawberries.
Easy: Very easy. Does require 3 hours of chilling time. You will need a mixer for the cheesecake layer.
Taste: Amazing. With the warmer weather it will remind you of Spring with the blueberries and strawberries. Yum!
Texture: A soft and chewy cheesecake bar that is packed strawberries and an awesome blueberry taste.
Pros: Easy to make and tastes great! I am a huge fan of this blueberry and strawberry cheesecake bars recipe.
Cons: The chilling time. You might find yourself inpatient and wanting to dig in right away.
Will I make it again? Of course!
Where to buy?
You can purchase the new Philadelphia Cream Cheeses at your local Walmart store in the cream cheese aisle, usually next to the eggs. Not only are they available in a blueberry flavors, but they have strawberry, garden vegetable, and chive & onion. Yum! #SpreadTheFlavor #CollectiveBias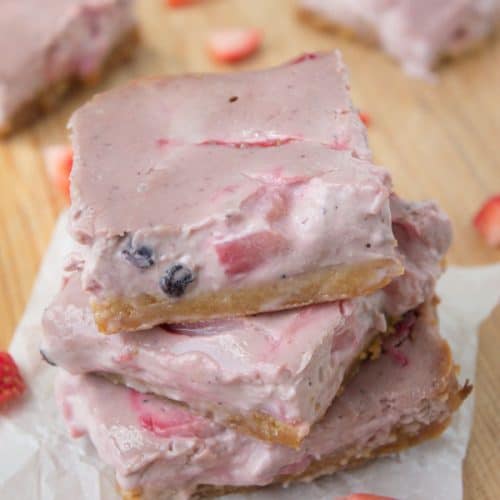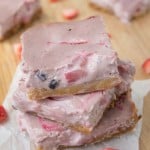 Blueberry and Strawberry Cheesecake Bars
Ingredients
Crust
20

Oreos

5

tablespoons

unsalted butter

melted
Cheesecake Layer
16

oz

2 containers of Philadelphia Blueberry Flavored Cream Cheese, softened to room temperature

1

large egg

room temperature

¼

cup

white granulated sugar

2

teaspoons

vanilla extract

1

and ½ cups strawberries

washed and chopped into small pieces
Instructions
Preheat oven to 350 degrees. Line an 8x8 baking dish with aluminum foil and lightly grease with cooking spray or butter. Set aside.

Crust - Pulse the Oreo cookies in a food processor into fine crumbs. Add to a medium bowl. Pour the melted butter into the the bowl with the crushed crushes. Mix together.

Pour the crust into the baking dish, using a large spatula spread out the crust. Make sure it is even all around.

Fillling - In a large mixing bowl, cream the cream cheese and egg together for 3-5 minutes until it is creamy.

Add in the white granulated sugar and vanilla extract.

Fold in the chopped up strawberries.

Spoon the cheesecake filling on top of the crust.

Bake for 30-35 minutes, or until the cheesecake has set-up and the edges are lightly browned.

Allow the bars to cool for 30 minutes at room temperature and then chill in the refrigerator overnight.

Lift the foil out of the pan and cut into squares.

Store bars in a covered container for up to 5 days in the refrigerator.