Absolutely adorable colorful funfetti pancakes that are made with buttermilk to achieve a great fluffy pancake. 
Breakfast has always been one of my favorite meals, well after dinner - of course, and I do not always have the time to whip up something fancy. I do have the time to whip up these great colorful funfetti pancakes.
You might also know them as birthday pancakes because who wouldn't want to start their day or birthday without these? You also do not have to be a child to enjoy them either  - we have no children and I love to eat them.
The hubby just eats them because it's food, LOL. I just eat them because they are colorful and fluffy. Delicious.
Not only are they delicious, but you can whip up these bad boys in hardly no time at all. Did I mention that the batter also makes quite a bit of pancakes? You can always put the extra in the freezer and just pull them out whenever you need to. Simple and easy - gotta love it!
I also like to use buttermilk in the recipe because it fluffs up the pancakes a little bit more than regular milk. Don't have buttermilk on hand? No problem  - you can make your own homemade buttermilk with adding 1 teaspoon of vinegar per 1 cup of milk. This recipe calls for 2 cups of milk, so you will need to use 2 teaspoons of vinegar and allow it to sit for about 10 minutes.
We do not always keep buttermilk around the house, so this is always my to go recipe for it.
The other ingredients that you will need are all-purpose flour, granulated sugar, baking powder, baking soda, eggs, oil, and funfetti sprinkles. Most of these ingredients you should already have in the house - makes it so easy to whip up a great breakfast in hardly no time.
Recipe Overview:
Ease: Super easy. Not too many ingredients that you shouldn't already have around.
Taste: Like a delicious homemade fluffy pancake.
Texture: Soft like a pancake.
Pros: Love everything about it.
Cons: The funfetti sprinkles can be a little tricky because you do not want to mix the sprinkles in with the batter. You will have to sprinkle the sprinkles on top of the batter right when you add the batter to the skillet or griddle.
Will I Make This Again: Of course! Without the funfetti sprinkles it really is a great basic buttermilk pancake recipe.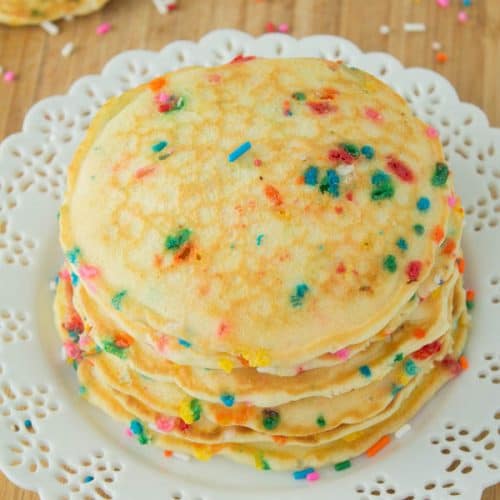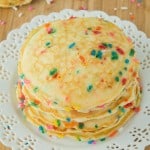 Funfetti Pancakes
Ingredients
2

cups

all-purpose flour

2

tablespoons

granulated sugar

2

teaspoons

baking powder

1

teaspoon

baking soda

2

cups

buttermilk*

2

large eggs

¼

cup

oil

½

cup

funfetti sprinkles
Instructions
In a large mixing bowl, mix together the flour and sugar together with a whisk. Slowly whisk in the baking powder and baking soda.

Slowly add in the buttermilk and whisk together. Do not whisk to hard or you might spill the batter some. Add in each egg one at a time and whisk together.

Add in the oil.

Pour ¼ cup of the batter onto a hot griddle or a hot skillet and sprinkle the funfetti sprinkles on top. Allow the pancake to cook through and then flip over.

Stores in an airtight container for one week in the refrigerator or up to 6 months in the freezer.

*You can use store-bought buttermilk milk or milk you own by adding 2 teaspoons of vinegar into 2 cups of milk.
Blueberry and Raspberry Muffins