A delicious copycat recipe for the famous Honey-Chipotle Chicken Crispers with a one of a kind sweet and spicy sauce that does not contain refined sugar.  Ready less than 30 minutes!
On my birthday, I really wanted to go out to Chili's and have these awesome Honey-Chipotle Chicken Crispers. Every time I go there I always order them!
I love everything about them – breading, sweet and spicy sauce, and the dipping sauce. Yum!
I knew we couldn't go out to have them all of the time, because eating out can get a little expensive. I decided to try and make them at home– boy I am glad I did!
These make have to get penciled in the meal plan at least 5 times or more a month!
I love a great chicken finger recipe that has a great crunchy breading and drenched in an amazing sauce - like a honey-chipotle sauce. This is definitely it.
My mouth is already starting to water again. Thank goodness for the leftovers in the refrigerator!
These honey chipotle chicken crispers/fingers are a quick and easy entrée. You can start with 2 pounds of boneless chicken breasts pounded to ½" thick or start with already sliced chicken tenderloins.
You will need to mix together the breading in a ziplock bag – just like shake and bake.
Remember those days?
Dip the chicken fingers in the breading, then dip them in an egg and buttermilk bath, and then in the breading again. Fry in an oil of your choice until done and crispy. I allowed the crispers to sit on a paper to allow the oil to drain off.
While the chicken crispers are frying you will need to start on the honey chipotle sauce, then dip the chicken crispers in the sauce.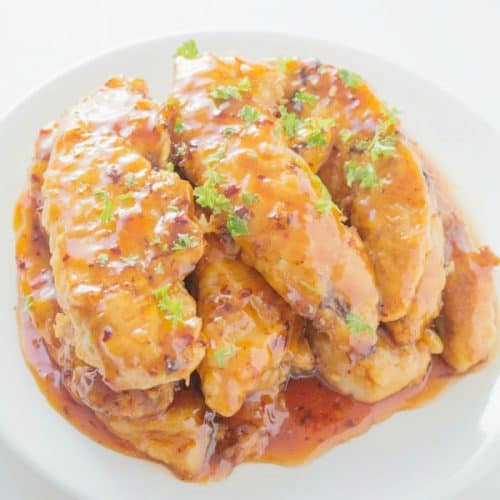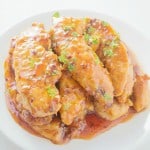 Copycat Honey-Chipotle Chicken Crispers
Ingredients
2

pounds

of boneless chicken breasts pounded into ½" thickness or 2 pounds of chicken tenderloins
Breading
1

cup

all-purpose flour

1

teaspoon

paprika

pinch

of salt and pepper

½

teaspoon

garlic powder
Batter
1

large egg

½

cup

buttermilk
Honey-Chipotle Sauce
⅔

cup

honey

¼

cup

water

¼

cup

ketchup

2

teaspoons

adobe chipotle sauce

½

teaspoon

crushed red pepper

1

teaspoon

cornstarch
Instructions
Prepare the chicken breasts by washing and drying with a paper towel, then pounding them to ½" thickness and slicing into strips. If you are using tenderloins, just wash and pat dry with a paper towel.

In a large ziplock bag, combine the flour, paprika, salt, pepper, and garlic powder. Shake to combine.

Prepare the batter by whisking the egg and buttermilk together. Set aside.

In a large skillet, add in the oil (I used coconut oil) and heat until is bubbly.

Add a couple of chicken strips into the ziplock bag and shake. Remove the chicken strips from the breading and then dip into the egg and buttermilk mixture. Make sure all sides are covered.

Remove from the egg and buttermilk mixture and dip back into the breading mixture.

Place the chicken strips into the hot pan and fry on each side until completely done.

Repeat the process until all strips are cooked.

Place the cooked chicken strips on a plate lined with paper towels to catch the excess grease.

While you are frying the chicken strips, prepare the honey-chipotle sauce by whisking the honey, water, ketchup, adobe chipotle sauce, and crushed red peppers. Place the sauce in a small pot and cook on medium heat for 10 minutes. Add in the cornstarch to the sauce, whisk, and allow to cook for another 3-4 minutes until the sauce has thickened.

Once the sauce has thickened, place the fried chicken strips into the sauce and serve.
Recipe Notes
You can use any kind of oil you would like to fry the chicken strips, I used coconut oil.
For the breading you can use any kind of flour you would like, I used all-purpose flour.
Serve with ranch dressing to dip into.
Chicken, Broccoli, and Pasta Skillet Casserole 
Homemade Cream of Chicken Condensed Soup