Chicken breasts marinated in an Asian inspired honey, soy, and garlic sauce, then baked in the oven to perfection.
I absolutely love, love Asian inspired marinated chicken dishes. Oh. My. Goodness. They are just amazing and I know you will LOVE this one!
I love how versatile this recipe can be because you can make it with chicken tenderloins, chicken breasts, drumsticks, any kind of chicken you have on hand will be perfect. I really think this sauce would be amazing on wings. Yummy!
I really cannot wait for grilling season because these bad boys will be on the grilled immediately. Speaking of the grill, I am so happy that the weather is going to be amazing today – 63 and 70 degrees on Monday. Woohoo!!
Move on over winter, its grillin' season!
This is our first time having a cat before and boy, it's like we are brand new parents. Lucky (the cat) has been doing some of the strangest things EVER and this one definitely topped it for us. He has been scratching above his right eye and scratching so hard the hair falls out and it starts to bleed.
After a couple of days it starts to heal and then he scratches at it AGAIN. It really is a never ending process here.  Don't worry the vet is getting a call today.
Weird cat.
Let's get away from the weird cat and behaviors and just look at how saucy this chicken is. Saucy, right? Oh yeah! The chicken is so moist and an all-around easy chicken recipe that can be served in about 40 minutes.
If you are like me, you can always marinate the chicken overnight and even start marinating it in the morning, then bake right before dinner.
You will need minced garlic cloves, soy sauce (you can use low sodium), honey, ground ginger, vegetable oil, salt and pepper for the marinated/sauce. And of course, you will need about 2 pounds of chicken (breasts, tenderloins, thighs, wings).
After you whip up the marinated, then you will just pour it over the chicken and bake to perfection in the oven for about 40 minutes. If you are using tenderloins, you might need to bake for about 30 minutes. Just keep a checking on it right around that time.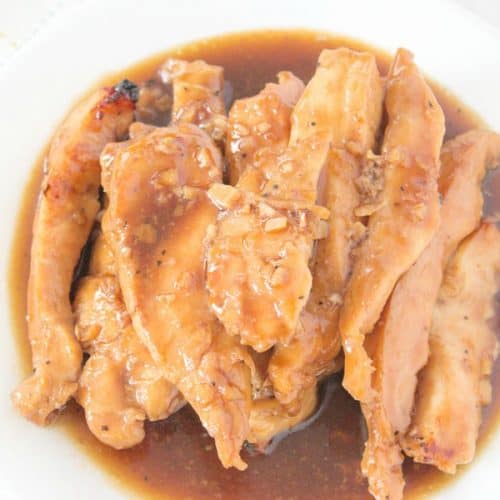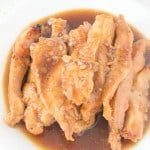 Honey, Soy, and Garlic Chicken
Ingredients
2

pounds

chicken

you can use breasts, tenderloins, thighs, wings, washed and fat removed

6

tablespoons

honey

3

tablespoons

soy sauce

can use low sodium

4

garlic cloves

minced

3

tablespoons

vegetable oil

½

teaspoon

ground ginger

pinch

of salt and pepper

you may omit the salt if you are not using low sodium soy sauce
Instructions
Preheat oven to 425 degrees. Line an 8x8 baking dish with aluminum foil - allows easy clean-up. Set aside.

In a small bowl, combine the honey, soy sauce, garlic, vegetable oil, ground ginger, salt and pepper. Whisk until everything has mixed together.

Place the chicken in the baking dish and pour the sauce over top.

Bake for 40 minutes. If you are using tenderloins you will need to bake for about 30 minutes.
Recipe Notes
If you want to marinate the chicken overnight or in the morning, just place the marinade and chicken in a large ziplock bag and place in the refrigerator. Pour everything into the baking dish and bake.
 Copycat Honey-Chipotle Chicken Crispers 
Chicken, Broccoli, & Pasta Skillet Casserole
Buffalo Chicken Spaghetti Squash