A  thick and chewy oatmeal chocolate chunk cookie recipe that is so simple and loaded with chocolate chunks and oatmeal. A perfect milk dunking cookie. 
I cannot believe how quickly the month of April went by. They say April showers bring May flowers - definitely a true saying. In the DC area we had a lot of rain, but it is so worth it right now. I love going out and seeing all of the beautiful flowers blooming and some already have. Gorgeous.
That's one thing I absolutely love about spring. Don't you?
Before you know it Memorial Day will be here and gone, and then it's summer. Time flies. Speaking of time flying, I really need to start working out in the garden.
Back to the cookies, shall we?
I know you will love these cookies because who doesn't love a thick and chewy oatmeal cookie that is loaded with chocolate chunks and a lot of oatmeal. I love them! Even if you aren't a huge oatmeal cookie lover, I think you will love them because of the added chocolate.
Chocolate really does make everything better. Not only are they delicious, but they are a super easy oatmeal chocolate chunk cookie recipe.
I will let you thought, that this recipe does make a lot of cookies - approximately 3 dozen of medium-to-large cookies. That just means that we are going to have cookies around here for awhile. The hubby appreciates that. Does yours?
For this recipe you will need softened butter to room temperature, brown sugar, granulated sugar, eggs, ground cinnamon, ground nutmeg, all-purpose flour, baking soda, salt, and old-fashioned oats.
If you do not have about 2 hours to let the butter softened to room temperature, you can just pop it into the microwave for about 5 seconds. I noticed in the warmer months that isn't necessary, but only if I am on a time crunch.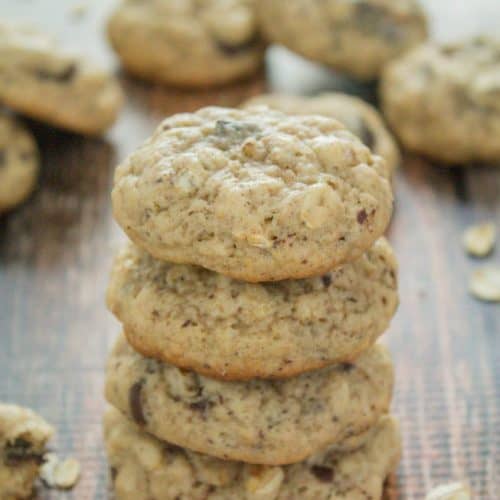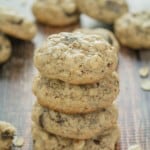 Oatmeal Chocolate Chunk Cookies
Ingredients
1

cup

2 sticks unsalted butter, softened to room temperature

¾

cup

brown sugar

¾

cup

granulated sugar

2

large eggs

1

teaspoon

vanilla extract

1

and ½ teaspoons ground cinnamon

¼

teaspoon

ground nutmeg

¼

teaspoon

salt

2

cups

all-purpose flour

½

teaspoon

baking soda

2

cups

old-fashioned oat

4

ounce

semi-sweet chocolate bar

chopped*
Instructions
Cream together the butter, brown sugar, and granulated sugar in a large mixing bowl on medium speed until thoroughly creamed together.

Add in the eggs one at a time until they are mixed it.

Bring the mixing speed down to low, add in the vanilla extract, ground cinnamon, ground nutmeg, and salt. Mix together.

/2 cup at a time while mixing on medium speed, add in the flour.

Using a spatula, fold in the oats and and chopped up chocolate bar.

Cover with plastic wrap and refrigerate for at least 3 hours. Overnight is best.**

Preheat oven to 350 degrees and line a baking sheet with parchment paper or a silicone baking sheet.

Spoon the cookie dough onto the sheet and bake for 9-10 minutes.

Allow to cool for 1-2 minutes before transferring to a cooling rack
Recipe Notes
* I used a Bakers Chocolate Bar.
**You can place the cookie dough into the freezer for 30 mins to chill instead of 3 hours in the refrigerator.
Top Left: Chewy Spring Chocolate Chip Cookies // Top Right: Cinnamon Roll Cookies // Bottom Left: I Just Got Dumped Brownie Bars // Bottom Right: Soft-Baked Reese's Pieces Cookies