Delicious traditional cinnamon rolls in a sugar cookie form. They are filled to the max with brown sugar and cinnamon.
Lately I have been craving and I mean c-r-a-v-i-n-g cinnamon rolls. What I am not craving is the rise and punch, then rise and rise again of cinnamon rolls.
Now I am not saying these cinnamon roll cookies do not require any work – they do, but not as much work. I like to think that.
I know almost everyone in the world has tried cinnamon rolls before, right? You might be thinking…these kind of look like cinnamon rolls, but do they actually taste like true cinnamon rolls. The answer is YES.
These bad boys are filled to the max with traditional cinnamon roll filling – brown sugar and a lot of cinnamon. I added enough cinnamon to my taste, however, you can add more if you are an extreme cinnamon lover.
First, let me tell you that these are actually pretty easy to make and assemble.
As always, you will need to let your butter soften to room temperature. You can always microwave it for 5-10 seconds and let it soften up if you are in a hurry and you forgot. Oops.
You will need to start by creaming the butter and sugar together.  After, you will be adding in your wet ingredients, then your dry ingredients.
Then you will need to flatten the cookie dough in plastic wrap and refrigerator it for at least one hour.  I chilled mine for an hour and a half.
You will then remove the cookie dough from the refrigerator, and then roll out the cookie dough with your rolling pin. Here comes the brown sugar and cinnamon – yum!
After you have finished sprinkling on the filling, then you will need to roll it like cinnamon rolls. Now your friend, the plastic wrap is coming out again. You will need to wrap the cinnamon roll cookie dough and place in the freezer for at least 30 minutes. Freezing the cookie dough will allow you to slice it easier and not fall apart.
Then you will need to bake it and garnish with the topping. I think you will LOVE these!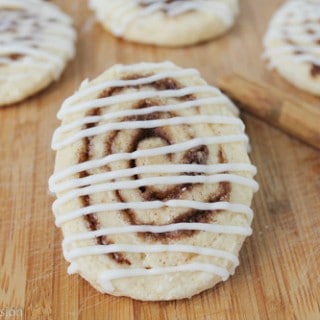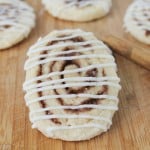 Cinnamon Roll Cookies
Ingredients
Cookie Dough
¾

cup

1 and ½ sticks unsalted butter, softened

¾

cup

white granulated sugar

2

large eggs

1

teaspoon

vanilla extract

2

and ½ cups all-purpose flour

¼

teaspoon

salt

1

teaspoon

baking powder

Extra powdered sugar when rolling out dough
Filling
2

tablespoons

butter

melted

¼

cup

brown sugar

1

and ½ teaspoons ground cinnamon
Icing
1

cup

powdered sugar

¼

cup

+ 2 tablespoons heavy cream
Instructions
Cookies - In a large mixing bowl cream together the butter and sugar. Add in the eggs one at a time, mix well after each addition. Add vanilla extract and mix together.

Add in the flour ½ cup at a time and mix on medium until all off the flour is incorporated.

Mix in the salt and baking powder.

Flatten the dough and place in plastic wrap and place in the refrigerator for at least one hour.

Using a clean counter or a non-stick silicon baking mat, sprinkle powdered sugar all over.

Filling - In a small bowl, mix together the brown sugar and ground cinnamon.

Place the chilled cookie dough on top and roll out. Spread the melted butter all of the rolled out cookie dough and sprinkle the brown sugar and cinnamon mixture all over the top. Roll the cookie dough like you would cinnamon rolls.

Place plastic wrap over it and freeze for at least 30 minutes. Sprinkle more powdered sugar on top of the counter or silicon baking mat and place the rolled cinnamon roll cookie dough.

Preheat oven to 350 degrees and line a baking sheet with parchment paper or a silicon baking mat.

Slice into ⅛" thick slices. You will need to add some powdered sugar to your knife to slice it easier.

Bake for 10 minutes. Allow the cinnamon roll cookies to cool for 1-2 minutes before transferring to cooling rack.

Icing - Combine the powdered sugar and heavy whipping cream in a mixing bowl and mix thoroughly. Drizzle on top of the cooled cookies.
Recipe Notes
Stores in an air-tight container in the refrigerator for one week.
Inspired by [Picky Palate|http://picky-palate.com/2010/02/11/cinnamon-roll-sugar-cookies-yes/]
[amd-zlrecipe-recipe:56]
Peppermint White Chocolate Chip Cookies