A sesame chicken recipe that is better, tastier and quicker than take-out. Ready under 30 minutes. You'll love it! 
There is something about take-out that I love - the ease of it, most likely. All you really have to do is look at the menu, pick up the phone and order whatever you feel like having. Easy, right?
The only thing I really do not like about take-out is that you really do not know what the ingredients are. If I did, I think I would be ordering more.. maybe.
That would definitely run up the food budget - take-out can be really expense. Who has that kind of money? Not me.. plus, I love to cook.
I am saying this sesame chicken is better than take-out because you will most likely have the ingredients on hand and you know what they are. It is tastier.. it really is. Yum!
It is definitely quicker because it can take over 30 minutes for it to be delivered or picked up. You can have this dish ready under 30 minutes.
I forget to tell you how our first anniversary trip was - silly me! We had a blast and it was very relaxing. The first day we just sat on a porch and looked at the lake while eating take-out ..LOL.
That night was so much fun and we ended up chatting outside until about 2-3 am. We needed that and loved it.
The next day we went to a couple of local vineyards and wineries and we also had a blast there as well. We tried an apple wine that was just out of this world - yum. Cannot wait to go back to that one.
The other days we just relaxed in the cabin and fished some. It was drizzling out and a little cold. A great little trip!
Back to this sesame chicken, okay? For the sauce you will need honey, white vinegar, ketchup, soy sauce, and brown sugar. If you are using a low-sodium soy sauce, then you will need to add just a pinch of salt.
The rest of the ingredients are chicken breasts chopped into little chunks, cornstarch, an egg, oil, and flour.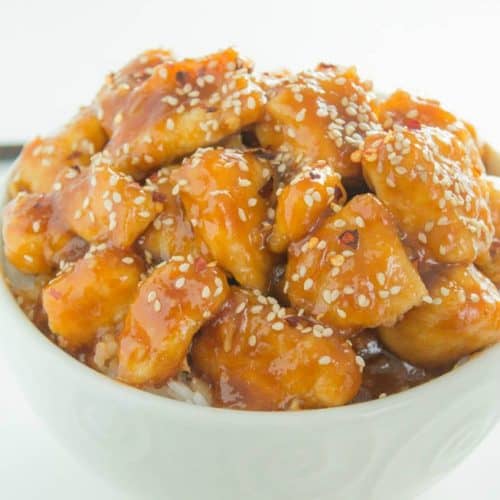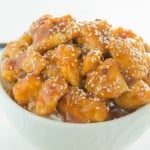 Sesame Chicken
Ingredients
3-4

boneless chicken breasts

chopped into 1.5 inch thick pieces

1

tablespoon

oil; you can use vegetable

canola, or olive oil

6

tablespoons

flour

I used all-purpose

3

tablesoons cornstarch

1

egg

lightly beaten

3-4

cups

cooked rice

sesame seeds

Sauce

4

tablespoons

honey

1

tablespoon

white vinegar

4

tablespoons

ketchup

3

tablespoons

soy sauce*

3

tablespoons

brown sugar
Instructions
Mix together the sauce first because you want the flavors to blend. Start by whisking together the honey, white vinegar, and ketchup in a small bowl. Whisk in the soy sauce and brown sugar. Set aside.

In a ziplock bag, place the flour in it. In another ziplock bag, place the cornstarch in it.

Place the lightly beaten egg in a small bowl.

Add the oil into a skillet and allow the oil to get hot.

Dip the chicken pieces into the egg and then into the flour, and then into the cornstarch.

Cook the chicken pieces on each side for 1-2 minutes or until done. Repeat until all the chicken has been cooked.

Remove extra oil and add the sauce into the same pan.

Serve with hot rice.
Recipe Notes
*If you are using low-sodium soy sauce, then add a pinch of salt to the sauce.
 Additional Chicken Recipes:
Top Left: Honey, Soy, and Garlic Chicken || Top Right: Pan Roasted Lemon Chicken || Bottom Left: Chicken, Broccoli, & Pasta Skillet Casserole || Bottom Right: Copycat Honey-Chipotle Chicken Crispers