An absolutely delicious slow cooker buffalo chicken sandwich recipe that is super-easy and spicy. 
The hubby really loves and by really loves, I mean he could eat buffalo anything for breakfast, lunch, and dinner. This is right up his alley. On the other hand, I love buffalo dip and chicken in moderation with a beer. It always has to be with a beer.
I think the beer just helps it go down and cut down on the spiciness  just a little bit. Or it could be that I just relate buffalo anything for football, Memorial Day, and Fourth of July.
Who knows. I do know that this is one of the easiest sandwiches ever and it's amazing. Amazing = beer and one of these sandwiches in hand. Sounds like a great meal to me!
After April came and went, I have been thinking about Memorial Day so much lately. I really cannot wait for it because we will be grilling and hanging with the family. Gosh, I love those two things together. It also means that summer is almost here - oh yeah! My fav.
I didn't really skip over mother's day, but I just want memorial day to be here.
What are some of the things that you look forward to during this season? Spring is definitely a busy season with so many different things happening and with the warmer weather. Gosh...I love that too.
Oh, I also forgot to mention that this is my first slow cooker and sandwich recipe on here. Yay! There will be many more to come, trust me. Love easy recipes.
Did I mention how easy this recipe is? It is crazy easy. It's one of those meals that you can literally almost forget about and it will be done in no time. I like to set my slow cooker on super-low and let it cook for about 10 hours because the chicken is easy to pull-apart and it's very tender.
I also used Frank's Red Hot Sauce because I love the flavors it contains and isn't crazy spicy. Use whatever kind your family likes. If the hubby likes things a tad bit spicier, then add a splash or two of Sirrarcha on top of his sandwich.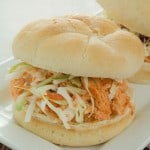 Slow Cooker Buffalo Chicken Sandwiches
Ingredients
2-3

large boneless chicken breasts

2

cups

of hot sauce

divided*

1

cup

of water

sandwich rolls**

cole slaw mix

optional

blue cheese dressing

optional

ranch dressing

optional
Instructions
Place the chicken breasts into a slow cooker, add in one cup of hot sauce and water. Allow to cool on low for 8-10 hours.

Pour the liquid out. Shred the chicken and mix in the other cup of hot sauce.

Place on rolls and add cole slaw mix and either kind of dressing that you like on top.
Recipe Notes
*I used Frank's Red Hot Sauce because of the flavor it has.
**I used Kaiser Sandwich Rolls.
Honey, Soy, and Garlic Chicken
Looking for more chicken recipes?