An amazing soft-baked and ultra-chewy cookie loaded with Reese's Pieces. A peanut butter and chocolate lovers type of cookie! 
The other day while I was in the store, I took my trip down the candy isle and my eyes went straight for the Reese's Pieces. I immediately knew I wanted to make a big batch of soft-baked and chewy cookies because those are my favorite kind of cookies.
Almost everyone likes a soft-baked and chewy cookie, right? I am sure I am not the only one.
I always like to send my hubby to work with a bag of treats because I know if they stay here... I will eat way too many. Sounds like a win-win scenario right there.
I might of sneak a few to store in the freezer for a later time because these cookies are just that darn good. If you are anything like me, you might also snack on the Reese's Pieces while you are making the cookies.
You don't really need a full bag of them in the recipe. What else would you do with them? Store them in a pantry for another recipe idea? That might be the best idea and frugal idea because I wouldn't need to buy them again when I needed them.
Snacking on them while you making the cookies is definitely a better idea. Beats the best idea! Score.
You will need to chill these Reese's Pieces cookies in the refrigerator for at least 3  hours; however, overnight is best. I like thick cookies  - yum!
That's really the only part you truly have to worry about because this recipe is a super simple one. My favorite.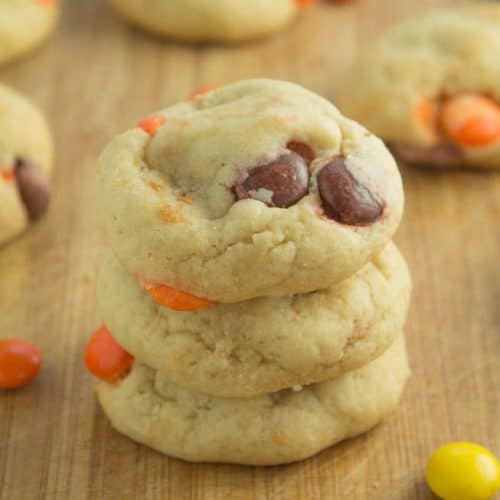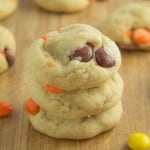 Soft-Baked Reese's Pieces Cookies
Ingredients
12

tablespoons

unsalted butter

softened to room temperature

¾

cup

brown sugar

lightly packed

¼

cup

granulated sugar

1

large egg + 1 egg yolk

room temperature

2

and ½ cups all-purpose flour

½

teaspoon

baking soda

1

teaspoon

baking powder

2

teaspoons

cornstarch

¼

teaspoon

salt

1

cup

Reese's Pieces
Instructions
In a large mixing bowl, cream together the butter, brown sugar, and granulated sugar on medium speed.

While continuing to mix on medium speed, add in the egg and egg yolk.

Turn the speed down to low and add in the flour ½ cup at a time until thoroughly mixed together.

Fold in the baking soda, baking powder, cornstarch, salt, and Reese's Pieces with a plastic spatula.

Cover with plastic wrap and allow to chill in the refrigerator for at least 3 hours. Overnight is best.

Preheat oven to 350 degrees and line a baking sheet with parchment paper or a silicone baking sheet.

Spoon the cookie dough onto the baking sheet and bake for 9-10 minutes.

Allow to cool 1-2 minute before transferring to a cooling rack.
Recipe Notes
Store in an airtight container or cookie jar for one week.
Chewy Spring Oreo Chocolate Chip Cookies
Deep-Dish Skillet Chocolate Chip Cookie