Soft-baked, ultra-chewy chocolate chip cookies stuffed with spring colored chocolate chips and Oreo cookies!
A week or so ago I was browsing in the Easter section at Walmart – you know where all of the colorful treats and chocolate bunnies are, and I found these cute and color chocolate chips. They definitely needed a place in the cart. I didn't have any idea of what I was going to do with them, but I knew I needed them.
Does that ever happen to you? It happens way too much here.
Let's go of the cookie subject for one quick second. I promise it will be quick.
So tomorrow (I wrote this post last night) the hubby and I are helping my parents move. Having them two hours away in PA is going to be a little hard to get used to. I am so used to just showing up anytime and hanging out with them.
Don't get me wrong. I am so happy for them and they are going to really enjoy the retired life out by the lake. I know I will still visit up there, but it isn't quite the same. You know, right?
I think I should just munch on one of these cookies to help cope with my emotions. 🙂
Okay, that's over and let's gets back to these cookies. I know you will L-O-V-E these cookies because they are super-soft and oh, so chewy! They do not require too much chilling time because the dough is pretty thick.
I have always added cornstarch to cookies that I know I want soft and chewy because it always does the trick. I have never been disappointed before.
Another thing, if you do not have a stand-up mixer, you can definitely make these with a handheld one. I tried it with the handheld and it worked great. The cookie dough might get stuck to the beaters a little bit, but you can always mix away and then scrap out the cookie dough if that happens.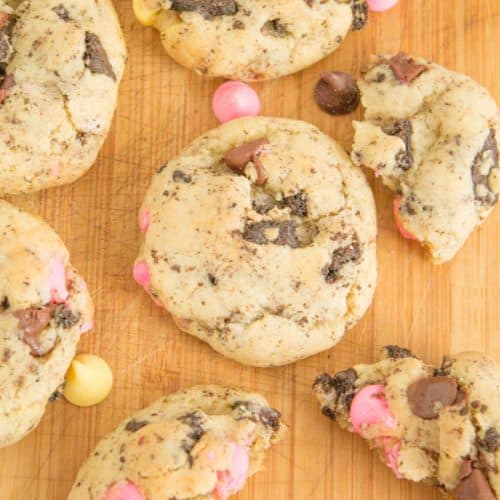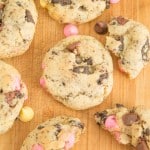 Chewy Spring Oreo Chocolate Chip Cookies
Ingredients
½

cup

1 stick unsalted butter, softened to room temperature

¾

light brown sugar

lightly packed

¼

cup

white granulated sugar

1

large egg

room temperature

1

teaspoon

vanilla extract

2

cups

all-purpose flour

¼

teaspoon

salt

1

teaspoon

baking soda

2

teaspoons

cornstarch

1

cup

spring colored chocolate chips

10

Oreo Cookies

chopped
Instructions
In a large mixing bowl, cream together the butter, light brown sugar, and white granulated sugar.

Add in the room temperature egg and mix together. Mix in the vanilla extract.

Slowly add in the flour trying not to mix too fast.

Fold in the salt, baking soda, and cornstarch. Add in the chocolate chips and Oreos, fold everything together.

Transfer the dough to the refrigerator to chill for an hour.

Before the cookie dough is finished chilling in the refrigerator, preheat oven to 350 degrees. Line a cookie sheet with a silicon baking mat or parchment paper.

Spoon about 2 tablespoons of cookie dough onto the baking mat or parchment paper. Bake for 10 minutes.

Allow the cookies to cool 1-2 minutes before transferring to a cooling rack.
Recipe Notes
Stores in an airtight container for one week.
You can use regular chocolate chip if that's all you have on hand;however, I think the colored chocolate chips are cute!
You can use any kind or Oreo cookies that you have on hand, I used regular Oreos - not double stuffed.
 Deep-Dish Skillet Chocolate Chip Cookie
I Just Got Dumped Brownie Bars