Southern Easy Chorizo Cornbread Dressing (Stuffing) recipe is a must-have on Thanksgiving! It's the best dressing I have ever had! It's life-changing.
EASY CHORIZO CORNBREAD DRESSING (STUFFING)
PIN IT TO YOUR THANKSGIVING BOARD ON PINTEREST TO SAVE IT FOR LATER!
It's getting down to the wire now. Before you know it Thanksgiving will be here and gone, it's one week away. Ekkk! I'm excited because Thanksgiving is one of my favorite holidays because of the FOOD -there's so much food, and it's always so delicious. I am already in the mindset and ready to take a break from social media and work to be able to spend a lot of needed time with friends and family. Are you ready?
If you are a newsletter subscriber, you would have noticed in my newsletter last week about this dressing (stuffing) I raved about. It's this Easy Chorizo Cornbread Dressing! So I have to know, what do you usually call it? Does the name change for when whether it's baked in a dish or in the turkey? I have always called it stuffing, even if it's baked in a separate dish. It's just what I am used to, but I thought I try to call it dressing since most people refer to it as dressing. It's the ultimate debate!
If you have never tried cornbread dressing (stuffing) before, you are seriously missing out. It's my second time making it, and I am completely hooked. Even though I JUST posted my Life-Changing Easy Thanksgiving Stuffing, this one beats it out of the water! It's the best. I know I am hyping it up, but guys, this is life-changing for me. And I so excited to make and share it with my family because as I have stated many times, it's amazing. I will have a hard time trying regular stuffing (dressing) ever again.
Here are some of my favorite Thanksgiving recipes you should try this year: Cranberry Orange Relish, Lemon Butter Green Beans with Toasted Almonds Bacon & Feta, Garlic Roasted Red Potatoes, The BEST Green Bean Casserole, Slow Cooker Loaded Mashed Potatoes, Slow Cooker Cranberry Meatballs, and Cranberry Orange Crostini. There are so many to choose from!
I made this with homemade chorizo, but if you have never made chorizo before I highly recommend purchasing it because it will have a better flavor. I am still working on my chorizo recipe, so the next time I make this Easy Chorizo Cornbread Dressing, I will be purchasing it. Another tip for this recipe, I also highly recommend making your very own cornbread (I will include a recipe in the down below for it, as well), it's so easy. If you decide to use store-bought cornbread, I'm not sure what the quantity of cornbread would be since I have only made it with my cornbread recipe listed below.
If you do not have a cast iron skillet, I highly recommend getting this one! It's my favorite and I use it all of the time.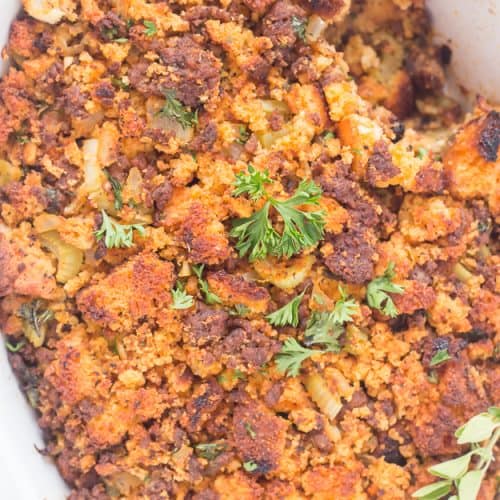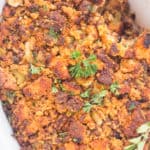 Easy Chorizo Cornbread Dressing (Stuffing)
Southern Easy Chorizo Cornbread Dressing (Stuffing) recipe is a must-have on Thanksgiving! It's the best dressing I have ever had! It's life-changing.
Keyword:
cornbread, cornbread stuffing, stuffing, thanksgiving
Ingredients
Cornbread
½

cup

unsalted butter,

melted

½

cup

granulated sugar

1

cup

buttermilk

2

large eggs

1

cup

cornmeal

1

cup

all-purpose flour

½

tsp

salt

½

tsp

baking powder
Chorizo Cornbread Dressing
Cornbread,

broken up into chunks

3

cups

cooked chorizo

4

tbsp

unsalted butter

1

medium onion,

finely diced

3

celery stalks,

diced

3

garlic cloves,

minced

1

tbsp

finely diced fresh sage

1 ½

tsp

salt

¾

tsp

pepper

2 ½

cups

chicken or vegetable stock

2

large eggs

fresh parsley,

to garnish (optional)
Instructions
Cornbread
Preheat oven to 400 degrees. Grease a 12-inch cast iron skillet or large baking dish with non-stick cooking spray. Set aside.

Whisk together the butter, sugar, buttermilk, and eggs together until combined.

Fold in the cornmeal, flour, salt, and baking powder into the mixture.

Pour the batter into the skillet or baking dish and bake for 20 minutes or until lightly browned on top.

Allow the cornbread to cool for 15-20 minutes and then break into chunks.
Chorizo Cornbread Dressing
Preheat oven to 375 degrees. Place the cornbread pieces on a large baking sheet and allow the cornbread to dry out until lightly browned about 15 minutes. Remove from oven and set aside.

Place the butter into a large skillet over medium heat and allow it to melt.

Once the butter has melted, add the onion and celery and saute over medium heat until the onions are translucent.

Add the garlic and sage; saute for another 30 seconds. Add the salt and pepper and stir to combine.

Whisk together the chicken or vegetable stock and the eggs until combined.

Place the browned cornbread chunks, the onion and celery mixture, chicken stock or vegetable stock, and egg mixture, into a large mixing bowl and toss to combine.

Place the cornbread dressing into a large greased casserole dish, at least a 9x13, cover with aluminum foil and bake for 30 minutes.

Remove the foil and bake uncovered for another 30 minutes.

Garnish with fresh parsley and serve.
Recipe Notes
Nutrition estimated is based upon the brands I used. Yours may vary depending on brands.
Nutrition Facts
Easy Chorizo Cornbread Dressing (Stuffing)
Amount Per Serving
Calories 408
Calories from Fat 194
% Daily Value*
Fat 21.5g33%
Cholesterol 106mg35%
Sodium 880.9mg38%
Potassium 349.8mg10%
Carbohydrates 43.8g15%
Protein 10.5g21%
Vitamin A 1.5IU0%
Vitamin C 8.5mg10%
Calcium 91.8mg9%
Iron 2mg11%
* Percent Daily Values are based on a 2000 calorie diet.