A colorful and super-easy three-ingredient Easter bark recipe that is adorable as tasty as well! 
Easter is definitely one of my favorite holidays because of the colorful treats and chocolate, chocolate, and chocolate. During Easter chocolate is usually thrown into everything, including my favorite - chocolate bunnies. Are those your favorite too?
I try to keep the chocolate bunnies far away from me, but sometimes that doesn't happen. Oops...
Not only do you happen to have the chocolate bunnies during Easter, but you also have those cute and adorable Peeps. I actually do not like Peeps - taste way too weird for me, but I like seeing them. Just adorable.
I know you will love this three-ingedient easter bark because it is soooo easy and only has three-ingredients. The best part you can snack on it pretty soon, doesn't require too much time to prepare or to chill. Woohoo!
My favorite kinda recipes.
I used white chocolate, but you are more than welcome to use dark chocolate, milk chocolate, or any kind of chocolate you like. Be creative! 🙂
Not too many ingredients, well only three that make up these delicious and colorful Easter bark: white chocolate, vanilla extract, and colorful sprinkles. Gosh.. I just love that list. Why can't every recipe be almost that easy?
You can always use more toppings if you want - Peeps, candy-coated eggs, more sprinkles. The possibilities are endless. I just wanted to keep it simple because simple is good sometimes.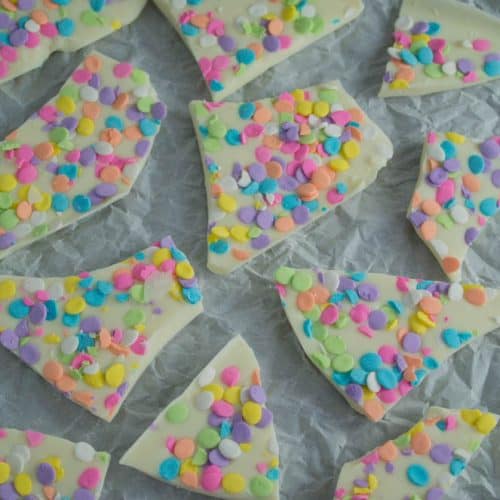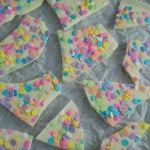 Three-Ingredient Easter Bark
Ingredients
16

oz

white chocolate chips

1

teaspoon

shortening

1

teaspoon

vanilla extract

½

cup

colorful sprinkles
Instructions
Line an 8x8 baking dish with parchment paper.

In a medium-sized bowl that is safe to go into the microwave, combine the white chocolate chips and shortening. Microwave in 10 second intervals and stir. Continue until the chocolate chips are melted.

Mix in the vanilla extract.

Pour the melted chocolate onto the baking dish and spread it out so it is even. Add the sprinkles on top

Place in the refrigerator for 30 minutes.

Bark into pieces.
Recipe Notes
Store in an airtight container in the refrigerator for one week.
Chewy Spring Oreo Chocolate Chip Cookies
Vanilla Cupcakes with Vanilla Buttercream