A quick and easy copy Chipole Cilantro Lime Rice recipe that stays true to it's authentic taste with a paleo twist.
There is one fast food restaurant that I absolutely love – Chipotle. We do not get there too often, but when we do... oh man, it's goooood!
Everything they offer is scrumptious and did I mention how quick they are, just wow. I would go nuts if I had to keep up with that speed. And the burrito rolling – they have some great skills.
For awhile now I have been trying to create a true authentic copycat version of Chipotle's cilantro lime rice and I think I nailed it this time – woohoo! I tried it with regular rice and with paleo cauliflower "rice".
I think you guys really need to try it with cauliflower "rice" because it is amazing and it is a healthier and has less carbs. Something I need to start incorporating into my diet some.
If you are anything like my hubby, Clay, you will see the words cauliflower "rice" and immediately think...gross...no way man. Just trust me on this one, okay? It's tasty! Nothing to be scared of... I promise. INSERT SMILEY
Not only is this Chipotle cilantro lime rice recipe delicious, but it is easy as well. You will need one medium head of fresh cauliflower cut into florets, olive oil, fresh cilantro, lime juice, and salt.
Once you have the head of cauliflower cut into florets, then you will need to pulse the florets in a food processor and pulse a few times until they resemble rice grains.
You will then add the olive oil and cauliflower rice into a skillet and cook for 4-5 minutes. And then add in the lime juice, salt, and fresh cilantro. Not hard at all.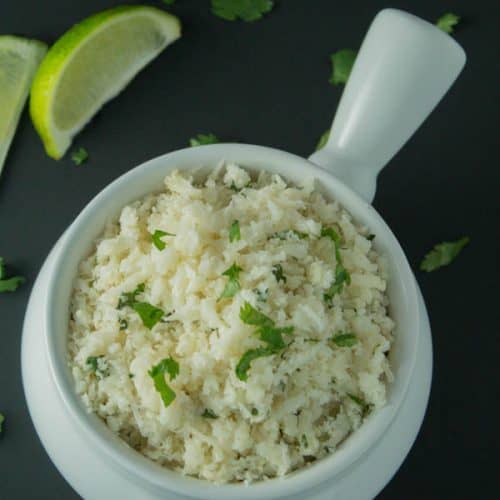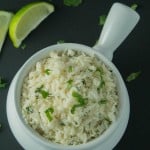 Paleo Chipotle Cilantro Lime Rice
Ingredients
1

medium head of cauliflower

chopped into small bite-sized florets

2

teaspoons

olive oil

½

of a lime

juiced

½

teaspoon

salt

3

teaspoons

fresh cilantro

finely chopped
Instructions
Chop your cauliflower intobite-sized florets and then place into a food processor and pulse a few times until your cauliflower resembles rice grains.

In a medium skillet, heat up your olive oil and then place in the caulifower "rice". Cook for 4-5 minutes. Remove from heat and mix in the salt, lime juice, and fresh cilantro.

Serve immediately. Can be stored in an airtight container in the refrigerator for 3-4 days.
Honey-Lime, Black Bean, Corn Stuffed Sweet Potatoes