A simple Creamy Italian Pasta Skillet recipe that is a tasty crowd pleasure and ready in 30 minutes. 
If you haven't already noticed, I absolutely love meal that can be made in in 30 minutes or less and is tasty. This creamy Italian  pasta skillet fits that description to the t.
It is oh, so creamy with a hint of spiciness from the crushed red peppers. If you are no a spicy lover, don't worry because this dish is still for you. It really isn't at all that spicy and has a just a small hint of spiciness. You'll enjoy it.
How's the weather in your neck of the woods? I am so happy that spring has finally arrived and hello mid 70's. I think the mid-to-upper 70's and occasionally the 80's is really great weather. Oh... the sun has to be shining as well.
Gorgeous weather. Garden weather - woohoo.
One more thing I really need to mention is that our one-year anniversary is coming up soon, the 27th of this month. So many great things to look forward to in April.
We are spending some time in the same shack we spent the night of the wedding - how romantic and cute, right? I think, well.. I know the weather will be perfect to do so many outdoor/wine activities. Yum to the wine..yum.
Back to this delicious creamy Italian pasta skillet. I didn't add chicken to it because I like to keep things frugal, aka meatless, around here sometimes - if the hubby lets me. I think I won on this one! 🙂
You will need one large pot to boil the pasta in and one medium skillet to cook the rest. I used a cast iron skillet.. who doesn't love those? I do!
I started to simmer the tomato sauce with the Italian seasoning at the same time I started to add the water into the pot for the pasta.
Once I add the pasta into the boiling water, I added the cream cheese into the sauce and used a whisk to mix in it. And then I added the red pepper flakes.
Last, but not least, mix all of the ingredients together, garnish with basil and serve.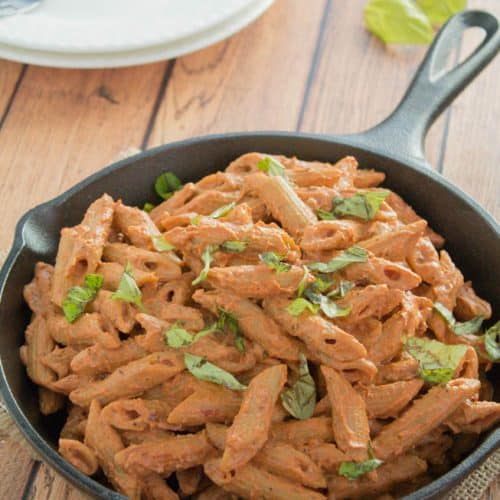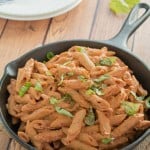 Creamy Italian Pasta Skillet
Ingredients
16

ounces

tomato sauce

1

tablespoon

Italian seasoning

1

teaspoon

red pepper flakes

¼

teaspoon

salt

4

ounces

cream cheese

3

and ½ cups pasta

¼

cup

fresh basil

chopped
Instructions
In a large skillet add the tomato sauce, Italian seasoning, red pepper flakes, and salt. Simmer on low.

Add water into a large pot and follow the directions on the package for the pasta.

Once you added the pasta into the boil water, add in the cream cheese to the sauce. Whisk until the cream cheese is fully melted with no clumps.

Add in the pasta when done and mix together.

Garnish with fresh basil.
Recipe Notes
If you do not want to it to be meatless, you can always add in diced chicken.
Chicken, Broccoli, & Pasta Skillet Casserole
Buffalo Chicken Spaghetti Squash