A quick and delicious spicy shrimp parmesan pasta recipe that is ready under 30 minutes! 
During the weeknights I really like to look for or make meals that are super-easy to put together and this one definitely fits that.
It kind of reminds me of a dish that Olive Garden would serve you – it's that good! Last time we went to Olive Garden we truly enjoyed it; however, right now we are a super-strict budget.
We just purchased a new-to-us 2014 Toyota RAV4 with only 5,000 miles. We are still so excited and I still cannot believe it. The car is used, but it still has that brand new smell!
So with a mortgage and now a car payment, we will be dining at home almost all of the time now. Maybe going out once every other month. Gotta do what you gotta do and we love that car. 🙂
Okay, back to this spicy shrimp parmesan pasta recipe. I actually only marinated the shrimp for a couple of hours, like 3. You can marinate it overnight or in the morning before you leave the house, use the best method for you and your family.
I think you will love this recipe because like I said earlier, it is ready under 30 minutes and has an amazing sauce – olive oil, garlic, brown sugar, and soy sauce. Not too many ingredients either!
Another thing I would like to try with this recipe is using sucanat instead of brown sugar to make it refined sugar-free. That would be a truly healthy meal with it being refined sugar-free and with whole-wheat pasta – yum!
With all recipes now I will be doing a recipe overview that will consist of how the taste it, the texture of the recipe, the ease of it (how easy or hard it is to make), the appearance, the pros and cons.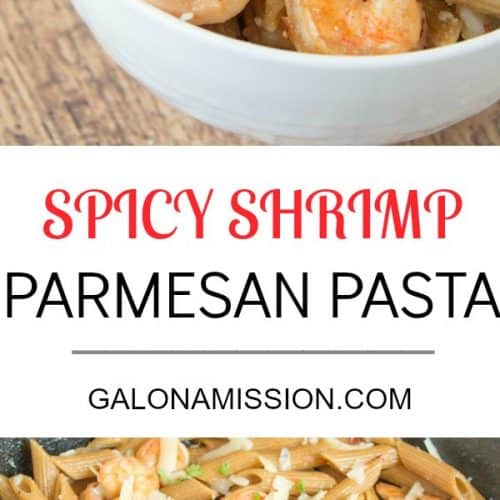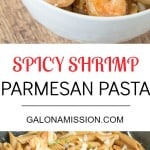 Spicy Shrimp Parmesan Pasta
Ingredients
Marinade
¼

cup

olive oil

3

garlic cloves

minced

2

tablespoons

light brown sugar

2

teaspoons

soy sauce

½

teaspoon

red pepper flakes

1

pound

of shrimp

peeled

8

ounces

of pasta

I used whole-wheat penne

¼

cup

parmesan cheese
Instructions
In a small bowl, whisk together the marinade ingredients.

Place the shrimp and marinade into a large ziplock bag. Place in the refrigerator for at least 3 hours, overnight or all day is best.

Prepare the pasta by using the directions on the back of the box.

Place the contents of the ziplock bag into a skillet and cook the shrimp 2 minutes on each side. You do not want to overcook the shrimp.

When the pasta is done, add it to the skillet and allow to simmer on low for 5 minutes.

Sprinkle on the parmesan cheese and serve.
Recipe Notes
You can omit the red pepper flakes if you do not like spicy foods.
Other recipes you might enjoy: 
Chicken, Broccoli, & Pasta Skillet Casserole
Honey, Soy, and Garlic Chicken