A healthy and absolutely delicious creamy shrimp pasta recipe that is ready in less than 30 minutes. Made with the creamy cauliflower sauce. 
A couple weeks ago I made a creamy cauliflower sauce that is out-of-this-world delicious that you can put on almost everything. I wanted to test that out. I have to say, you can definitely put it on everything and not feel guilty at all.
Want to be super-healthy, add zoodles instead of the pasta. I haven't tried zoodles yet, but I recently purchased a nifty little one that really does any vegetables. Now I really gotta give it a try with this amazing sauce!
I know you will love this creamy shrimp pasta recipe because it contains shrimp (who doesn't love shrimp, I love it) and this sauce is very creamy and delicious. It isn't loaded up with tons of butter and it actually pretty light. Well..the pasta isn't.
Oh, I think I really need to try this recipe spaghetti squash as well. I think that would be amazing. Just as amazing as this with just regular pasta.
I have a feeling we will be seeing this creamy cauliflower sauce a lot, especially during the summer. Who doesn't want to eat healthy right before the swimsuit season comes around?
To make this recipe you just will need to follow the instructions from the creamy cauliflower sauce, add some pasta (any kind you prefer), and add one pound of shrimp!
Love it! So easy.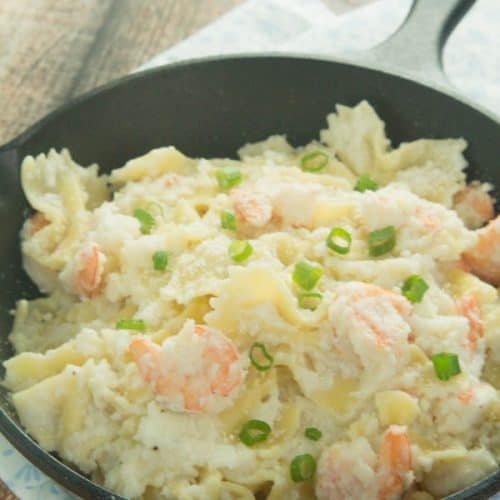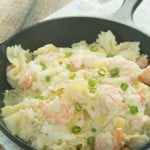 Creamy Shrimp Pasta
Ingredients
1

pound

of shrimp

peeled and deveined

12

ounce

box of pasta
Instructions
Follow the directions for the creamy cauliflower sauce.

While you are preparing the sauce, follow the directions on the back of the pasta box.

While you are waiting for the pasta to finish, peel and devein the shrimp. Cook the shrimp in a large skillet until done, 1-2 minutes on each side.

Mix everything together and serve.