A great way to start the day with a delicious chocolate oatmeal recipe. Calling all chocolate lovers!
Every now and then I really have a taste for oatmeal. Sometimes I just like it plain and other times I love all of the extra toppings – brown sugar, powdered sugar, chocolate, chocolate chips, you name it!
This morning I enjoyed a bowl of this chocolate oatmeal – you will love it! I really needed something chocolately because I always go to chocolate when I need a great pick-me-up.
Today is Lucky's (the cat) surgery – getting fixed.
We have never been away from him at all and I really do miss him! The house is just way too quiet for my liking, so every now and then I will run to my chocolate stash and purposely make some noise. You might call me weird, but I really miss that cat, LOL!
Since he is still a kitten, he loves to run around the entire house, just run and bounce off of things. I just have to keep reminding myself that he will be back this evening.  Life isn't over and I will just eat some more of this chocolate oatmeal! Maybe a chocolate bar too..
Anyways, back to this chocolate oatmeal. I think you will love it because it has a great rich flavor because of the brown sugar and cocoa powdered. Just enough sweetness, but not overly sweet. Did I mention that is was a quick and easy chocolate oatmeal recipe? 🙂
I first tried this recipe with white granulated sugar and it was good, but not great. I decided to just sub out the white granulated sugar with light brown sugar and it was amazing. What a difference!
I used old-fashioned oats and just added enough water and let it come to a boil, then cooked it on medium heat for 3-4 minutes. After it is finished cooking, you can add in the cocoa powder, light brown sugar, and vanilla extract. You can always top it with powdered sugar and/or chocolate chips.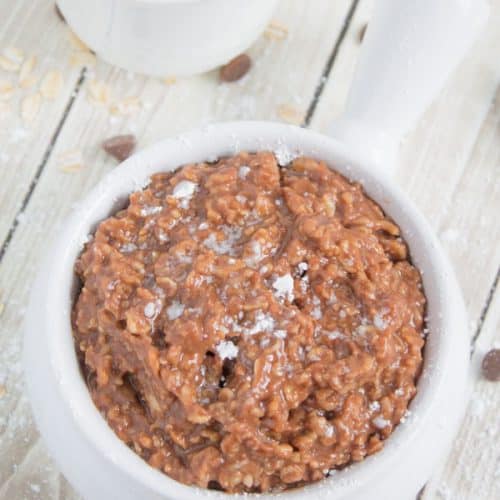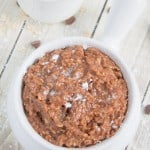 Chocolate Oatmeal
Ingredients
1

cup

old-fashioned oats

3

cups

water

1

teaspoon

vanilla extract

4

teaspoons

cocoa powder

unsweetened

2

tablespoons

light brown sugar
Instructions
In a medium saucepan, combine the old-fashioned oat and water. Bring to a boil, then turn it down to a medium heat and cook for 3-4 minutes.

Stir in the vanilla extract, cocoa powdered, and light brown sugar.

Garnish with powered sugar and/or chocolate chips
Recipe Notes
You may use white granulated sugar;however, light brown sugar adds a richer flavor.
 Skinny Oatmeal Chocolate Chip Muffins
I Just Got Dumped Brownie Bars