A heavenly and oh, so good pepperoni pizza pull-apart bread that is packed with mozzarella cheese and pepperoni. 
A couple of weeks ago, I was on Stumble Upon and stumbled upon an article for pull-apart bread and that really got me thinking. I should do one for a pepperoni pizza. And here we go! 🙂
I am so in love with this cheesy and pepperoni pull-apart bread because it really tastes just like you are eating pizza. Sort of like a french baguette pizza, or something similar.
In other words, very delicious and scrumptious.
It is really great for an appetizer because it really is filling. It might be loaded with mozzarella cheese and pepperoni, but that is a lot of bread. Filling indeed.
Or you can just be my husband and might it for lunch and dinner, then lunch the next day. Make it into only 3 servings. He is a big guy though. For me it is definitely 5-6 servings, easily 6 servings.
Throw a big party and make a couple of loaves and you will be a superstar because of this pull-apart bread. Very, very good.
Not only did I put mozarrella cheese and pepperoni in it, but I also added melted butter and Italian seasoning. I made one loaf without the butter and Italian seasoning and it was just missing something.
I then made another loaf with it and boy, that was it. Everything was now complete and I could continue munching on the second loaf.
I am going to say this, it can be a little tricky to slice the loaf like a checkered board. You do not want to cut all the way through, but you do want to cut it enough so where you can pack all of the treasures - mozzarella cheese and pepperoni.
I also tried slicing the mozzarella cheese into thin slices and that worked great. You can also used shredded mozzarella and stuff it that way too. Both ways are about the same. You will need about 2 cups of cheese.
After you stuff it with cheese and pepperoni, you will then added the melted butter and Italian seasoning into each slice of bread. Yum!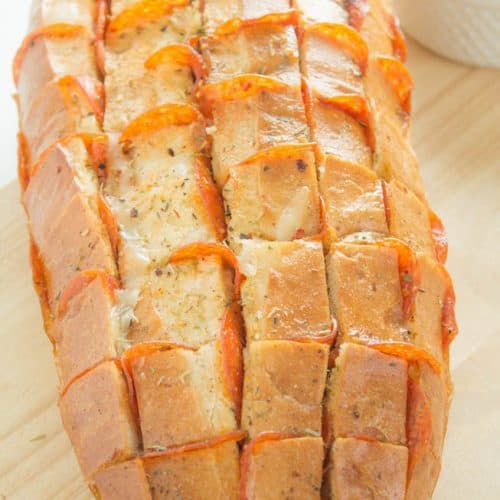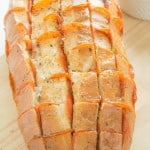 Pepperoni Pizza Pull-Apart Bread
Ingredients
1

large loaf of bread

2

cups

mozzarella cheese

40

pepperoni slices

sliced in half

6

tablespoons

butter

melte

3

teaspoons

Italian seasoning + more to sprinkle on top
Instructions
Preheat oven to 400 degrees and line a baking sheet with aluminum foil. Needs to be enough foil to cover the loaf of bread, you might need to combine two sheets together.

Slice the loaf of bread into a checkered board.*

Stuff mozzarella cheese and the sliced pepperoni into each slice of the bread.

Mix together the melted butter and Italian seasoning. Drizzle between the slices of the bread.

Sprinkle extra Italian seasoning on top. (optional)

Gently cover the bread with the hanging aluminum foil. Bake for 15 minutes.
Recipe Notes
I found that it was easier to slice the loaf of bread lengthwise first and then across. You do not want too slice all the way, but enough so you can add the cheese and pepperoni between the slices.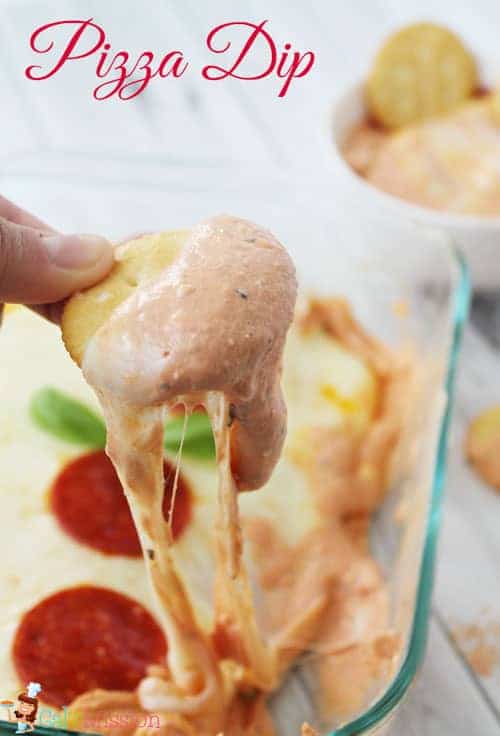 Buffalo Chicken Spaghetti Squash