A simple and delicious sloppy joe recipe! Perfect for a busy weeknight meal that is easy on the budget and everyone will love! Ready under 30 minutes and kid-friendly! 
Let's talk about pure comfort food, especially the kind when you were growing up. It's no lie, I am in love with comfort food, perhaps a little too much. But that's another story for another day.
What kind of comfort food did you enjoy as a child? There are so many, it might be hard to name them all, well for my family.
Comfort food is just comfort food, sometimes it can be a quick, budget meal that feeds an army for barely anything. That's exactly what this homemade beefaroni and this skinny tuna noodle casserole is. I think I could enjoy tuna noodle casserole everyday...well.. maybe not. It's great - if you love tuna. Which we all do.
So these sloppy joes really remind me of being a child once again. The only difference is the added veggies to "bulk" up the meat. With the two of us, as you already know if you read this blog, I love to stretch out the meats as much as I can. I always try to do it with fresh veggies, because..well, you get in an extra serving or two of veggies. We all need more of those in our diet! And they taste great.
If you omit the sandwich rolls, this dish is actually pretty healthy. No weird ingredients, like the canned variety we all know too well. Just simple ingredients almost everything fridge or pantry contain - crushed tomatoes, ketchup, and Worcestershire sauce.
As I am sitting here writing down my thoughts on comfort food that can be made fairly quick and do not cost an arm and a leg, I thought of a question for you. Would you like to see more meals like that? Are you even interested? If so, please, please let me know!
I love helping others with delicious recipe and ones that can save you a buck or two, perhaps more than that!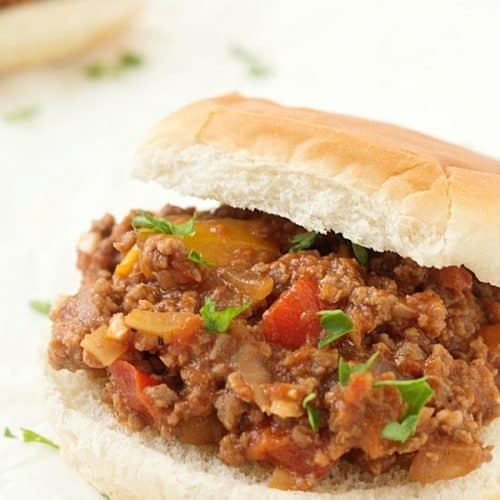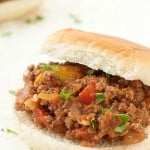 Sloppy Joes
Ingredients
1

pound

ground beef

I used 85%

1

cup

green bell pepper

finely diced

1

medium-sized onion

finely diced

1

cup

crushed tomatoes

½

cup

ketchup

1

tablespoon

worchestire sauce

salt and pepper

to taste
Instructions
In a large skillet; add the ground beef, green bell pepper, and onion. Simmer over medium-heat until the ground beef has cooked.

Mix in the crushed tomatoes, ketchup, and worchestire sauce. Simmer over medium-to-low heat for at least 20 minutes to allow the flavors to blend together. If you are able to allow it to simmer longer, the better. Taste and season with taste and pepper.

Serve with fresh vegetables on the side or on top of a roll.
Recipe Notes
Store leftovers in an airtight container in the refrigerator up to 5 days.
 Other recipes you might enjoy:
Spicy Ground Beef and Beans with Rice