A mouthwatering beef taco skillet casserole recipe that is so easy to prepare and is ready under 30 minutes! 
Ever since we got married last year (April 2013), I have always loved quick meals that are not only delicious, but frugal as well. You can always make this a little bit healthier by using using ground beef that is either grass-fed or lean with very little fat.
I have a little secret that I would like to share with you all. I have always been a huge slow cooker/crock-pot fan and I always, and I mean always, use mine for everything.
Within a month or so, I will be launching a brand new food recipe blog dedicated to just slow cooker/crock-pot recipes. Since I use mine so much, I do not think I will ever run out of recipes to use in your slow cooker/crock-pot.
Once I get closer to the launch date, I will be sharing the blog with you all. Excited? I know I am! 🙂
Anyways, let's get back to this amazing beef taco skillet casserole. I know you guys will love this because it is very tasty and you probably already have the ingredients in your kitchen/pantry already.
No need for takeout when you can prepare a meal that is quicker and tastier. Yum.
For this recipe, you will need at least one pound of ground beef, 2 cans of black beans, 1 packet of taco seasoning, one jar of salsa, tortillas, and shredded cheese.
If you really want stretch the meal even further, you can add in another can of beans. Completely up to you and is delicious either day.
I started off by browning the ground beef with the taco seasoning. I used grass-fed ground beef that was pretty lean and I didn't need to drain any grease off. If you are using ground beef that has more fat, then please drain off the grease.
After the ground beef is finished, add in the taco seasoning packet. You can make it homemade or use store-bought. I really need to post a homemade taco seasoning recipe. It's better than store-bought!
I then mixed in the beans, salsa, and shredded cheese. For the tortillas, I cut them into 2-inch thin strips and mixed them into the mixture. You can layer everything if you prefer to do that. You will just need to use more tortillas, most likely.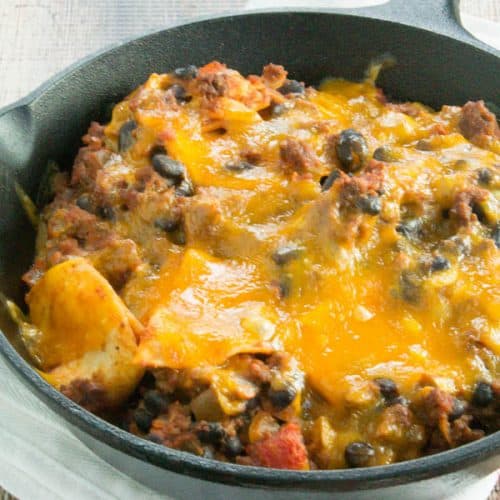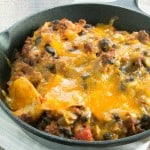 Beef Taco Skillet Casserole
Ingredients
1

pound

of lean ground beef

1

packet of taco seasoning

2

15 ounce cans of black beans

1

jar of salsa

3 to

rtillas

cut into 2-inch thin strips

¾

cup

shredded cheese
Instructions
Preheat oven to 350 degrees.

In a large skillet, brown the ground beef. No need to drain grease if you are using lean ground beef. Stir in the packet of taco seasoning and mix together.

Add in the black beans and stir everything together and then add in the salsa and stir.

Mix in the chopped tortillas. Sprinkle the rest of the cheese on top and bake for 15 minutes or until the cheese is melted.
 Spicy Ground Beef and Beans with Rice
Chicken, Broccoli, & Pasta Skillet Casserole