Skinny Tuna Noodle Casserole: Flavorful tuna packed with delicious flavors; including mushrooms, peas, a homemade "condensed soup", skinny options, and a unique Mediterranean twist! 
Every since I was a little kid, I have always remembered enjoying tuna noodle casserole. However, I have always thought about all of the calories it contained. It adds up quickly, especially when you are making it with canned condensed soup. There's none of that and it has less calories. Less calories always mean I can go back for seconds, right? I might have already!
When things get a little tight, it's always my go-to recipe for a great, quick meal. There is something special about this tuna noodle casserole. It has a delicious Mediterranean twist! Read further to see what's exactly included.
I will have to tell you, there is just a little bit more work in this recipe, since we are not using canned condensed soup. I promise it isn't that much - stirring, simmering, stirring, pouring, etc. Easy...peasy, my friend.
Have you already started to think about your big love day plans, yet? If you are making dinner at home together, this dish would be great! With it being on the lighter side, you can always indulge in dessert - my favorite.
Back to this amazing tuna casserole, okay? The main reason why it's lower in calories is by using skinnier items - cutting back to low-fat milk and low-fat cheese. Even though I didn't use whole-wheat flour to thicken the sauce, you can always sub it for all-purpose, which makes it a little bit healthier. I have tried it both ways and love each.
I will have to tell you more about the main-star in this dish - the tuna. I recently came upon a great brand that is packed with flavor. We usually purchase tuna in water, instead of the oil because it doesn't taste great, but this kind is so different. It is actually packed with real olive oil, if you haven't already noticed, olive oil has contains a lot of flavor.
Not only is Genova Tonno tuna superior quality, but the cans are BPA-free! Something to consider when you are making your next purchase, you will not be disapointed, my friend. There are many stores where you can purchase Genova Tonno, they have a great store-locator on their website.
I will now reveal the Mediterranean twist, you already know about the tuna, but it's pesto! You can add a teaspoon or two on top of your dish to add a unique twist! It's now one of my favorite ways to enjoy this tuna casserole.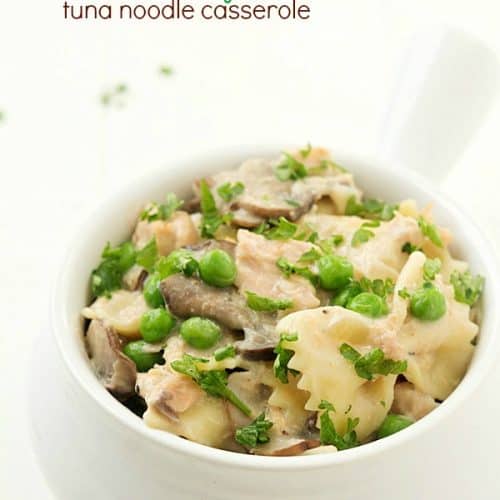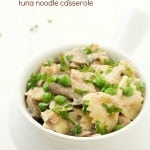 Skinny Tuna Noodle Casserole
Ingredients
1

small onion

finely diced

1

tablespoon

coconut oil or butter

3

tablespoons

all-purpose flour or whole-wheat

2

cups

fat-free chicken stock

3

cups

fat-free milk

8

ounces

sliced mushrooms

1

cup

frozen peas

4

ounces

fat-free cheddar cheese

shredded

2

tablespoons

Parmesan cheese

shredded

2

cans

5 ounces each Genova Tonno Tuna

6

ounces

pasta noodles

2

tablespoons

whole-wheat breadcrumbs

pesto

optional, for an added Mediterranean twist
Instructions
In a large skillet, place the diced onion and coconut oil or butter. Saute over medium-heat for 5 minutes. Whisk in the flour, then slowly add in the chicken stock while whisking at the same time. Once the flour has incorporated into the chicken stock, add in the milk and whisk together. Simmer over medium-heat until the sauce has thickened.

Add in your mushrooms and peas, stir and allow the sauce, mushrooms and peas simmer until the mushrooms are tender. While the mushrooms are cooking, make your noodles according to the back of the package. You will want the noodles al dente.

Whisk in the cheddar cheese, parmesan cheese, and canned tuna. Mix the noodles in with the sauce, and place into a 9x13 baking dish. Sprinkle the breadcrumbs on top and broil on high until the breadcrumbs are browned.

For a unique Mediterranean twist, add pesto on top.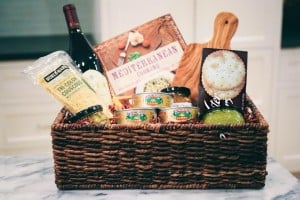 Comment below telling me your favorite Meditterian dish! You will be entered to win a Mediterranean gift basket. Open to residents of the US ages 18+. Contest ends 2/15/15!
Gift basket includes:
Mediterranean Cooking" Cookbook by Pamela Clark
Olivewood Serving Board from Sir La Table
Genova Tonno
Other Mediterranean pairings (tapenade, wine, cheese, etc.)
Thank you so much Genova Tonno for sponsoring this post! As always, all opinions expressed here are my own.