Refreshing strawberry lemonade recipe that is delicious and only made with a few ingredients. You'll love it all summer long!
During the summer, I crave lemonade, and I mean really crave it. I cannot get enough of it!
Right when the weather starts to warm up outside, I automatically think. "It's lemonade time." Now.. I do not really like the store-bought kind because it just tastes weird and it is a little too sugary for me.
I love my sweets, but it has to have some kind of balance. Like everything else is like, right?
I have always enjoyed making my lemonade homemade because everything tastes better homemade and I know exactly what is in it. I can control the amount of sugar, how much lemon juice is really in it, and I can add other things as well. I love being able to get creative.
I know you guys will love this recipe for strawberry lemonade just as much as I do because it contains just enough lemon juice, strawberries and it is absolutely delicious.
Did I mention how easy it is as well? Oh.. it most definitely is!
You will need a pound of strawberries, 1 cup of lemon juice (about 8 lemons or so), sugar or any kind of sweetener you prefer and water. Only 4-ingredients!
You will start off by making pureeing the strawberries in a food processor. You can either strain the seeds and pulp in a fine-mesh strainer or leave in the seeds and pulp, if desired.
I strained some of it because the hubby doesn't like too much pulp. It's delicious either way. You will then need to juice your lemons if you are using fresh lemons, or pour 1 cup of lemon juice. You will then need to boil 1 cup of water with ½ cup of sugar to allow the sugar to melt. After that, you will need to mix everything together and add in additional cold, filtered water.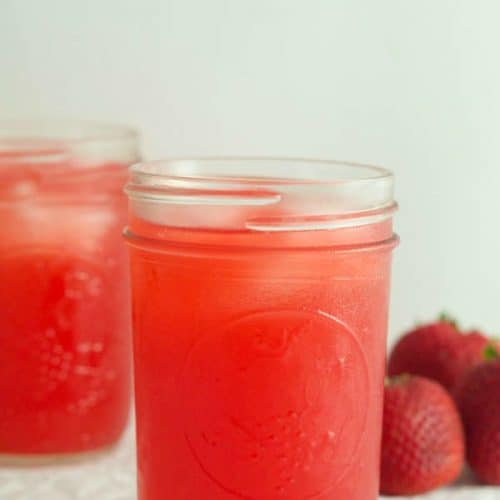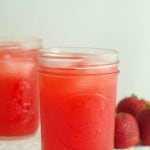 Refreshing Strawberry Lemonade
Ingredients
1

and ½ cups chopped strawberries

1

cup

boiling water

½

cup

granulated sugar

or any kind of sugar you prefer

1

cup

about 8 lemons freshly squeezed lemon juice

4

cups

cold

filtered water
Instructions
Puree the strawberries in a food processor or a blender until pureed. Remove and strain through a fine-mesh strainer if desired, or you can leave the seeds and pulp in. I used half-and-half in mine.

In a separate pan or bowl, stir together the boiling water and sugar together. Allow the boiling water to cool for about 5-10 minutes.

Pour the cooled water into a pitcher and add in the rest of the cold, filtered water. Stir in the pureed strawberries and the freshly squeezed lemon juice.

Serve with ice.
Homemade Strawberry-Green Tea Soda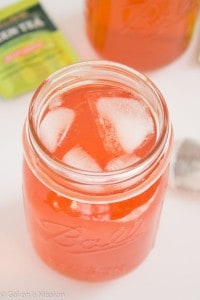 Strawberry Balsamic Vinaigrette