Tea is perfect for all occasions, but Bigelow Green Tea is perfect to help you celebrate St. Patrick's Day and hope Spring is coming soon with a Homemade Strawberry-Green Tea Soda.
My husband and I have always been huge tea drinkers, especially green tea because of the great healthy benefits. 
Here are my top five reasons why we love the great health benefits:
1.) Drinking green tea can increase your metabolism.
2.) Green tea contains L-Theanine which can help with depression.
3.) Most of us know green tea is a great antioxidant and can help with aging skin.
4.) Green tea contains smaller dosages of caffeine than other varieties of tea.
5.) Kills bacteria which can help improve your dental health.
There are many more benefits of green tea, but these are the most common ones.
In our house we absolutely love Bigelow Tea. Not only do they have green tea, but they also have so many other varieties. Some of the reasons why we love Bigelow Tea so much is because they have great quality tea - we have never been disappointed!
We absolutely love that they are an American company and they are a great family owned business - 3 generations of great, quality work. They are definitely #AmericasTea in our eyes!
Have you ever noticed why their tea is always so fresh tasting? All of their varieties of tea contain a foil pouch to keep in that awesome freshness. I love it! .
Since I shared with you our favorite brand of green tea, I thought I should share an awesome recipe that contains green tea. It's a perfect beverage to enjoy on St. Patrick's Day with great health benefits!
With the addition of strawberry it makes you look forward to the coming Spring months. I can't wait!
Buy It
You can purchase Bigelow Tea and with bonus packs with four extra tea bags  (while supplies last) at your local Walmart Supercenter in the same aisle as coffee!
Socialize with Bigelow
Thank you #CollectiveBias for allowing me to share our favorite brand of tea! #shop #cbias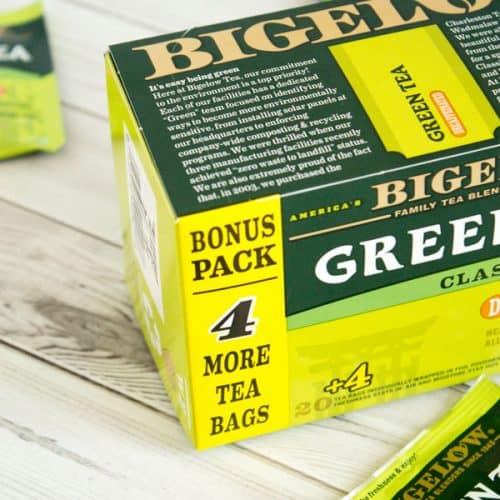 Homemade Strawberry-Green Tea with Bigelow Tea
Ingredients
Strawberry Syrup
1

pound

of fresh strawberries

1

cup

white granulated sugar

1

and ½ cups water
Soda
1

cup

brewed green tea

cooled

¼

cup

homemade strawberry syrup

seltzer water
Instructions
Prepare the strawberries by washing and drying them. Cut off the stems, slice into halves and place into the large saucepan.

Add granulated sugar and water into the saucepan and allow to simmer for 20 minutes. Skim off the foam as you see it.

Strain the syrup and do not mash down the strawberries. You do not want cloudy strawberry syrup. Allow to cool.

While the strawberry syrup is cooling, prepare your brewed green tea however you like and then allow that to completely cool.

Place ice cubes, strawberry syrup, green tea, and seltzer into a glass.
What is your favorite variety of Bigelow Tea?