"This shop is part of a social shopper marketing insight campaign with Pollinate Media Group® and Nestle, but all my opinions are my own. #pmedia  #BreakfastEssentials http://my-disclosur.es/OBsstV"
A delicious, fruity, and protein packed blueberry chia smoothie recipe! You will love it.
I have never been a huge morning person. The only thing I look forward to is a delicious cup of coffee and a nutritious breakfast. Can't skip on the breakfast! Not only does it have to be nutritious, but it kind of has to be quick to prepare.
Usually after I have finished my coffee and breakfast, I am ready to get the day going!
The other day I was going through the freezer and noticed a big bag of frozen blueberries. Sometimes I like to just eat the blueberries straight from the freezer as a healthy snack, or I usually make a big and delicious smoothie.
What else would you do with a big bag of frozen blueberries?
I had most of the items that I wanted to add in my smoothie, but it felt like something was just missing. Just a plain blueberry chia smoothie is nutritious already, but I wanted it to be even more nutritious. It needed to contain a little bit more protein.
Anytime I make a trip to the store, I always check to see if there are any coupons out. Do you do that too? Every $1.00 adds up and adds up pretty quickly! $1.00 off any Carnation Breakfast Essentials!
I found a coupon for Carnation Breakfast Essentials and knew I had to try it. It definitely contained a lot of protein and that is what I really wanted in my smoothie. Plus.. a $1.00 - what a steal.
Off to my local Walmart store I went. It is really right down the street from us, so I usually stop there all of the time. Love how quick it is!
After I saw the price on the shelf, I knew that I really wanted it and really wanted to try it. Who doesn't love french vanilla anything?
I thought the french vanilla flavor would love a fabulous flavor to the blueberry chia smoothie. Sometimes I add in yogurt and a little bit of milk to my smoothies, but I really just wanted it to have a milk base because I wanted it a little bit thinner.
Need it thicker - just add a 6oz container of yogurt and cut down a little bit on the milk. Easy!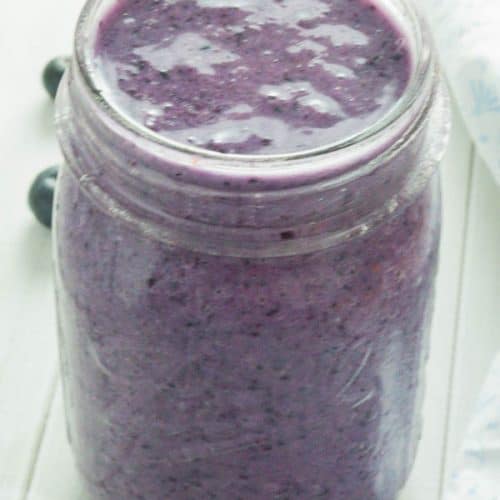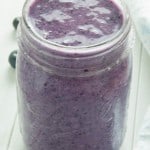 Blueberry Chia Smoothie
Ingredients
2

cups

frozen blueberries

1

cup

milk

1

cup

ice

1

package of Carnation Breakfast Essentials French Vanilla

1

tablespoon

chia seeds
Instructions
In a blender, combine the blueberries, milk, ice, package of Carnation Breakfast Essentials, and chia seeds. Blend until everything is finely chopped and mixed together.

Pour in a medium glass and enjoy!
For more recipes using Carnation Breakfast Essentials, click here! You can also say hi on their Facebook page!