An out-of-this-world quick beef ginger stir-fry recipe that is so saucy and ready in about 30 minutes or less! 
Growing up, I have always loved meals that resemble takeout, especially Chinese or similar. It's something about spending less, knowing what is actually in it, and plus everything tastes better homemade.
Right?
This is actually a lot healthier than something a Chinese place would serve - contains absolutely no sugar and did I mention that is sauce is amazing!
I might be tooting my own horn, but trust me, this sound is really amazing. It has just enough flavors. I really love this sauce so much, I am thinking about just using the sauce for other recipes that I have in mind. Mmmm!
I call this quick because it really is quick. I used a bag of frozen stir-fry veggies because I didn't want to stand there for awhile chopping up fresh veggies, plus the frozen ones are heck of a lot cheaper than buying each and every veggie.
Makes sense, plus it's quicker. It's a win-win in my book!
For the beef, you will need at least 1 pound of sirloin or flank steak cut diagonally across the grain into thin strips. You can always use less beef and just add in a few extra veggies if needed.
Once the meat is sliced, you can start on the marinade. I used soy sauce, beef broth, rice wine vinegar, corn starch, fresh ginger, fresh garlic, and black pepper. I added everything into the ziplock bag and shook it for about a minute to get everything mixed together. I also allowed it to marinate in the refrigerator for 30 minutes, which allows the flavors of the marinade to blend in with the beef.
After that, you will need to cook the beef with 2 tablespoons of oil. I didn't add all the beef at once and just cooked it in batches. Once the beef has finished cooking, you will need to add in the frozen veggies and the marinade from the beef. Cook everything for another 5-10 minutes.
Quick and easy, right?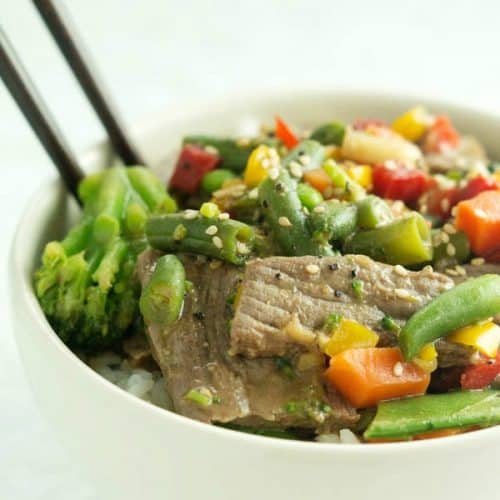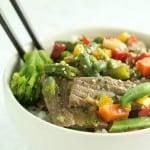 Quick Beef Ginger Stir-Fry
Ingredients
Marinade Ingredients:

⅓

cup

soy sauce

½

cup

beef broth

3

tablespoons

rice wine vinegar

1

inch

nob of fresh ginger

peeled and minced

2

garlic cloves

minced

2

tablespoons

cornstarch

¼

teaspoons

black pepper

Stir-Fry Ingredients:

1

pound

sirloin or flank steak

cut diagonally across the grain into thin strips

16

ounces

frozen stir-fry vegetables

2

tablespoons

olive oil
Instructions
Make the Marinade:

Add all ingredients into a ziplock bag and shake to mix everything together, then add in the steak and gentle toss to combine. Cover/seal and refrigerate for at least 30 minutes.

Make the Stir-Fry:

Once the steak has finished marinating, heat the olive oil in a large saute pan over medium-high heat. Remove the steak from the marinade, reserving the marinade, and add to the saute pan. Cook on each side for about a 1 minute or 2, stirring occasionally.

Add in the frozen vegetables and the reserved marinade. Cook for 5-10 minutes.

Serve immediately over rice.
Spicy Ground Beef and Black Bean with Rice