Out-of-this-world cheesecake bars swirled with chopped up Reese's cups on top of a golden Oreo crust. Calling all peanut butter and chocolate lovers! 
Ever since I was a little kid, I have always loved and I mean loved Reese's Cups. It's something about the peanut butter and chocolate combination.
Who ever invented that or thought of that combination, they are a pure genius. It pairs perfectly. Don't you agree?
I am writing this post before I head up to PA to visit my parent's for the weekend and I am really debating if I should bring these Reese's cheesecake bars or not.
If I bring them, everyone will devour them in seconds and I probably will not be able to munch on another one. Or I could keep them all to myself and eat way too much sugar in one day. Oh, the possibilities are endless.
Maybe I can just bring up a few and just leave one or two here at the house. I think I am putting way too much thought into this LOL.
All I am really trying to say is that these bars are amazing and I know you will love them, especially since I am putting way too much thought in how many I should keep here.
You might remember these snicker's cheesecake bars that I did a little bit ago. These are just a spin off of those amazing bars with chopped up Reese's cups.
For this recipe, I used the mini's and not the big Reese's cups. They were cheaper at the store and I am a pretty frugal person. 🙂 If you are making them with the big Reese's cups, you can just judge about how much you think you might need once you start chopping them up.
You want enough Reese's in the cheesecake batter, but not just Reese's. Well.. I think the second option is great too. 🙂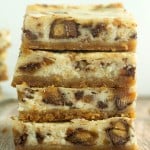 Reese's Cheesecake Bars
Servings
:
9
large bars or 16 small bars
Ingredients
Crust

4

tablespoons

unsalted butter

melted

20

Golden Oreo Cookies

Cheesecake Layer

16

ounces

2 packages cream cheese, softened

1

large egg

¼

cup

white granulated sugar

3

teaspoons

vanilla extract

20

Mini Reese's Cups

chopped into small pieces
Instructions
Preheat oven to 350 degrees. Line an 8x8 baking dish with parchment paper or aluminum foil, light grease. Set aside.

Crust - Pulse the Oreo cookies in a food processor into fine crumbs. Add into a medium mixing bowl.

Pour the melted butter into the mixing bowl with the crushed Oreos. Mix together.

Pour the crust into the baking dish, using a large spatula spread out the crust. Make sure it is even all around.

Filling - In a large mixing bowl, cream the cream cheese and egg and mix for 3-5 minutes until it is creamy.

Add in the white granulated sugar and vanilla extract.

Fold in the chopped Reese's Cups.

Spoon the cheesecake mixture on top of the crust.

Bake for 30-35 minutes, or until the cheesecake has set-up and the edges are lightly browned.

Allow for the bars to cool for 30 minutes at room temperature and then chill in the refrigerator for at least 3 hours. Overnight is best.

Lift the foil of out the pan and cut into squares.
Blueberry and Strawberry Cheesecake Bars