An out-of-this-world funfetti cake mix cookie bar recipe that only requires five ingredients! 
Sometimes when the stores are having deals or sales on boxed cake mix, I always try to stock-up when I can. I hardly ever use cake mix for cakes, but I like to use them in other ways - creative ways.
Do you always use cake mix just for cakes? There are just so many different goodies you can bake with cake mix that make it so easy.
The plus side is that you usually only dirty one bowl - I have noticed that with the goodies that I bake with cake mix. Easy and hardly no dishes? I'm in. Aren't you?
When I first knew that I wanted to make something with cake mix, funfetti came straight into my mind. Cake mix and sprinkles? Oh yeah! I originally wanted to try to have them to be gooey bars, but I was unsuccessful - back to the drawing board on that one. I know you guys will still love these just as much.
I think another idea will come and hit me soon. Perfect for you and I. 🙂
For this recipe, you can use any kind of cake mix that you have on hand - I used yellow. For the chocolate chips, I mixed them with butterscotch chips as well. If you only have chocolate chips, then just use those. The taste will not be affected too much.
You will need to start with softened butter at room temperature. If you have the time, just leave the stick of butter on the counter for a couple of hours or you can use a shortcut. I like to nuke mine for 5 seconds, turn it over and then nuke it again for 5 seconds.
So easy and it is the perfect softened texture. You will then need to add in the egg and cake mix. I always like to fold in my sprinkles and chocolate chips.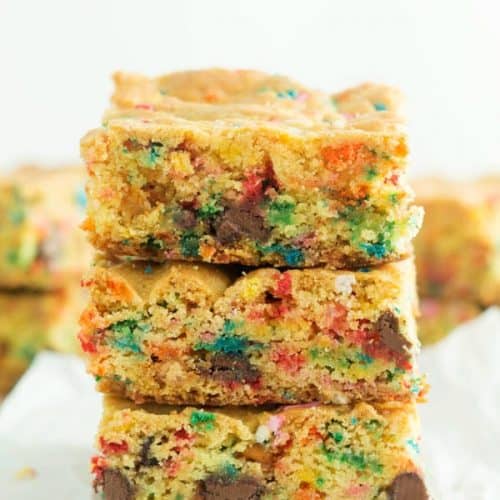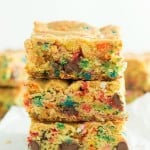 Funfetti Cake Mix Cookie Bars
Servings
:
9
large bars or 16 small bars
Ingredients
½

cup

1 stick unsalted butter, softened at room temperature

1

large egg

1

box of cake mix

I used yellow

1

cup

of sprinkles

1

cup

of chocolate chips
Instructions
Preheat oven to 350 degrees and line a 9x9 baking dish with parchment paper. Set aside.

In a large mixing bowl, combine the butter, egg, and cake mix. Mix on medium speed using the paddle attachment until a dough forms.

Fold in your sprinkles and chocolate chips.

Press the cookie bar dough onto the baking dish with the parchment paper and spread it out. Make sure it is even. Bake for 30 minutes or until the top is brown.

Allow bars to completely cool before slicing or removing from the baking dish.