No-Bake Strawberry Cheesecake Jars - Highly addictive and made with a healthier twist! The whole family will be begging for it for dessert!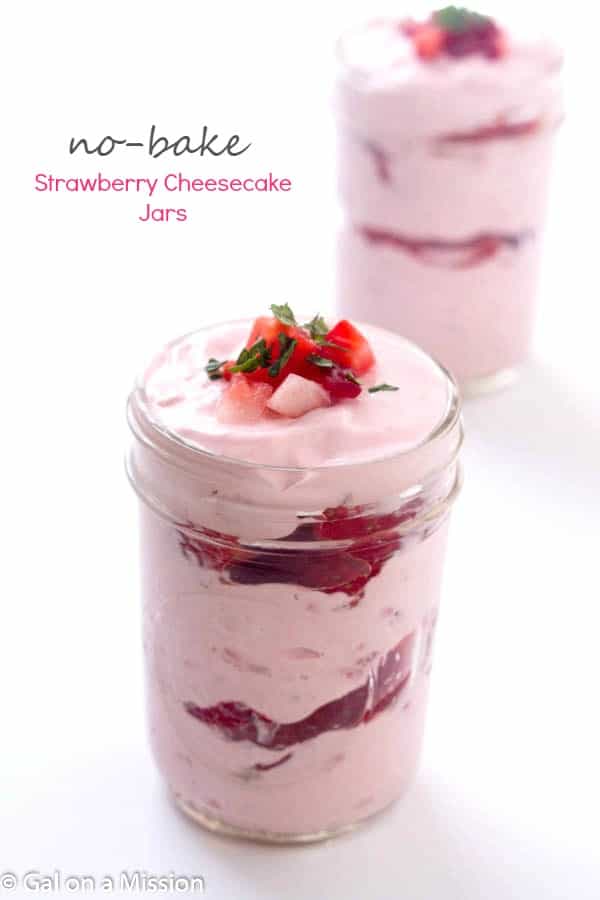 Boy, do I have a treat for you today! I promise it's going to be a good one and not loaded with sugar, either. Can't say the calories are low, though. It is cheesecake after all, my friend.
I have been experimenting with reducing my sugar intake so I can have a healthier diet and I knew I had to share them. They are so good even without the crust on the bottom. You won't miss it at all!
If you are a strawberry fan, like me, you will also love these easy strawberry muffins and this amazing refreshing strawberry lemonade. Craving even more strawberry, here are all the recipes I have used strawberries in!
I love a delicious cheesecake, but the sugar they contain are insane. Wouldn't you have to agree? I will say, if you are okay with sugar you can definitely replace the natural sugar to granulated sugar. As you know by now, my motto is - do what works for you and your family.
For us, this worked out wonderful and my husband didn't hardly notice the difference. He loves sugar and adds a gallon of it to his coffee. Yikes is right.
If you are subbing granulated sugar for Erythritol, you can use the same ratio.
If you are looking for the exact measurement of cheesecake filling I added to the jar, I am not sure on that because I just spooned it into the jar until it looked great. About an inch or even a ½ inch of cheesecake layer, then chopped strawberries, then layer more cheesecake on top until you reach the top of the jars.
For the jars, they are pint-sized and the cheesecake mixture is very rich. For us, we could easily split the jars into two servings.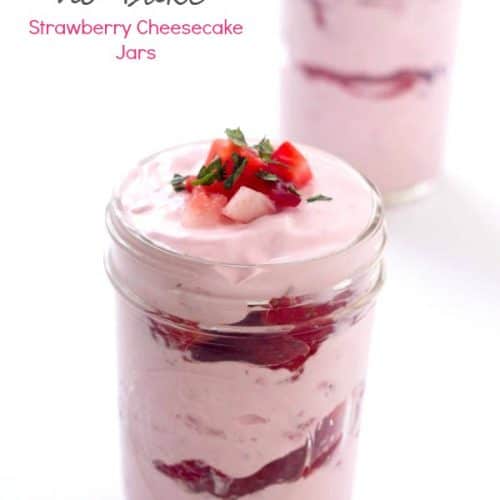 No-Bake Strawberry Cheesecake Jars
Ingredients
2

8 ounce packages cream cheese, softened at room temperature

1

pound

strawberries

washed and stems removed

3-4

tablespoons

erythritol*

fresh mint

to garnish
Instructions
Beat the cream cheese with the paddle attachment in a mixer on medium-speed until creamy. Dice half of the strawberries and add to the mixer, mix over medium-speed until the strawberries are pureed into the cream cheese.

Slowly add in the erithyrol and mix. Taste and add more sweetener, if needed.

Layering

Using jars, add the cream cheese mixture to the bottom, add a couple of diced strawberries, then follow with another layer of the cream cheese mixture. Repeat until the jars are full. Garnish with diced strawberries and fresh mint.
 Other Recipes You May Enjoy: