Baked Barbecue Beef Short Ribs - Drool-worthy, finger-licking, and mouthwatering beef short ribs! Baked in a spice rub, then slathered with barbecue sauce! Bring the fancy home! 
You guys, I really have a special treat to share with you! We hardly ever have expensive cuts of meats, including beef short ribs. Every now and then it's okay to splurge, especially when it's a date night or for a special occasion.
Before I even get to telling you about how I prepared these beef short ribs, I have to tell you something else first. You may already know, my husband is a meat-loving, well beef-loving kind of man. Every once in awhile, I like to pick up a delicious steak for us and he loves it. It's the little things in life that can really add up. Even spark a little romance in your relationship, which we all need and love.
If you are a fan of anything bbq, then I highly recommend checking all out of my other recipes using barbecue sauce!
These finger-licking, mouthwatering baked barbecue beef short ribs only come out once or twice a year. The kinds of events that warrant them are:
anniversaries
birthdays
a very special date night or Valentine's day
Please keep in mind, it may be different for every family. I am a frugal kind of person and that reflects in my grocery budget. I am the kind of the person who thinks, it's okay every once in awhile to splurge.
Beef short ribs are special in their cut because of the ratio of bone, fat, and meat. There isn't a lot of meat on the short rib; however, the meat is very tender and so flavorful.
There are two different ways you can prepare these baked barbecue beef short ribs. The very first way, which is pictured.
I first baked the short ribs with high heat (400 degrees) with a simple spice rub, and then mixed the barbecue sauce together, covered with aluminum foil after pouring the barbecue sauce on the short ribs, and then baking low and slow. When adding the barbecue sauce mixture before baking low and slow allows the sugar in the sauce to caramelize on the meat. Hence why you see the darkened exterior of the short ribs. It's not burnt, my friend.
The second way is to follow the first step with baking at a high heat with a simple spice rub, then covering with aluminum foil and then baking low and slow. You can add the barbecue sauce in the last 10 minutes of the baking time.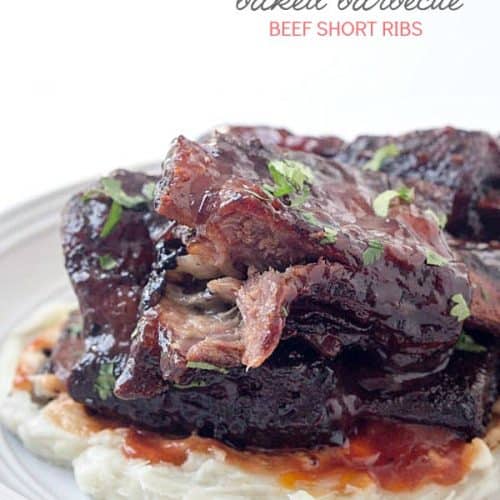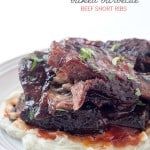 Baked Barbecue Beef Short Ribs
Ingredients
4

pounds

beef short ribs

1

teaspoon

salt

2

teaspoons

pepper

1

teaspoon

dark chili powder

1

large onion

diced

2

cups

barbecue sauce

I used Sweet Baby Ray's

½

cup

lager beer
Instructions
Preheat oven to 400 degrees. Mix together salt, pepper, and dark chili powder together in a small bowl. Place the beef short ribs into a large baking sheet and rub the spice mixture on both sides. Bake for 15 minutes.

Place the diced onions into a 9x13 baking dish, then add the short ribs on top.

Mix together the barbecue sauce and the beer into another bowl.

Remove the beef short ribs from the oven; pour the barbecue sauce mixture onto the beef short ribs and then use a pastry brush to spread the sauce around. *

Turn the oven temperature to 300 degrees. Cover with aluminum foil and bake for another 3 hours.
Recipe Notes
*You can either pour the barbecue sauce mixture while cooking or pour it onto the beef short ribs the last 10 minutes of cooking. If you add the barbecue sauce while cooking, it will caramelize on the beef short ribs creating a blackened texture on the outside.
Equipment Used: Pastry/Basting Brush, Baking Sheet