An easy strawberry muffin recipe that are so moist and tender. A perfect breakfast treat!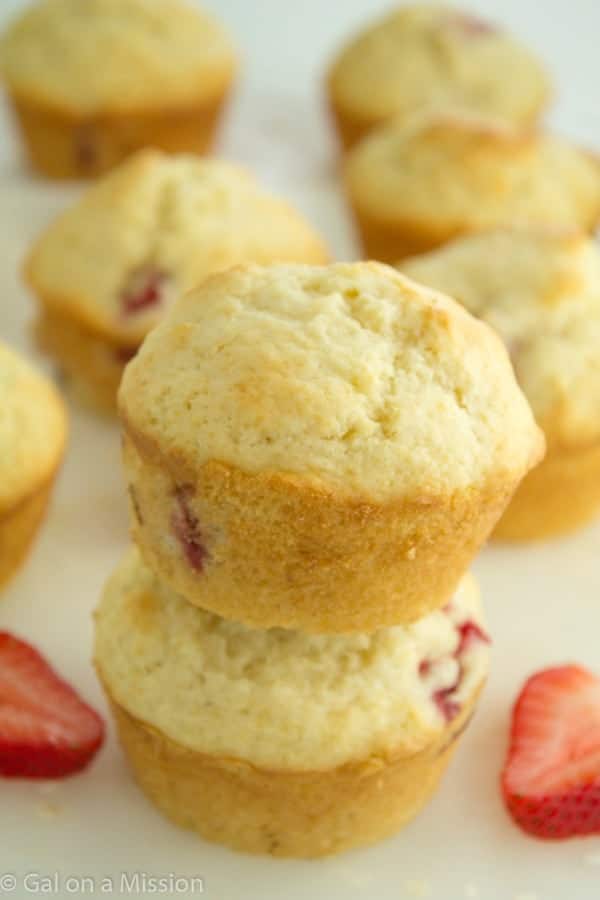 If you haven't already noticed, I am in love with muffins. Not just plain muffins either, they have to have fresh fruit or chocolate chips.
Muffins are an all-around perfect breakfast treat because it seems like you are eating dessert for breakfast. It really seems like it with these amazing easy strawberry muffins. They are a little sweet, but not overall sweet – just enough.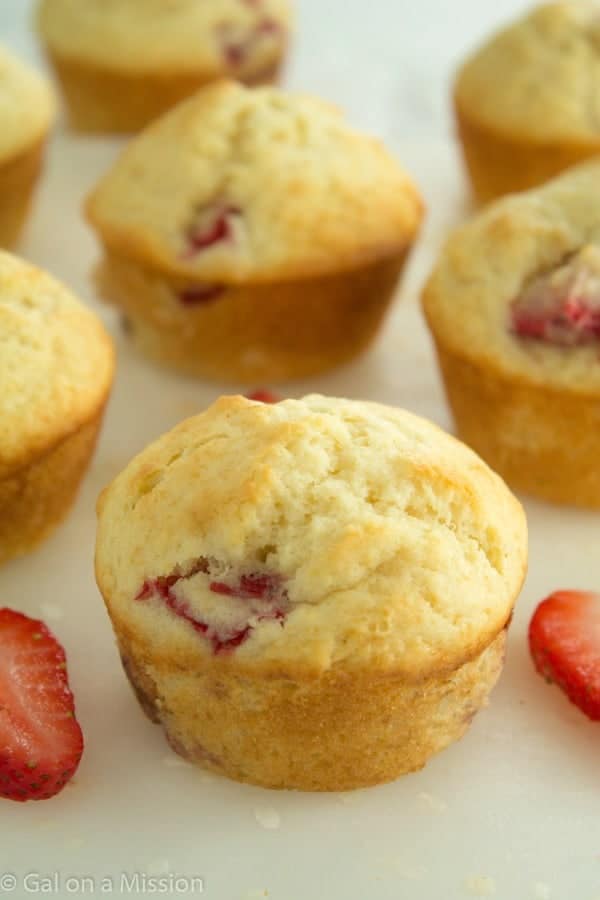 You can use fresh or frozen strawberries. Guess what that means? You can easily make these year-round. Any time you crave strawberries or muffins, you can make them.
What I love most about these strawberry muffins are their texture. They are so light, fluffy and moist. Almost reminds me of a cupcake, it's just missing the frosting. It's sort of eating cupcakes for breakfast! Oh yeah!
You might of noticed that I have been using the same muffin recipe almost from easy chocolate chip muffins and blueberry and raspberry muffins. It's definitely a great recipe that you can add alternate ingredients to make a completely new recipe – almost!
I love recipes that like! Don't you?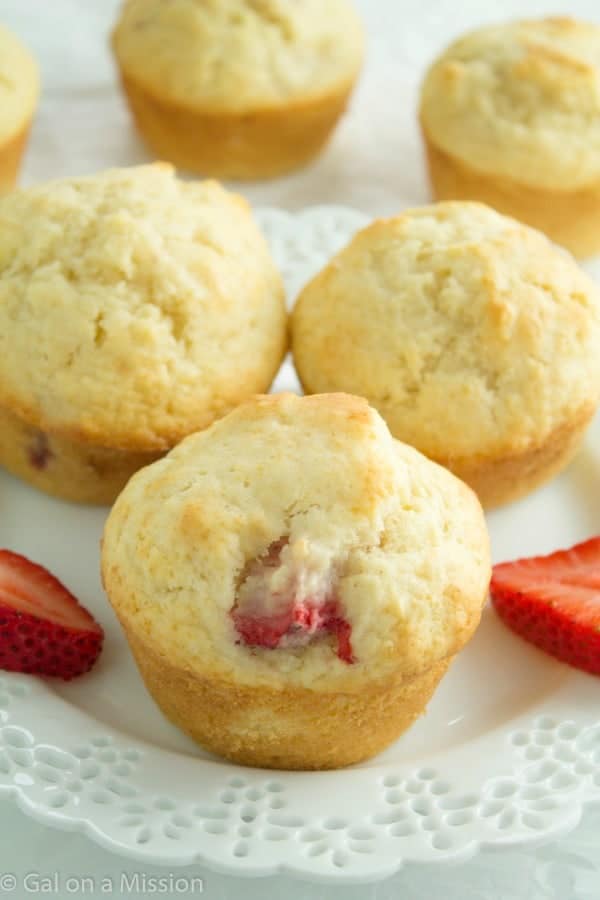 Off the subject of muffins just for a second. I cannot believe how quickly July is going! It is already the middle of the month. Before we know it summer will be over! 🙁
What is your favorite season? Mine is summer, always has been. I love the heat and all of the fresh fruit and veggies – yum.

Easy Strawberry Muffins
Author:
Chelsea @ Gal on a Mission
Ingredients
1 cup buttermilk
½ cup oil (canola or vegetable)
2 large eggs
1 cup granulated sugar
2 teaspoons vanilla extract
3 cups all-purpose flour
4 teaspoons baking powder
¼ teaspoon salt
1 cup strawberries, diced
Instructions
Preheat oven to 425 degrees. Spray a muffin tin with non-stick cooking spray or line with liners. Set aside.
Add in your buttermilk, oil, and eggs into a medium mixing bowl and mix together. Add in the granulated sugar and vanilla extract.
Slowly mix in your flour ½ cup at a time, and then mix in the baking powder and salt. Gently fold in the strawberries.
Bake for 5 minutes and then turn the oven temperature down to 375 degrees and bake for another 13 minutes.
Allow the minutes to cool fr 5-10 minutes before transferring to a cooling rack.