A delicious and classic twist on the classic buffalo chicken dip.  Tastes just like the classic - Buffalo Chicken Spaghetti Squash. 
That that we have all of the major holidays over we can start to focus on football food! When any games come on, he always want buffalo this, buffalo that. Let's just say we are HUGE buffalo chicken dip lovers here. 🙂
Just look at all of the yummy, deliciousness on that fork. Come to mama.
Now that January has started, have you started thinking about any goals that you want to set for this year? I typically set way too many goals that I never have the time to accomplish. This year I have started to set realistic goals for myself and with Gal on a Mission.
I am a tad bit late, but when I finish them I will definitely share them with you all! 🙂
Let's get back to this cheesy, buffalo goodness, okay?
I love how easy this is to make. The longest part of the entire recipe is baking the spaghetti squash; however, you aren't really doing anything and just waiting. My favorite kind of recipes, your's too?
If you don't already have the chicken cooked and shredded as stated in the recipe below, you can cook it on low on the stove top with a lid. I did not season it because once you add of all of the ingredients it has so  much flavor already. If you insist on seasoning it, just add a pinch of salt and pepper. Simple is always better.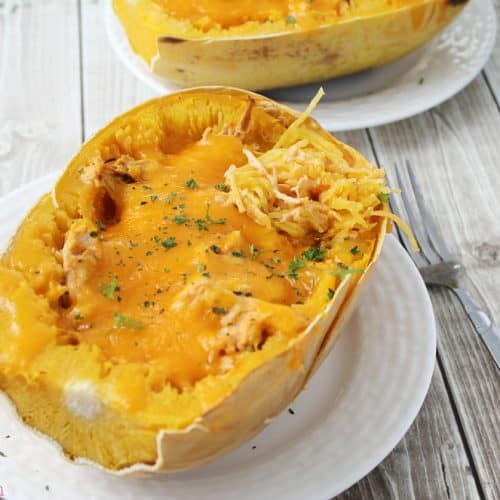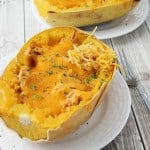 Buffalo Chicken Spaghetti Squash
Ingredients
2

small-to-medium spaghetti squash

1

8oz package of cream cheese

½

cup

Frank's Hot Sauce

½

cup

ranch dressing

1

large chicken breast or 2 medium chicken breast

cooked and shredded

2

cups

shredded cheddar cheese
Instructions
Preheat oven to 400 degrees.

Using a fork, place small holes into the spaghetti squash so it can breath while baking.

Place the spaghetti squash into a large casserole dish and bake for 50 minutes.

Allow the spaghetti squash to cool for 5-10 minutes.

While you are letting the spaghetti squash cool, prepare the buffalo chicken by place the cream cheese and the hot sauce in a large saucepan. Allow the cream cheese to completely melt.

Add in the ranch dressing and chicken breasts.

Cut the spaghetti squash length-wise in half and scoop out the insides. Place the buffalo chicken on top of the spaghetti squash and sprinkle with the cheddar cheese.

Bake for another 5-10 minutes, or until the cheese has completely melted.
Nutrition Facts
Buffalo Chicken Spaghetti Squash
Amount Per Serving (4 g)
Calories 0
* Percent Daily Values are based on a 2000 calorie diet.
Quinoa Salad with Butternut Squash & Dried Cranberries
This recipe parties at these great parties!