A bakery-style blueberry and raspberry muffin that is a refreshing and delicious breakfast that pairs perfectly with a cup of coffee or tea.
Before we get talking about these amazing fruity muffins, let's talk about the weather! I absolutely enjoyed yesterday so much.
We decided that we needed to grill for dinner and take advantage of the awesome 70 degree weather because it doesn't look like it is going to last for long. Bummer – I know!
Today looks like the last day of the 70 degree weather and then back to the middle 30s. 30 degrees…ouch!
Now these blueberry raspberry muffins are a total keeper because they are super-moist, contain fruit, and are just perfect.
In the recipe I used buttermilk to achieve the super-moistness; however, you can use regular milk. Heck, you can even make your own homemade buttermilk by adding 1 teaspoon of vinegar to your regular milk and letting it sit for about 10 minutes.
I love using the homemade buttermilk option. We can never go through a whole quart of buttermilk before it starts to go bad.
The other day when I had these muffins on my mind, I decided to take a peek into the back and I mean VERY back of my freezer and noticed I needed to use up the blueberries and raspberries.
You are welcome to use any kind of berry that you have on hand. If you just have blueberries on hand, then you can always just make it a blueberry muffin instead.
This is such an easy and delicious blueberry and raspberry muffin recipe because you only need normal ingredients that you probably already have on hand.
Like….buttermilk (or the homemade option), canola oil or vegetable oil, vanilla extract, all-purpose flour, eggs, granulated sugar, baking powder, blueberries, and raspberries.
You will also only need one bowl and that it does not require a mixer – woohoo!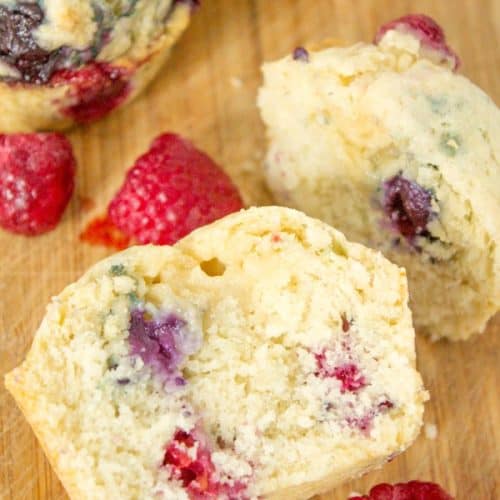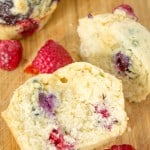 Blueberry and Raspberry Muffins
Ingredients
1

cup

buttermilk*

½

cup

oil

canola or vegetable

2

large eggs

1

cup

granulated sugar

2

teaspoons

vanilla extract

3

cups

all-purpose flour

4

teaspoons

baking powder

¼

teaspoon

salt

1

cup

fresh or frozen blueberries

do not thaw if using frozen

1

cup

fresh or frozen raspberries

do not thaw if using frozen
Instructions
Preheat oven to 375 degrees. Spray non-stick cooking spray on your muffin tin or you can use liners instead.

In a large mixing bowl, combine the buttermilk, oil, and eggs. Mix together.

Add in the sugar and vanilla extract and mix together.

Slowly add in the flour and fold it into the wet batter.

Fold in the baking powder and salt into the muffin batter.

Gently fold in the blueberries and raspberries.

Add the muffin batter into the tins or into your liners and fill all the way to the top. If you have any extra blueberries or raspberries you can place some on the top.

Bake for 19 minutes. Allow the muffins to cool 2-3 minutes and then transfer to a cooling rack.
Recipe Notes
You can use store-bought or homemade buttermilk by adding 1 teaspoon of vinegar or lemon juice and allowing it to sit for 10 minutes.
Stores in an airtight container for one week.
Skinny Oatmeal Chocolate Chip Muffins
White Chocolate Red Velvet Muffins