A decadent and healthy creamy cauliflower sauce that you can put on everything and not feel guilty!
When the year starts to end, people start thinking about their resolution for the upcoming year. Some people don't and that is okay. I always try to set one for myself - sometimes I succeed and sometimes I do not.
This year I have been trying to make it succeed because it has been the same goal for every year now. I will overcome it this year! 🙂
I want to try to start eating healthier because everyone really needs to, right? It can be hard because I love food, especially good food.
I want healthy food to taste like good food. If I always put those two together, I will succeed with my goal. Makes sense.
Here comes into play - this oh, so creamy white sauce that is actually very healthy and can be used in so many different recipes. I will be posting more of these recipes soon! I cannot wait. It really is a great healthy option to alfredo sauce.
This creamy cauliflower sauce is some great food, I will say to say. Some of you think that the words cauliflower and sauce do not go together. Or you might be thinking, "How the heck is that good food?" Trust me, it is!
It tastes just like a regular fatty white sauce - alfredo. The best part of my creamy cauliflower sauce is that you can go back for seconds if you wish to and not feel guilty. My favorite! Yours too, right?
The other best part is that you do not have to thicken the sauce because the blender does it for you - yay. You also do not have to stand by the burner and keep whisking your roux because you do not want it to stick and clump up, yep.. already done for you with the blender.
This stuff is good.. wait, really good and so easy.
You will just need to saute the garlic with a little bit of butter and steam your cauliflower. After that, everything just goes straight into the blender.
To keep this super healthy, you can always pair it with spaghetti squash. Not a fan of spaghetti squash - we love it, you can add it to your favorite pasta, like fettuccine.
Don't want meatless pasta, add in some diced cooked chicken. The possibilities are endless.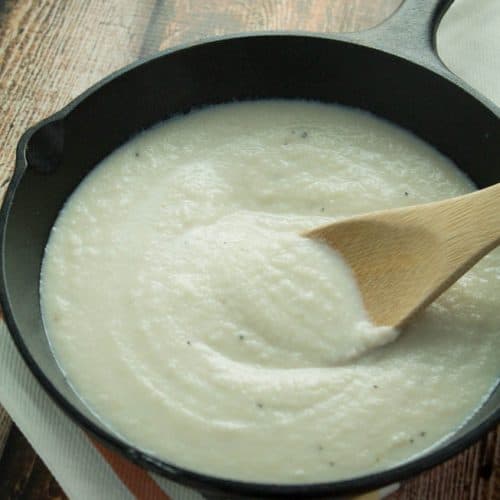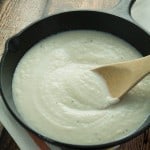 Creamy Cauliflower Sauce
Ingredients
4

medium garlic cloves

minced

1

tablespoon

butter

unsalted

16

ounces

frozen cauliflower

can also use one medium head

½

cup

whole milk*

¼

cup

Parmesan cheese

salt and pepper

to taste
Instructions
In a medium skillet, sautee the minced with the butter over low heat. You do not want to burn the garlic because it will become bitter. You just want to sautee it.

If you are using frozen cauliflower, boil the frozen caulifower in a large pot of water until not frozen any longer. **

Add the cauliflower, garlic, milk to a blender and pulse until combined and not chunky. You may also use a food processor and pulse it a few times as well.

Add the Parmesan cheese and salt and pepper, to taste.
Recipe Notes
*You may use more milk depending on how thick you like it. Want it thinner, then add in more milk.
**If you are using fresh cauliflower, then chop it into florets and follow the directions.
Chicken, Broccoli, & Pasta Skillet Casserole