A mouthwatering cookie dough brownie recipe that consists of a fudgy brownie layer and a soft, chewy chocolate chip cookie layer.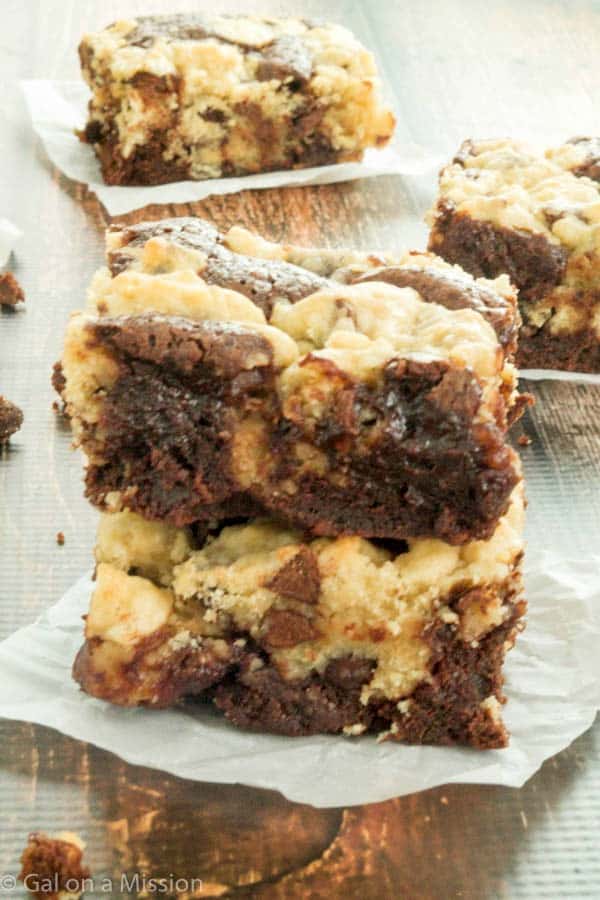 A couple of weeks ago, I knew that I wanted to create a delicious bar that consisted of a cookie dough layer and a brownie layer. I sort of knew what I wanted, but not quite.
That's why this post is special. You will actually receive two recipes within one post. If you continue reading, I'll tell ya why. 🙂 It's great.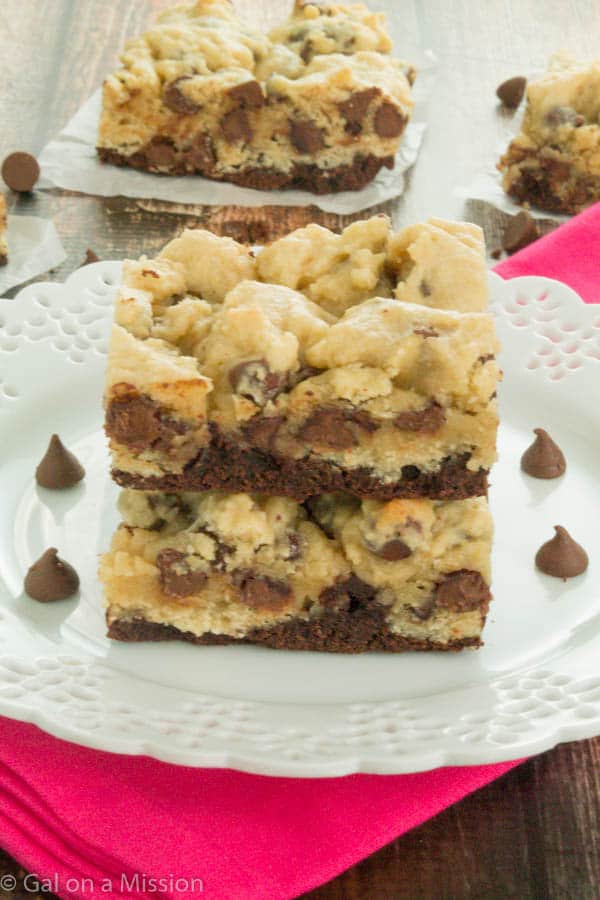 I hope everyone had a fantastic Memorial Day weekend. We loved it. Whenever a holiday falls on Monday, it always gets me. For the entire week, I keep on thinking we are a day behind and I can't seem to keep up. When Friday rolls around, I realize it then.
Are you all the same way? Or am I just strange – haha.
Back to these amazing bars. I made these bars a couple of different ways and then I finally settled on two that I absolutely love. One bar will have more brownie layer and the other bar will have more cookie dough.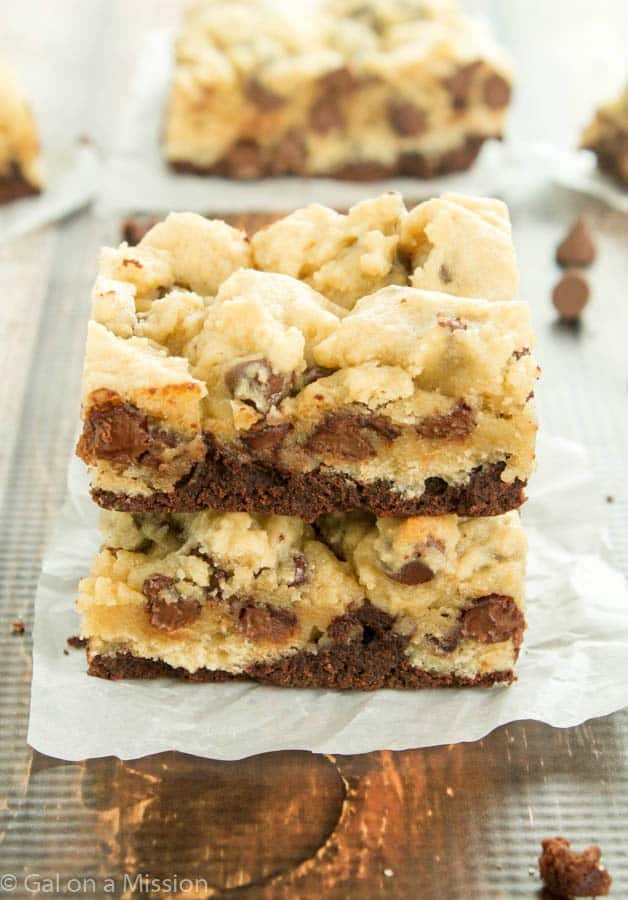 Depending on what I have a taste for, I made that certain bar. If I have a taste for some chocolate, but more cookie dough, then I will make the one with more cookie dough. Have a taste for more chocolate, then make the one that has more of a brownie layer.
There are all great. We love them both and they are both our favorites. Hard to just pick one.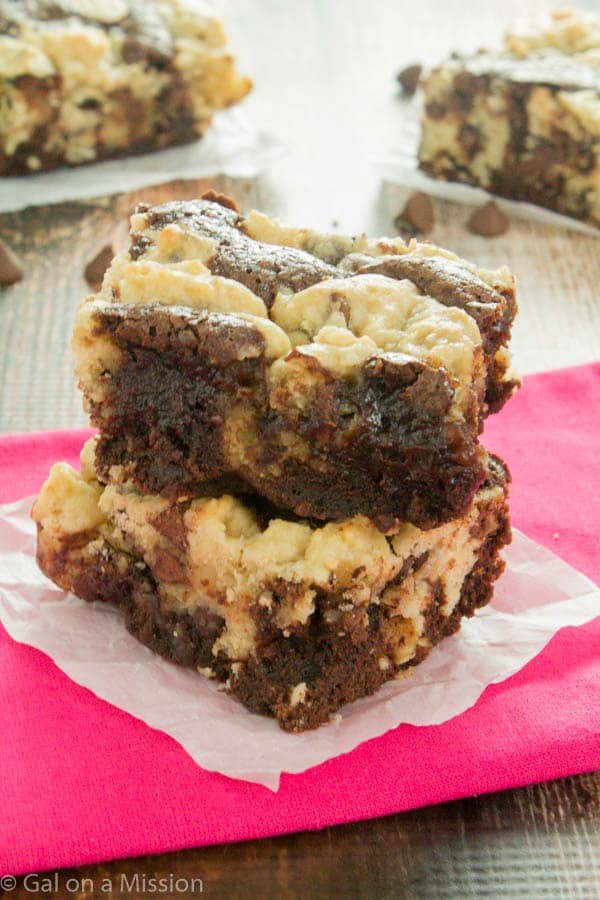 They both have almost the same recipe, that is why  I am giving you both. 🙂 The cookie dough is the same exact recipe for both bars. The only thing that changes is the brownie layer.
In one bar, you will cut the brownie layer ingredients in half. That's it. Simple, chewy, chocolate – just delicious! I think you will want to make both layers.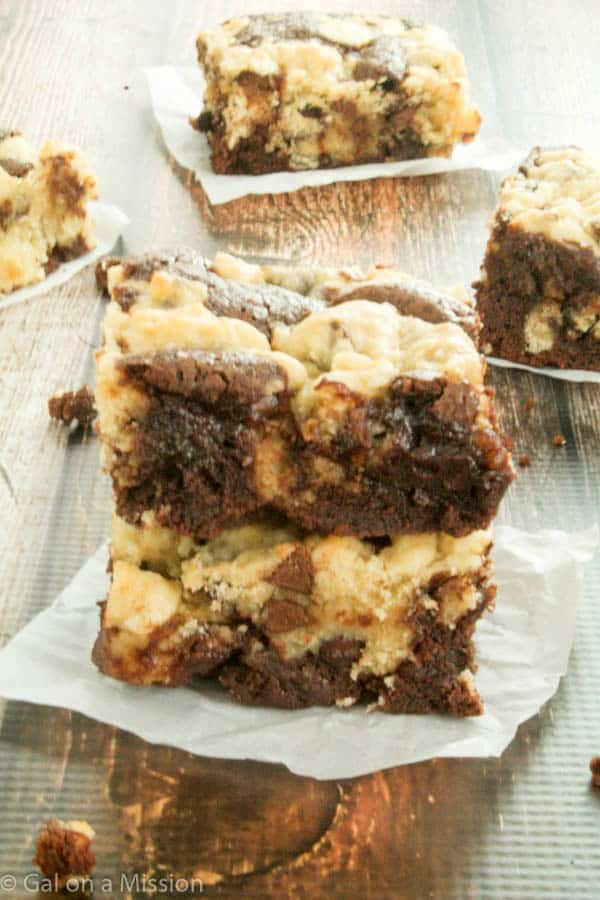 You will want to choose which one you would like – less brownie and more cookie dough or more brownie and less cookie dough. The best part, you do not have to drag out the mixer – woohoo!
You will want to start making the cookie dough layer by using softened butter, add in yours sugar, an egg, and then the dry ingredients. You can use the same bowl and just wash it out real quickly and then prepare the brownie layer.
After you prepare the brownie layer, you will want to add parchment paper or a 8×8 baking dish and pour in your brownie layer and then spoon the cookie dough layer on top.
If you are using the one with more brownie, then the cookie dough will sink some into the brownie layer. That's fine. Just continue spooning until all of the cookie dough is on top of the brownie layer.
Bake for 25-30 minutes at 350 degrees. Enjoy with a big glass of milk. Yum!

Cookie Dough Brownies
Author:
Chelsea @ Gal on a Mission
Ingredients
Cookie Dough Layer:
5 tablespoons butter, softened at room temperature
3 tablespoons brown sugar
3 tablespoons granulated sugar
[/url]1 large egg
½ teaspoon vanilla extract
1 and ¼ cups all-purpose flour
¼ teaspoon salt
¼ teaspoon baking powder
1 cup chocolate chips
Brownie Layer:
8 tablespoons butter, melted
⅓ cup cocoa powder
2 large eggs
¾ cup granulated sugar
5 tablespoons flour
Half Brownie Layer:
4 tablespoons butter, melted
⅓ cup cocoa powder
1 large egg
¾ cup granulated sugar
5 tablespoons flour
Instructions
Preheat oven to 350 degrees and line an 8x8 baking dish with parchment paper. Set aside.
Cookie Dough Layer - In a medium mixing bowl, mix together the butter, brown sugar, and granulated sugar. Add in the egg, and vanilla extract.
Slowly mix together the flour, salt and baking powder. Stir in the chocolate chips.
Add the cookie dough to a small bowl. Set aside.
Brownie Layer - Decide which kind of bars you would like - more brownie or less brownie. Mix together the ingredients on which one you are making.
Pour the brownie layer on top of the parchment paper. Spoon the cookie dough on top of the brownie layer.
Bake for 25-30 minutes. Allow the brownies to cool before slicing.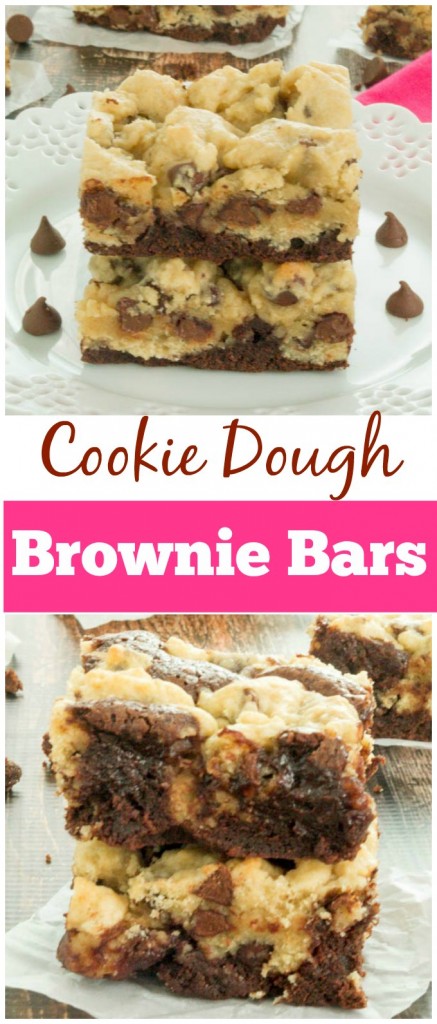 I Just Got Dumped Brownie Bars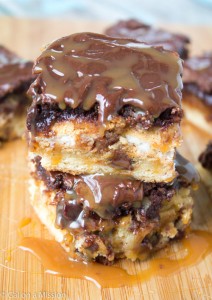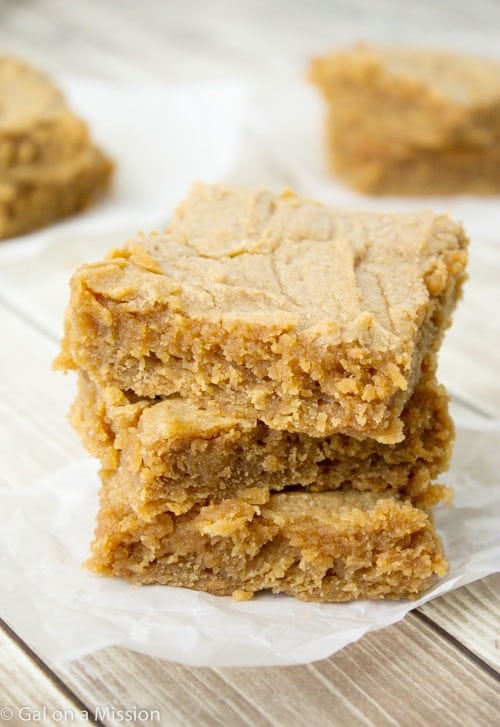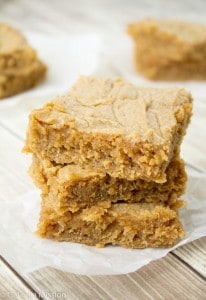 Soft-Baked Reese's Pieces Cookies