A delicious BBQ Bacon Burger stuffed to the max with cooked bacon pieces, BBQ sauce drizzled on top and on the bottom, with another layer of bacon! 
Lately, I have been on a huge bbq and bacon kick. It has to do with Memorial Day - just not sure why. The hubby isn't complaining, I can tell you that. I think he might have just fallen into a deeper love with me with all of these meaty meals.
Let's see...I have shared BBQ Bacon Baked Beans, Spicy BBQ Bacon Wrapped Hot Dogs, and now BBQ Bacon Burger. Fantastic Memorial Day recipes.
This weekend, well..on Saturday we are heading up to PA to visit with my family and hang out on the lake for Memorial Day. What kind of plans do you have? Do you always grill out?
This will be the first Memorial Day there, and we definitely want to grill out. We are grilling people. 🙂 Oh, and the weather is supposed to be amazing! Cannot wait.
I know you will love these burgers at lot because there is cooked bacon pieces and BBQ sauce in the actually burgers, plus it is topped with more BBQ sauce and bacon. What's not to love?
Not only do they taste amazing, but they are so simple to put together. I precooked the bacon before I did anything else. Once you have cooked the bacon - which doesn't take too long, I mixed together the BBQ sauce, cooked bacon pieces, bread crumbs, and ground beef. I then allowed it to sit and marinate in the refrigerator for about 1 hour.
If you have more time, you can allow it to sit longer - you can even do overnight. I bet the flavors would be amazing!
Once you have allowed your ground beef to marinate, you will want to separate them into four patties. You can either cook them on the grill or on the stove. If you are cooking them on the grill, you will want to follow the instructions for the grill. Cook for 4-5 minutes on each side.
Would be less if you like your burger a little bit more rare. Completely up to you and if you want to, use a meat thermometer.
You will then place a slice of Swiss cheese, or any kind of cheese you prefer, on top and allow it to melt. Serve with more BBQ sauce and a slice of bacon on top.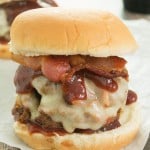 BBQ Bacon Burgers
Ingredients
8

slices

of bacon

1

pound

of ground beef

¼

cup

BBQ sauce*

⅓

cup

breadcrumbs

pinch

of salt and pepper

4

slices

of cheese

4

hamburger buns

extra bbq sauce for on the bottom of the bun and on top
Instructions
In a skillet, cook the bacon. Allow the bacon to cool on a paper towel. Once the bacon has cooled, chop 4 pieces of bacon. Set aside.

In a medium bowl, combine the chopped bacon, ground beef, BBQ sauce, breadcrumbs, salt and pepper. Mix together. Cover with plastic wrap and allow it to marinate in the refrigerator for one hour, longer is even better.

Divide the ground beef into 4 patties and cook for 4-5 minutes on each side. You might need more or less time depending on how well and rare you like your burgers. Use a meat thermometer to determine how much longer or shorter you will need to cook them.

Before they are completely done, place one piece of cheese on top and allow it to melt.

Drizzle BBQ sauce on the bottom of your hamburger bun, place the burger on top, drizzle more BBQ sauce on top of the burger. and top with one piece of bacon.
Recipe Notes
*I used Sweet Baby Ray's BBQ Sauce.
 Spicy BBQ Bacon Wrapped Hot Dogs
Slow Cooker Buffalo Chicken Sandwiches